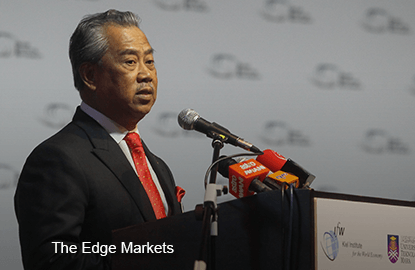 KUALA LUMPUR (Feb 4): Umno's future is at stake if decisions are made without taking into consideration, the sentiment and will of the majority, Tan Sri Muhyiddin Yassin says.
The Umno deputy president posted the reminder on his Facebook page last night, in response to the resignation of Kedah Menteri Besar Datuk Seri Mukhriz Mahathir, after losing majority support in the assembly, following two weeks of political uncertainty in the state.
The tussle over the post began on Jan 20, when Kedah Umno liaison deputy chairman Datuk Seri Ahmad Bashah Md Hanipah led a press conference, comprising division and wings leaders, to declare their loss of confidence in Mukhriz's leadership.
Bashah will be sworn in as menteri besar at 10am today.
Muhyiddin said Mukhriz's ouster yesterday, also marked the end of an era where people could trust leaders to act in their interests.
"So ended the days in which we believe that leaders make decisions based on the will of the people.
"Apparently, in this latest political episode, the need of the few outweighs the need of the majority of the people."
Many Kedah folk were unhappy with the move and questioned the method used to oust Mukhriz.
Muhyiddin said Umno nowadays appeared to have forgotten that it was a political party which depended on public support in order to remain relevant.
"If a decision is made without taking into account the sentiments and aspirations of the majority, I fear Umno's future will be affected."
Muhyiddin said, once lost, it would not be easy to regain the trust of the people and the new leadership is now faced with an uphill task to clear up the mess.
"It is not easy to recover the people's trust once they felt betrayed. Indeed, a great challenge awaits the replacement menteri besar to obtain the people's support for Umno."
Nonetheless, Muhyiddin said Mukhriz would be able to face the difficult times ahead, and described him as a leader with integrity and charisma.
"Everything happens for a reason. Maybe this is a prelude to a longer struggle."