This article first appeared in Digital Edge, The Edge Malaysia Weekly, on December 28, 2020 - January 10, 2021.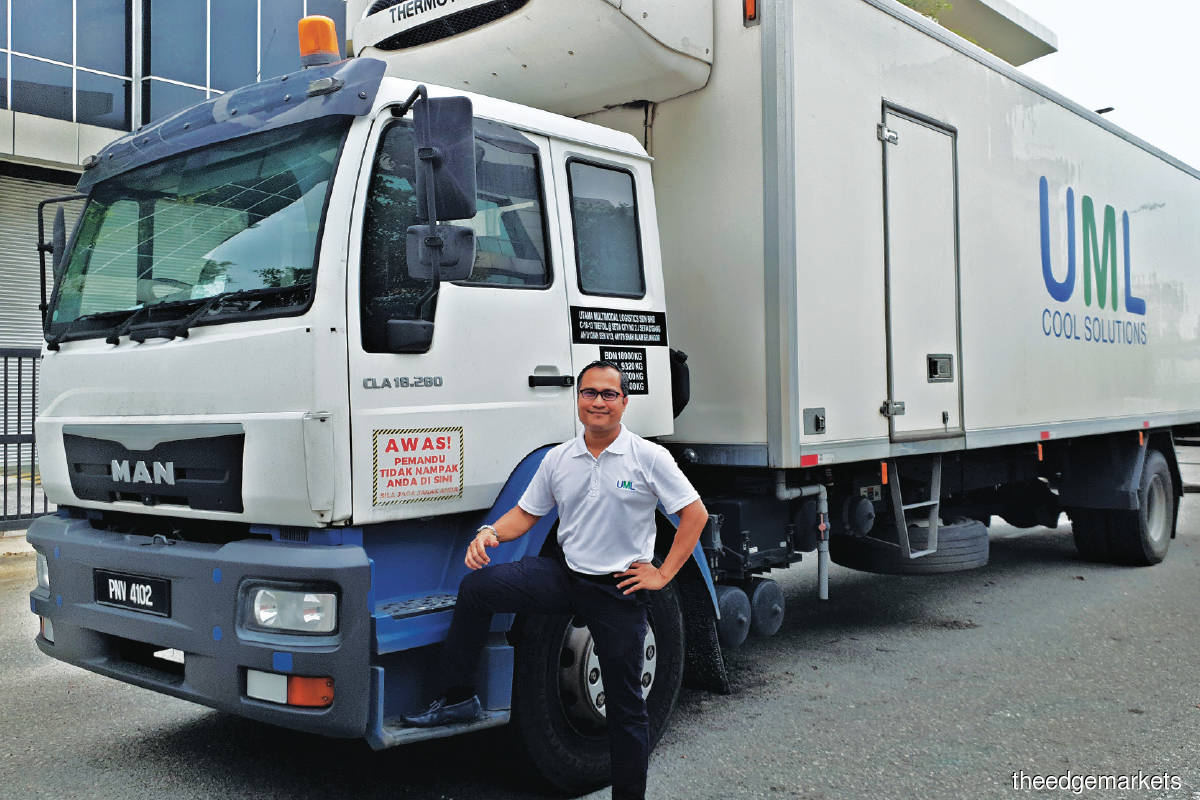 Running a niche business for the last six years has taught Nizam Ariff to embrace highs and lows in equal measure.
Ever since he started UML Sdn Bhd, a cold chain logistics services company focused on transporting only pharmaceuticals and vaccines, Nizam says it has been breaking even. In some years, it made only enough to cover its costs.
But when the coronavirus pandemic struck early this year, the tide began to turn. Having built a strong network over the years, the company became the transporter of choice for many local pharmaceutical companies and medical laboratories involved in Covid-19 testing.
"The demand for timely transit was sky-high at one point that we were doing deliveries around the clock," says Nizam.
In the following months, the operator was inundated with requests to transport medical equipment ranging from pharmaceuticals, devices, test kits and personal protective equipment (PPE).
The real opportunity, however, came in September when UML scored a big contract from a local laboratory to handle all its imports and exports, shares Nizam. It gave UML the opportunity to expand into transporting pharmaceuticals using air freight.
The Sabah state elections had just taken place, and the number of daily Covid-19 infections had skyrocketed. The number of cumulative cases in the state was 808 on nomination day on Sept 12, increasing 91.5% to 1,547 cases on polling day on Sept 26.
In a mere four weeks, on Oct 24, Sabah recorded a cumulative 11,285 cases, becoming the first state in the country to record more than 10,000 cases and 140 deaths.
"A lot of people had to be tested and many were testing positive for Covid-19. The state authorities and laboratories just didn't have the capacity to manage the load. So, a lot of the samples had to be flown out to the peninsula.
"Worse still, in a majority of the cases, samples had to be sent from the interiors of the state to the capital in Kota Kinabalu, and then transported to Kuala Lumpur. This took days.
"The cargo operators in the country were at full capacity and the waiting list was three to four days. But because it took so long to get the test results, the number of cases were also shooting up," he says.
UML, however, had a solution. Having established a good relationship with an air freight operator from the company's years of transporting pharmaceuticals all over Malaysia, Nizam was certain UML could find a way to deliver the samples of possible Covid-19 infections to Kuala Lumpur in hours, as opposed to days.
"My partner in Kota Kinabalu would pick the samples — from wherever in Sabah they had come from— and board them on the 2.30pm flight to Kuala Lumpur. By 5pm or 6pm, we would deliver the samples to the lab.
"So, most times, the lab didn't even have to wait for 10 hours before they could start their tests," he says.
Transporting pharmaceuticals using air freight equipped with specialised equipment had now opened another opportunity for UML. "We have only managed to expand because of Covid-19, but this doesn't end with Covid.
"We will be able to continue offering specialised services for the pharmaceutical industry, but this time we will be able to provide air freight as well," says Nizam.
Once its air freight expansion takes off, UML will be able to expand to East Malaysia. Like its specially equipped container trucks, the cargo unit will operate in accordance to the standard operating procedures and encompass real-time monitoring system and equipment.
Unique proposition
Prior to UML, there were no dedicated logistics companies that only moved pharmaceuticals from manufacturers to hospitals and pharmacies across the country.
A majority of the cold chain movers then were using the same vehicles to transport meat and other goods because they did not want to limit themselves to the pharmaceutical industry — which was the basis of Nizam and his partner, Ahmad Fahmi Hamid, starting UML.
It is crucial to ensure that pharmaceutical drugs and equipment are stored at the right temperature and humidity during transit. Otherwise, the lack of an ideal environment could lead to "temperature excursions" and impact the efficacy of products like vaccines negatively.
Despite their edge, Nizam and Ahmad Fahmi had a tough time convincing pharmaceutical bigwigs to consider their proposition.
The pharmaceutical scene in Malaysia is rather unconventional as all the manufacturers have to transport their pharmaceuticals to Pharmaniaga Logistics Sdn Bhd, which, in turn, transports them to hospitals, clinics and pharmacies across the country.
UML had won Pharmaniaga's tender in 2015. In 2018, it was also given a tender by Duopharma Biotech Bhd, both of which make up about 60% of UML's business now.
"Although I started the business to offer transport, from there we moved on to other services as well, such as consulting other companies on how to make their logistics more efficient," Nizam says.
"Many businesses were hit, but for us, business has finally picked up after all these years.
"There were moments when my partner and I talked about calling it a day. But we persevered and we are finally seeing the light at the end of the tunnel," he says.
While there has not been any official announcement about the distribution of Covid-19 vaccines (COVAX) just yet, Nizam is confident that UML will be selected to handle some of the distribution, at least, seeing that it is already moving vaccines for quite a number of the big pharmaceutical companies in the country.
Pharmaniaga Bhd, on Nov 30, announced that it is gearing up to distribute COVAX, which is expected to be available early next year.
Bernama reported that Pharmaniaga group managing director Zulkarnain Md Eusope said the company's wholly-owned subsidiary, Pharmaniaga Logistics, would give priority to the temperature requirements of the Pfizer vaccine to ensure its continued quality, safety and efficacy.
The Pfizer vaccine must be kept at a temperature of -70C. Another Covid-19 vaccine, from Moderna Inc, requires a temperature of -20C.
According to Zulkarnain, the boxes containing COVAX will be sealed together with a temperature monitoring device, which allows the customer to verify the temperature compliance.
The delivery vehicles will also be equipped with Internet of Things (IoT) devices, which not only monitor the vehicle's movement but also the estimated arrival time and internal temperatures.
"We note that Pfizer's vaccine requires an ultra-cold temperature of -70C, thus the frozen pre-filled syringes will be delivered in thermal shippers that are filled with dry ice to maintain ultra-cold temperatures," said Zulkarnain, in the Bernama report.
He added that Pharmaniaga is looking at the just-in-time-based delivery system to ensure smooth and orderly vaccination and stock replenishment in the event their storage facilities are unable to store big volume of Covid-19 vaccines.
The government recently signed an agreement to purchase enough doses of Pfizer's Covid-19 vaccine to inoculate 6.4 million Malaysians.  
Prime Minister Tan Sri Muhyiddin Yassin recently added that the government is now negotiating to increase the doses from covering just 20% of the population to between 60% and 70%.
For UML, its current set-up is in line with the standard temperature requirement of 2C to 8C. However, it is already testing out insulated containers to handle -70C temperatures that are in compliance with distribution requirements and specifications set by the manufacturers, says Nizam.
"I've already done my pilots and we are ready to roll out at a moment's notice," he adds.