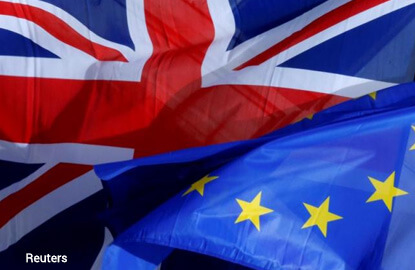 LONDON (Jan 18): Britain's Supreme Court will deliver its ruling next Tuesday on whether Prime Minister Theresa May can begin the process of leaving the European Union without parliament's assent.
May has said she would trigger Article 50 of the EU's Lisbon Treaty, the formal means of exiting the bloc, by the end of March and that the government could act without needing lawmakers' approval.
However, London's High Court decided last November that it would be unlawful for May to trigger Article 50 alone using executive powers known as "royal prerogative".
The government appealed against that ruling to the Supreme Court, Britain's highest judicial body, which held four days of hearings in front of all its 11 justices last month. Their ruling will be handed down at 0930 GMT next Tuesday, the court said on Wednesday.
The announcement comes a day after May outlined her plans for Brexit, with Britain leaving the European single market and a promise that the final deal struck with the EU after two years of divorce talks would be put to parliament.
However campaigners pressing for parliamentary approval told the Supreme Court that involving lawmakers at that late stage was insufficient and that Members of Parliament had to pass legislation before the formal process of leaving the bloc was started.
Legal commentators say the government is likely to lose the case, and the Guardian newspaper said ministers had already drafted versions of a bill to go before parliament following the ruling.
The government's argument was essentially that under Britain's unwritten constitution, it can make or leave international treaties without parliamentary assent.
The challengers argued that triggering Article 50 would inevitably mean citizens would lose rights granted by parliament and that only lawmakers could take these away.
The Scottish government and lawyers for Northern Irish challengers said Britain's devolved assemblies must give their approval too before Brexit talks begin.