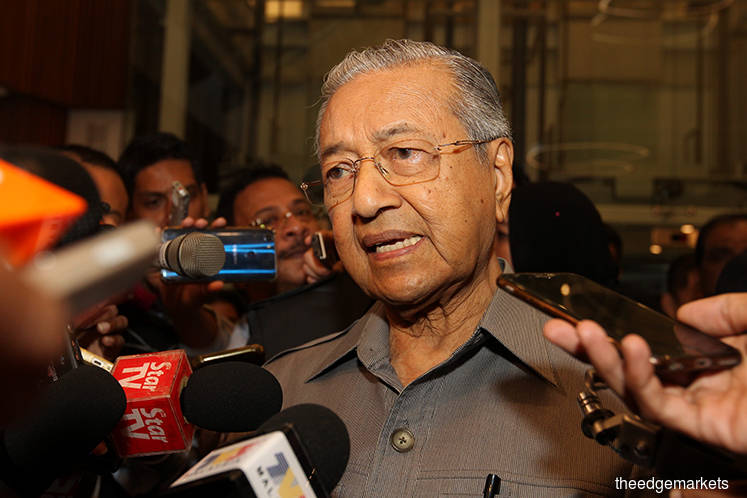 LONDON (June 17): Investors in the United Kingdom (UK) are upbeat on Malaysia's economic potential and have been showing keen interest in investing in the country, said Prime Minister Tun Dr Mahathir Mohamad.
"I have used the opportunity while here to find out what British businesses could do for us, what they want from us and what are the things that need to be looked into to draw their investment," Dr Mahathir said on the final day of his three-day working visit to the UK.
At the roundtable meeting with the investors earlier today, many have shown keen interest in investing in Malaysia including an aircraft designer firm while others put forward investment proposals in certain areas, said the prime minister without divulging the identities of the firms as they were still at the proposal stage.
Earlier today, Dr Mahathir attended a roundtable session with 50 leading businesses and institutions. The rountable was organised by the Malaysian Investment Development Authority and Malaysia External Trade Development Corporation.
In his opening speech, Dr Mahathir said Malaysia seeks investments in the high-technology sector, in line with the country's goals of providing high income for its people.
 "This is our need today...Our people are now better trained and many are graduates from universities and we cannot expect them to do manual work like assembling things like we used to do before. 
"We need them to be engineers who will be working with new equipment, new machinery and will be familiar with the need to maintain and repair the machines that do the work," he said.
Representatives from 50 organisations including leading business corporations like Thales, Jardine Matheson, HSBC Holdings Plc, BAE Systems, Shell, Standard Chartered, and Prudential attended the event. Representatives from leading British universities were also there.
Also present at the roundtable were Foreign Minister Datuk Saifuddin Abdullah, Youth and Sports Minister Syed Saddiq Syed Abdul Rahman and MIDA chief executive officer Datuk Azman Mahmud. British prime minister's trade envoy to Indonesia, Malaysia and the Phillipines Richard Graham was also present. — Bernama