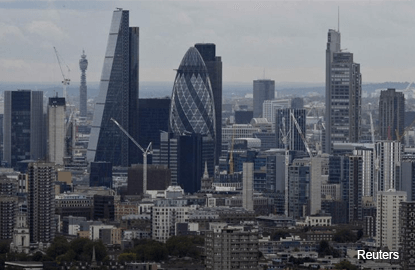 HONG KONG (Jan 16): Keeping the euro-denominated clearing business in London even after Britain leaves the European Union is in Europe's interest, financial services minister Simon Kirby told Reuters on Monday.
The European Union is considering legislative measures to move London's euro-clearing business to the eurozone, but the changes would apply only after Britain leaves the bloc, an EU official said last month.
"It's in Europe's interest that London retains euro clearing ... if you dismantle it, then you redistribute euro clearing, then it might end up in New York and then that's not in anyone's interest at all for that to happen," said Kirby, the economic secretary to the Treasury or "City" minister.
"So, I am confident that we can keep euro clearing, and Brexit is an opportunity not only for us to get the best possible deal with Europe but also to build our global standing around the world," he said in an interview in Hong Kong.
London dominates clearing of derivatives denominated in euros, mainly via the London Stock Exchange's LCH.Clearnet business — a dominance that the European Central Bank has tried to reduce in the past, only to find its attempt blocked by the EU's top court.
Talks to move the multi-billion-euro business to a euro zone city, such as Frankfurt, have gained new impetus since Britain voted in June to quit the EU, with advocates arguing that euro-denominated derivatives should not be cleared outside the EU.
But industry lobby groups in Britain such as TheCityUK have said keeping clearing in London is vitally important and should be one of the government's core aims in negotiations on new trading terms with the bloc.
On Britain's trade partnership with Asia after Brexit, Kirby said that there was enough evidence of continued investments into the UK from across the Asian region, as also from elsewhere in the world.
"Particularly in terms of financial services we have a strong relationship with China and as China moves along its rapid journey of financial and economic transformation, Britain will be at the centre of it," he said.
Kirby said new and growing businesses such as fintech and Islamic finance in Asian countries including in Hong Kong, Singapore, Malaysia and Indonesia provided good opportunities for Britain and Asia to boost trade ties.
He declined to comment on the possibility of Britain reaching new bilateral trade agreements with the major Asian economies, or whether Britain would offer any incentive to Asian investors to remain an attractive destination.
"It's too early to speculate on the detail of the deals to be done, but as a general comment I am confident that we can forge a truly global Britain working with countries around the world, including America and China."