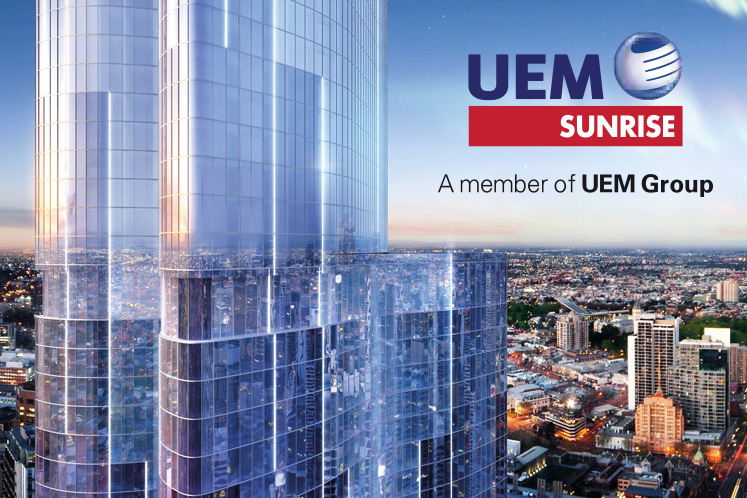 KUALA LUMPUR (Sept 13): UEM Sunrise Bhd's agreement with Ascendas Hospitality Trust to sell the service apartment component of the former's Aurora Melbourne Central mixed development in Melbourne, Australia has fallen through.
The group said the agreement between its wholly-owned unit UEMS (La Trobe Street) Pty Ltd and The Trust Company (Re Services) Ltd (TCL), a trustee for the Ascendas Australia Hotel Trust, had been terminated on a mutual basis following disagreements over the specifications of certain aspects of the apartments earmarked for sale.
"The mutual termination will allow UEMS to seek and explore other opportunities that are more beneficial to UEMS in line with the group's strategic objectives," UEM Sunrise said in a filing with Bursa Malaysia.
The group said it has received several inquiries about the property, including a written expression of interest from a potential buyer. It is currently evaluating the proposals and hopes to conclude the sale of the service apartments in the fourth quarter of 2019 (4Q19).
It added that the recognition and earnings relating to the sale of the property will depend on its ability to secure an alternative buyer on a timely basis.
In December 2015, UEMSLaTrobe and TCL had signed an agreement on the sale of the 252 service apartment units located in Aurora Melbourne Central for A$120 million (RM380 million then) cash.
The sale of the apartments also included 10 car parks and part of the ground floor retail area measuring a gross floor area of 14,924 square metres.
The disposal was expected to be completed by Sept 30, 2019.  Had it gone through, the sale would have contributed A$26.95 million  to UEM Sunrise's earnings for the year ending Dec 31, 2019 (FY19).
The Aurora Melbourne Central development is an 88-storey mixed use development composed of 959 residential apartments, 252 service apartments, office suites and retail space with a total gross development value (GDV) of A$750 million.
The development was carried out in three stages. The first separable portion (SP3) was completed and handed over in September 2018, and the second separable portion (SP4) in May 2019 — with a collective settlement value of A$387.1 million, against SP3 and SP4's combined GDV of A$388.8 million.  
The final portion (SP5), which has a GDV of A$241.2 million, is expected to be handed to buyers in 4Q19.
UEM Sunrise's share price closed one sen or 1.41% higher at 72 sen valuing the property developer at RM3.27 billion.