This article first appeared in The Edge Malaysia Weekly, on October 12, 2020 - October 18, 2020.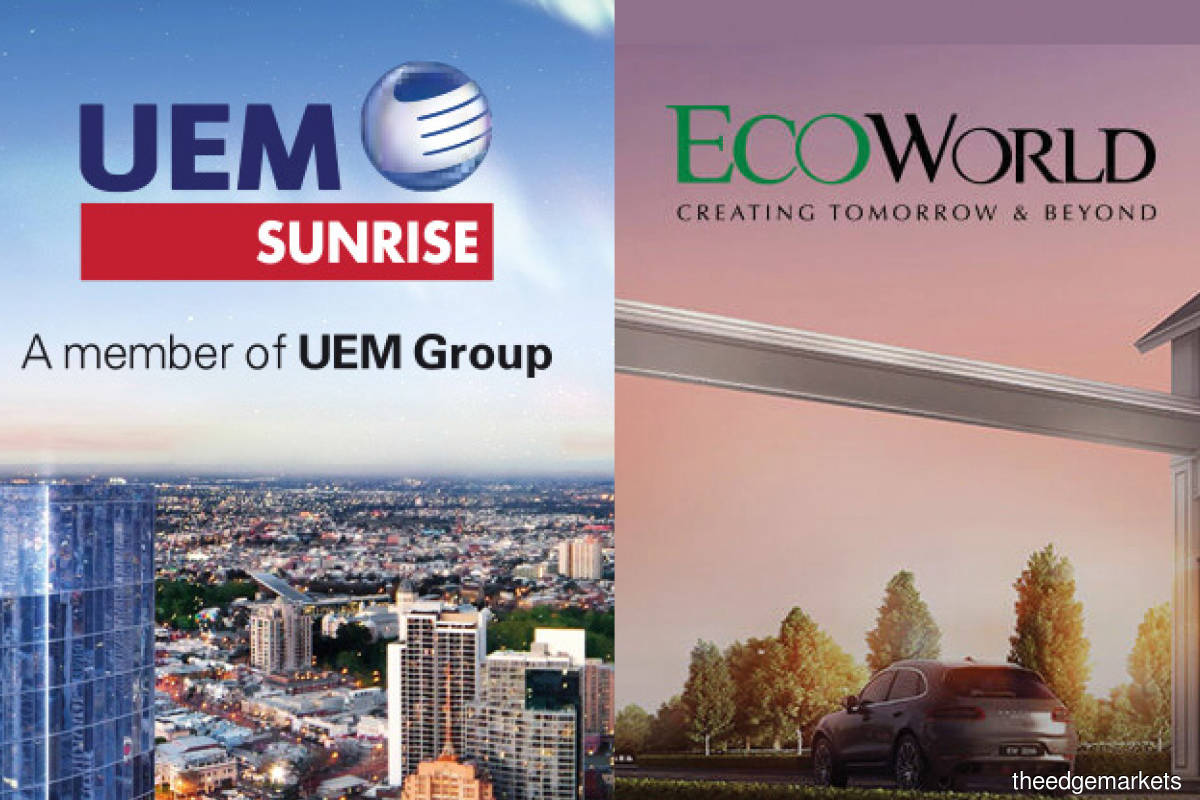 THE proposed merger between UEM Sunrise Bhd and Eco World Development Group Bhd will create a property giant with the second-largest land bank in Malaysia after Sime Darby Property Bhd.
But the idea has courted criticism from certain quarters, despite the obvious synergy between a company with a good land bank and another with the ability to sell much of what it builds even in challenging times.
On Oct 5, UEM Group, the unlisted wholly-owned subsidiary of Khazanah Nasional Bhd, sent letters to the boards of its subsidiary UEM Sunrise and competitor Eco World Development for both to consider a merger via a share and warrant swap (Read the Q&A with UEM Group chairman Tengku Datuk Seri Azmil Zahruddin below.)
UEM Sunrise will issue new shares at 44.3 sen each and exchange them for Eco World Development shares at an exchange value of 46.9 sen each, for a swap ratio of 1.058. Both prices are at an 18% premium to UEM Sunrise's and Eco World Development's share price on Oct 1.
(Eco World International Bhd, the listed unit overseas unit of Eco World Development, is not part of the merger plan.)
The proposal values Eco World Development at 0.3 times its book value per share. The board of directors of Eco World Development and UEM Sunrise have until Oct 30 to respond to the UEM Group proposal.
Although Khazanah's stake in the enlarged UEM Sunrise, via UEM Group, will be diluted from 66% currently with the share swap, it will remain the controlling shareholder with the single-largest stake of 43%.
Eco World Development's major shareholders will have a collective stake of about 24.4% in the enlarged UEM Sunrise, but they are split into various blocks. Tan Sri Liew Kee Sin and family will have an 8.4% stake. The other major shareholders are Sinarmas Harta Sdn Bhd (12.6%) and Eco World Development Holdings Sdn Bhd (3.4%), whose main shareholders are Datuk Eddie Leong and Tan Sri Abdul Rashid Manaf respectively.
Critics of the proposed merger say the enlarged entity will have a total net debt of RM6.37 billion — Eco World Development has RM2.98 billion and UEM Sunrise has RM3.39 billion.
Based on back-of-the-envelope calculations, assuming an interest rate of 5% a year on the RM6.37 billion debt, the enlarged company will have to fork out RM318 million a year, or RM26 million a month, to service its debt, the critics say.
They also say that while the enlarged company will have a lot of assets, the current economic situation, if prolonged, could spell trouble for it and Khazanah, as the largest shareholder may have to step in to support any equity fundraising the company might want to do.
According to Malaysian Rating Corporation Bhd (MARC), the higher debt-to-equity ratio of the enlarged entity of 0.9 times, from 0.56 times, could be a problem unless Khazanah Nasional is committed to providing financial support if needed.
The rating agency says that although UEM Group, and in turn Khazanah, will continue to be the largest shareholder of the enlarged UEM Sunrise, its stake will be reduced to 43% from 66%. This means that UEM Sunrise will become an associate of UEM Group, rather than a subsidiary.
This is a concern to MARC with regard to Khazanah's commitment to support UEM Sunrise financially, once the status changes. This is because the current long-term rating of AA- on UEM Sunrise's two Islamic debt papers of RM2 billion each is one notch above its standalone credit rating, owing to this assumed parental support.
The proposal announced by UEM Group indicated no commitment by Khazanah to inject funds into the enlarged company.
"MARC notes a potential weakening in the credit profile of the enlarged UEM Sunrise group … The aforementioned factors, along with business and financial assessments of the merged entity, will be the key drivers of MARC's rating action on UEM Sunrise. The rating agency will monitor the developments on the proposed merger and will make an appropriate rating decision only upon conclusion of the exercise," says MARC in a press release dated Oct 8.
Promoters of the merger say critics have chosen to ignore the fact that while the debts of the enlarged entity appear huge, both companies have unbilled sales (future revenue) of RM6.12 billion. Eco World Development has RM4.42 billion, whereas UEM Sunrise has RM1.7 billion.
Like all developers, both UEM Sunrise and Eco World Development are facing challenging times, as affordability and tighter mortgage financing conditions have capped sales even though there is demand.
The property down cycle started in 2014 after Bank Negara Malaysia restricted bank financing and stopped the popular Developer Interesting Bearing Scheme. The pain started to kick in in 2018 and worsened because of the Covid-19 pandemic.
UEM Sunrise recorded a net loss of RM115.3 million in the first half ended June 30, 2020 (1HFY2020), compared with a net profit of RM40.36 million in the previous corresponding period, on the back of a 78% drop in revenue to RM307.8 million.
UEM Sunrise is especially hard-pressed because of its large exposure to the highly overbuilt Johor property market. As at June 30, 2020, its remaining gross development value (GDV) in the southern region made up 77% of its total remaining GDV of RM77 billion.
In contrast, Eco World Development's remaining GDV from the southern region comprised only about 24% of its total remaining GDV of RM68.6 billion. The group has a larger exposure to the central region, with remaining GDV of RM43.9 billion, compared with UEM Sunrise's RM17.4 billion.
In the nine-month period ended July 31, 2020, Eco World Development generated RM463.2 million in cash from its operations. However, it expended RM479.09 million for repayment of bank borrowings and lease liabilities during this period.
Meanwhile, UEM Sunrise generated RM807 million over the nine-month period ended June 30, 2020 from its operations. The group expended RM597.3 million in repayment of borrowings and lease liabilities during the period.
Investment analysts Lum Joe Shen and Marie Suwrna Vaz of Kenanga Research say UEM Sunrise stands to gain from tapping Eco World Development's marketing prowess and world-class township planning, which will help boost sales.
Also, a larger domestic earnings base will help reduce earnings volatility from its lumpy overseas contribution, they say, especially in countries where earnings recognition is based on handover, as in Australia, for example.
"On the flip side, we have some lingering questions in our minds as to the rationale for Eco World to agree to the merger," the analysts note in a research report dated Oct 6.
"From a management and operational standpoint, Eco World's key shareholders would lose their majority ownership, brand name (potentially) and possibly become less agile in terms of decision-making. Also, there may be concerns as to the fit in terms of culture."
Under the proposed merger, the chairman of the board will be from UEM Sunrise and the CEO is expected to be from Eco World Development. In a latest development, UEM Sunrise last Friday announced that its CEO and managing director Anwar Syahrin Abdul Ajib had tendered his resignation to pursue other opportunities. The 46-year-old was appointed to the job on Sept 1, 2014.
Despite these concerns about fit and culture and debt, promoters say the respective strengths of the two companies make it a compelling case for a merger.
They cite the following:
•    Eco World Development has a strong brand following in Iskandar Malaysia in Johor, where, in just six years, it has developed four townships and three business parks and achieved cumulative sales of RM6.6 billion. UEM Sunrise, on the other hand, has a huge land bank of 3,600ha in Iskandar that has yet to be developed;
•    Eco World Development has a strong following and sales capability. In the six short years of its existence, it has built and sold RM20.5 billion worth of properties in Malaysia and another RM13.4 billion in the UK and Australia;
•    UEM Sunrise has a sizeable presence in Australia, and Eco World Development, via its 27% stake in Eco World International, has two projects there on top of projects in the UK;
•    The combined strength of both brands — with UEM Sunrise's legacy as a top-notch developer of integrated high-rise projects and Eco World Development as a township developer — will create a sizeable entity with a compelling growth story; and
•    The backing of Khazanah Nasional will provide the financial muscle to develop the huge land bank in Johor into townships targeted at the RM500,000-to-RM800,000 segment for the M40.
The proposed mega merger has its critics and fans, and it is now up to the companies' respective boards to decide, by Oct 30, which direction to take.
Azmil Zahruddin: A merger to leverage the strengths of both UEM Sunrise and EcoWorld
News of the proposed merger between UEM Sunrise Bhd and Eco World Development Group Bhd (EcoWorld), which will form one of Malaysia's largest real estate companies by market value, set the market abuzz last week.
Below is what Tengku Datuk Seri Azmil Zahruddin, chairman of UEM Sunrise's parent UEM Group Bhd, said via an email interview with The Edge on the matter:
The Edge: How did UEM Group come to the conclusion that UEM Sunrise should merge with EcoWorld, instead of other local developers, especially other government-linked companies (GLCs)?
Tengku Datuk Seri Azmil Zahruddin: We have seen a wave of consolidation among property developers in some of the other markets in the region — notably China, Thailand and India — generally driven by the fact that larger players tend to be stronger, generating higher returns and margins. The Malaysian property market has been challenging, with a significant overhang in most segments in recent years. The situation has been made even more challenging by Covid-19. The environment seems ripe for consolidation.
Against this backdrop, we have been looking for a suitable partner for UEM Sunrise. UEM Sunrise has a particular set of challenges — geographically, it is concentrated primarily in the southern region whereas in terms of skills and experience, it is relatively strong in high-rise and in the central region. We therefore wanted to look for a partner that could help address some of these challenges.
We looked at a number of potential opportunities but based on facts, data and our assessment, it appeared to us that EcoWorld was the most suitable candidate. EcoWorld is one of the stronger brands in the market, with a sizeable following and a presence throughout Peninsular Malaysia.
We view the proposed merger as an opportunity for an existing government-linked company to be in partnership with the private sector to create one of the largest property developers in Malaysia with a total landbank of more than 17,000 acres locally.
Who first came up with this idea — UEM Group or EcoWorld? Has UEM Group received the green light from Khazanah Nasional Bhd on the proposed merger?
The letter sent to both companies to consider and deliberate on a potential merger was issued by UEM Group. Khazanah is aware and supportive of this.
Who will be leading the management of the merged entity? Why?
The composition of the board and the management team will be decided by the Integration Committee. We are proposing for the chairman of the merged entity to come from UEM Sunrise.
Is EcoWorld's chairman Tan Sri Liew Kee Sin committed to remaining as a shareholder of the merged entity, and in its management team?
We can't speak on his behalf. You may want to pose the question to him.
Investment analysts comment that there are hardly any synergies from the proposed merger. What do you say to this?
Aside from allowing UEM Sunrise to reduce its over-reliance on Johor exposure from 75% to 63%, the proposed merger will improve its central landbank from 5% to 20%. As mentioned, EcoWorld has particularly strong branding and a robust base of customers. It is one of the most highly regarded property developers in the country with a strong reputation as a township developer and a credible track record across the full suite of property products — ranging from residential to industrial parks.
Importantly, notwithstanding its balanced land bank, it also has a proven track record in Johor. On the other hand, from the perspective of EcoWorld shareholders, the proposed merger will provide them with access to UEM Sunrise's sizeable landbank and strong track record in high-rise residential [development].
Leveraging the strengths of both parties, we believe the merged entity will be well positioned to serve its customers better.
Will you embark on any rationalisation exercise, for instance, the downsizing of workforce and streamlining of operations, to achieve better efficiency?
I think it is important to stress here that in our view, the merger is predicated on expected yield and revenue enhancement perspective — we are hoping for better land bank utilisation through optimising the products. We have not assumed any cost efficiency in our merger case.
Simply put, the proposed merger has met with criticisms. Some quarters see it as a bailout of EcoWorld with taxpayers' money.
This is not a bailout. The main premise for this proposed merger is for UEM Sunrise and EcoWorld to leverage each other's strengths. These include UEM Sunrise's sizeable landbank and EcoWorld's excellent execution capabilities and track record, to create a best in class property developer with strong capabilities in every segment of the industry for the benefit of all shareholders and property buyers.
EcoWorld had healthy unbilled sales of up to RM3.4 billion as at Aug 31, 2020; its net gearing was reduced from 0.7 times in October 2019 to 0.6 times in July 2020. In addition, EcoWorld's April to mid-June sales of RM642 million were higher than the second quarter 2020 peer average of RM257 million. EcoWorld's current net debt to unbilled sales of 0.9 times is lower compared to UEM Sunrise's 1.6 times and peer average of 1.3 times.
How confident are you that the proposed merger will materialise despite the criticisms against it?
This is a proposal for the respective boards of directors of UEM Sunrise and EcoWorld to consider, and we hope they will see the commercial benefits of this merger, just as we do.
Do you expect more consolidations ahead in the property industry?
We wouldn't be surprised if we do end up seeing more consolidations in the industry. Such consolidations will make more sense for players with complementary capabilities and strengths that can deliver synergies and create more value for shareholders.
This story first appeared in The Edge CEO Morning Brief on Oct 6, and has been updated