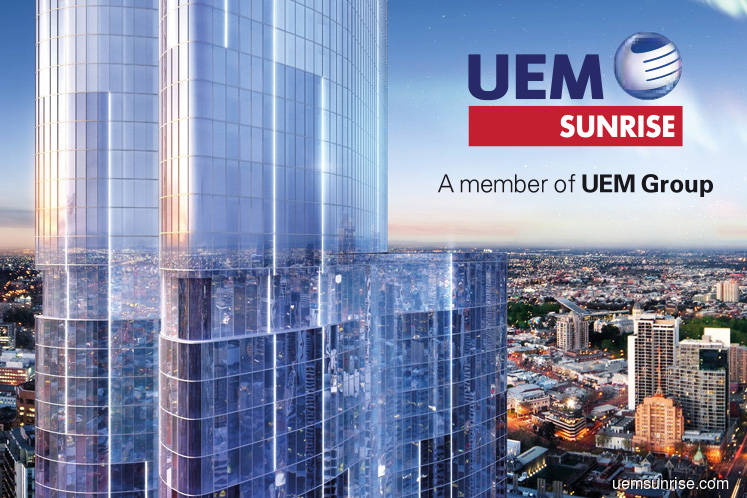 KUALA LUMPUR (Nov 28): UEM Sunrise Bhd recorded an 85% fall in net profit to RM21.17 million in the third quarter ended Sept 30, 2018 (3QFY18) against RM142.85 million in the same period last year, owing to fewer land sales.
Quarterly revenue also nearly halved to RM431 million versus RM846 million in 3QFY17 when it notched a number of large land sales, in particular the Alderbridge of RM371 million, as well as in Iskandar Puteri.
In a filing with Bursa Malaysia, UEM Sunrise said excluding land sales, the property development segment registered higher revenue, driven by the settlement of the first separable portion of its Aurora Melbourne project and higher sales of completed units.
The revenue contributions cushioned the impact of the group's project development cycle for Solaris Parq, Serimbun and Kiara Kasih, which are still at the early stages, and the completion of Teega at Putera Harbor, Bayu Angkasa in Iskandar Puteri, as well as Arcoris and Residensi 22 in Mont Kiara.
Net profit for the cumulative nine months jumped 66.3% to RM260.25 million from RM156.46 million a year ago, on significantly higher contribution from land sales in Iskandar Puteri, higher contribution from an international project, gain from project development cost savings and lower operating expenses.
Revenue was 17% lower however to RM1.29 billion from RM1.55 billion before, mainly due to the completion of Teega, Arcoris, Bayu Angkasa and Residensi 22 in the prior year, whilst in the current period, the successful new launches of Solaris Parq, Serimbun and Kiara Kasih are still at the initial stage of development.
The company's unbilled sales as at end of September stood at RM4.7 billion.
UEM Sunrise managing director Anwar Syahrin Abdul Ajib said the group is on track to hit its sales target of RM1.2 billion, since it had achieved RM900.5 million as at end of September.
"We are also pleased to point out that 30% came from inventories, much of which was contributed by the company's inventory monetisation efforts, the latest being the 50 years of community building campaign, aptly called C50, which to date has generated sales plus bookings totalling RM262.3 million, while 23% were from new project launches: Kondominium Kiara Kasih and Serimbun. The remaining 47% was from our other ongoing projects," Anwar said in a separate statement today.
UEM Sunrise was down 0.7% to 73.5 sen at 2.35 pm, with 227,100 shares traded.