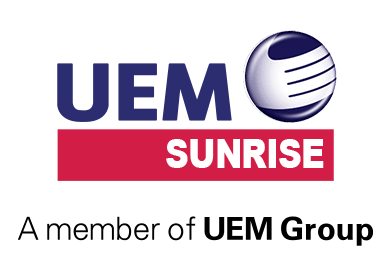 KUALA LUMPUR (Nov 26): Property developer UEM Sunrise Bhd saw its net profit for the third quarter ended Sept 30, 2014 (3QFY14) fall 60.9% to RM71.5 million from RM182.77 million a year ago, on lower revenue from land sales and higher finance cost.
Revenue for 3QFY14 dropped 30.6% to RM471.14 million from RM678.51 million in 3QFY13, primarily due to strategic and Puteri Harbour land sales in 3QFY13 of RM288 million. Excluding these land sales, the property development revenue increased by RM42 million.
Earnings per share (EPS) dropped to 1.58 sen from 4.2 sen in 3QFY13.
For the nine months period (9MFY14), UEM Sunrise's net profit declined 58.6% to RM207.54 million from RM501.19 million a year ago, while revenue fell 28.7% to RM1.32 billion from RM1.85 million in 9MFY13.
EPS for 9MFY14 was lower at 4.57 sen compared with 11.49 sen a year ago.
In a filing with Bursa Malaysia today, UEM Sunrise attributed the lower revenue in 9MFY14 to land sales in Puteri Harbour to Liberty Bridge Sdn Bhd and Southern Marina Development Sdn Bhd, together with strategic land sales of RM724 million last year.
"Excluding these land sales, the property development revenue increased by RM139 million in 2014," it added.
Going forward, UEM Sunrise said the near-term prospects of Nusajaya remains challenging, especially for the high-rise residential segment due to concerns of potential oversupply.
"This has prompted the group to make the strategic decision to defer the launches of several high-end high rise projects originally planned for the current year and focus more on new landed residential development projects as well as affordable homes," said UEM Sunrise.
However, the group's unrecognised revenue remains strong at RM2.8 billion as at Sept 30, 2014. 
Several projects in the pipeline include East Ledang, Nusa Bayu, Nusa Idaman, Teega, Imperial in Johor, Arcoris, Residensi 22, Summer Suites, Symphony Hills in Central Region and Quintet in Vancouver are the main revenue contributors for the current financial year. 
"The land transactions with KLK Land Sdn Bhd and Motorsports City are scheduled for completion by year-end," it said.
Commenting on its a A$757 million maiden project in Melbourne called "Aurora Melbourne Central", UEM Sunrise said the project has been launched last month after obtaining its planning permit. 
The project features 941 residential apartments, 208 serviced apartments, retail and car park. 
"The group is expected to convert a substantial part of these bookings into sales by year-end and this will contribute towards the group's sales target for the year," said UEM Sunrise.
UEM Sunrise shares closed down 5 sen or 2.7% at RM1.80, giving it a market capitalisation of RM8.17 billion.