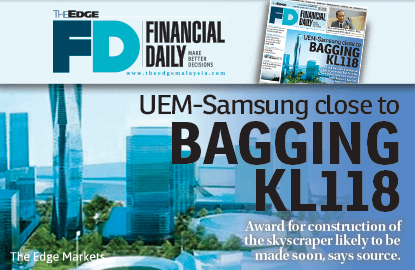 This article first appeared in The Edge Financial Daily, on October 21, 2015.
KUALA LUMPUR: The consortium comprising UEM Group Bhd and South Korean giant Samsung, is understood to be close to bagging the RM3.4 billion construction portion for the KL118 skyscraper, industry sources said.
It is learnt that state-controlled unit trust company Permodalan Nasional Bhd (PNB) — the owner of the KL118 — is favouring the UEM-Samsung consortium, over the other two shortlisted candidates, Malaysian Resources Corp Bhd (MRCB)-China State Construction Engineering Corp consortium, and WCT Bhd and its joint venture partner Arabtec Construction LLC.
"It's almost certainly going to UEM (UEM-Samsung), they were always the one to beat," the industry source said.
Another industry player familiar with the matter added that an award is likely to be made soon.
UEM-Samsung were earlier said to have been neck and neck with MRCB-China State Construction Engineering, while WCT-Arabtec was lagging slightly behind.
The three were shortlisted from an initial group of six which included IJM Corp Bhd in a three-way partnership with Norwest Holdings Sdn Bhd and Shimizu Corp; TSR Capital Bhd in a tie-up with Daewoo Group; and Seacera Group Bhd in joint ventures with Spaz Sdn Bhd and China's Sinohydro Corp-Shanghai Construction Group.
When contacted by The Edge Financial Daily, an official of UEM said the group is not aware of the matter. Meanwhile MRCB was not available for comment.
Another reason for the preference of UEM-Samsung, it seems, is their good working relationship with Turner Construction Co, the project managers of KL118.
Turner and Samsung are said to have worked together on other skyscrapers such as the Burj Khalifa in Dubai — the world's tallest building with 163 stories and a height of 829.8m.
Last month, PNB had sought to lock in price validity periods for the construction of the KL118 for an additional 90 days, after the initial price validity expired end-August. Due to the volatile ringgit, the expiry of the validity period might not augur well for PNB as the costs of building would escalate. The ringgit, which hit a low of 4.46 against the US dollar on Sept 29, has since strengthened and is now at 4.26 against the US dollar.
Some industry veterans were sceptical, and questioned the timing of the KL118.
In the late 1990s as a result of the uncertain economic climate and weak ringgit, many major developments were delayed and in some cases scrapped altogether. Such examples are Duta Grand Hyatt and Plaza Rakyat, both of which have yet to take off.
Work on Menara Telekom was also delayed. Initially it was slated for completion in mid-1998, but was delayed by some two years.