This article first appeared in The Edge Financial Daily, on May 2, 2019.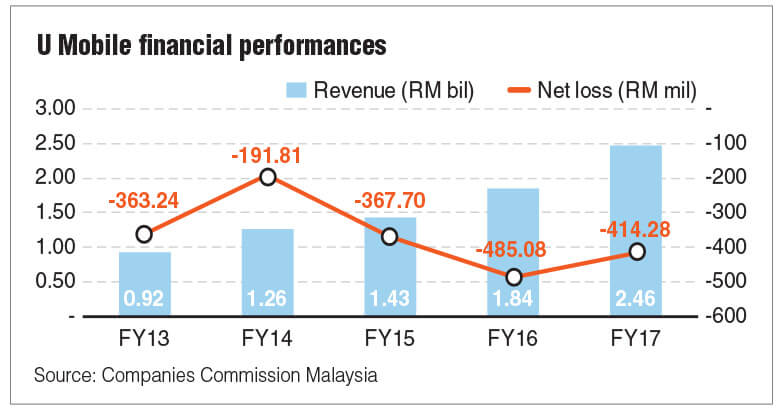 KUALA LUMPUR: U Mobile Sdn Bhd, the country's fourth largest mobile cellular service provider, expects to turn profitable next year after a massive spending to build up its network infrastructure in the preceding years.
"We would turn a net profit soon. I think it would be next year," chief executive officer Wong Heang Tuck said, adding that the group expects to report a smaller loss for this year after a "big net loss" last year.
According to data from the Companies Commission of Malaysia, U Mobile's net loss dropped 14.6% to RM414.28 million for the year ended Dec 31, 2017 (FY17), from RM485.08 million in FY16, as revenue grew by 33.7% to RM2.46 billion from RM1.84 billion.
"Over the last few years, because we have been growing, and because of the RAN share exit (cessation of U Mobile's leasing arrangement with Maxis Bhd's 3G radio access network (RAN), we have been spending quite a bit on capital expenditure (capex)," Wong told The Edge Financial Daily.
"For example, in 2018, our capex was about RM1.5 billion. That was a lot, because we were putting in a new network. This year [our capex] will exceed RM1 billion as well, so we are putting in a lot of investment," he added.
The depreciation from the investment in FY18 and FY19 is expected to drop in FY20, he said.
The RAN share with Maxis infrastructure was originally slated to end by last December, but both parties agreed to extend the network sharing agreement by another three months for Peninsular Malaysia and by six months for Sabah and Sarawak.
"We have already switched off the RAN share in Peninsular Malaysia since April 1 so we will be on our own network. In Sabah and Sarawak, we will be switching off by the middle of this year, no extension at this stage," he said.
Wong expects U Mobile to register a "low-double digit" growth in revenue and subscriber base in FY19.
He declined to reveal the growth in subscriber base for FY18, but said U Mobile has grown further from the six million subscribers mark.
"It (FY19 growth) is also double-digit growth, because we are coming in from a very small base, so the numbers are not that very scary," he said.
Going for IPO
Although U Mobile continues to be on an investment mode to catch up with the Big Three cellular service providers (Maxis Bhd, Celcom Axiata Bhd and DiGi.Com Bhd), Wong said the group is not expected to borrow anymore after its RM1 billion term loan from United Overseas Bank (M) Bhd. Instead, it will be raising funds via an initial public offering (IPO).
"Last year, we did the bank financing, so currently we are not asking for shareholders' money, the next round would be an IPO. I do not think there would be any fundraising or corporate exercise in between," he said.
"We have not got any numbers yet in terms of valuation, but if we were to go to the market, I think the number is going to be quite big, it will be one of the biggest IPOs. It's going to be quite sizeable.
"The shareholders have already put in more than RM5 billion over the last few years, so you would expect that when they go for the IPO, it would be more than RM5 billion," he said.
Nonetheless, Wong said U Mobile is still waiting for the "right time" to go public, as the equities market remains subdued at present.
"I think we are ready for an IPO in terms of financial performance, but there are a lot of factors. The key thing is the market, which has not been performing well over the past few months, so we are waiting for the market to recover. In terms of valuation, I don't think it has reached an optimum valuation," he said.
Having said that, Wong said U Mobile has to start preparing for the IPO now.
"I think we need to start the preparation, because it takes at least six to nine months. So we would start this year.
"We do not intend to stay as the No 4 for too long," he added.