This article first appeared in The Edge Financial Daily, on January 21, 2020.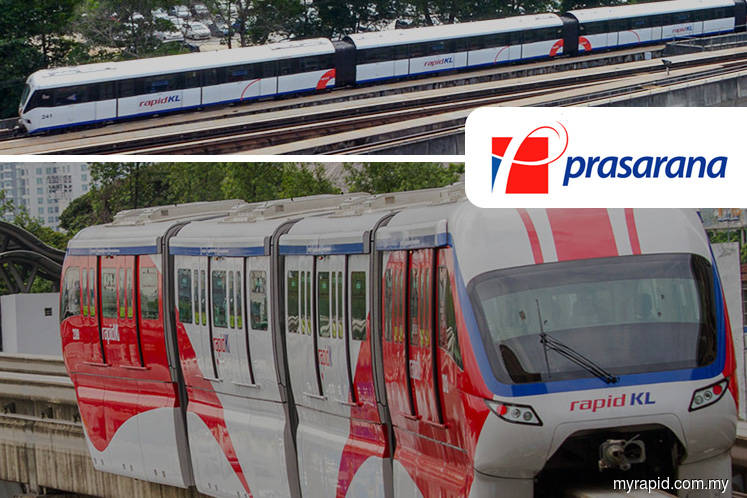 KUALA LUMPUR: Public transportation operator Prasarana Malaysia Bhd may bump up its chief operating officer (COO) Muhammad Nizam Alias to interim chief executive officer (CEO). The promotion is to fill the void left by former CEO Datuk Mohamed Hazlan Mohamed Hussain, suspended earlier this month.
While Mohamed Hazlan's departure was sudden, Muhammad Nizam's stint — if he gets bumped up — may not be long, as sources familiar with the matter said two names have come up to take over the top job.
"No offence to [Muhammad] Nizam, but what we hear is there are already names being bandied about to take over his CEO position, which is an interim one," one of the sources said.
Prasarana — a unit of the ministry of finance (MoF) and manages the intra city rail lines, the mass rapid transit, the light rail transit (LRT) and the monorail, as well as feeder bus systems — did not comment on The Edge Financial Daily's questions.
"Prasarana has no comments to share on the questions you posed," an executive from its communication and marketing division said in an email.
Nevertheless, the first candidate Azhar Ahmad, formerly the Rapid Penang Sdn Bhd CEO in 2007 for about three and a half years, is touted to have transformed the public bus service in Penang.
Checks online revealed he is currently a general manager at Railway Assets Corp, wholly owned by Minister of Finance Inc. Railway Assets Corp manages railway line operator Keretapi Tanah Melayu Bhd's (KTM) assets, leaving KTM with a light balance sheet.
Azhar was also COO at the Land Public Transport Commission, or Suruhanjaya Pengangkutan Awam Darat (SPAD), from 2011 to 2012.
Sources close to Prasarana, however, are unaware of Azhar's possible appointment as the transportation outfit's CEO, only knowing the second candidate being touted to head the large organisation.
The second candidate is Mohd Azharuddin Mat Sah, currently Malaysia Airlines chief transformation officer.
Previously, he was SPAD CEO and a director of urban public transport for Greater Kuala Lumpur/Klang Valley at the Performance Management and Delivery Unit (Pemandu) in the Prime Minister's Department.
"His (Mohd Azharuddin) name has been coming up a lot in talks as a replacement for [Mohamed] Hazlan, suspended earlier this year," a source familiar with ongoings at Prasarana said.
An MoF official confirmed that Mohd Azharuddin's name had popped up in discussions, without elaborating.
Nevertheless, whoever takes over at Prasarana is likely to have his or her hands full. Mohamed Hazlan was at the job for 15 months, while his predecessor Masnizam Hisham only served eight months of her three-year contract.
For the financial year ended December 2018, Prasarana's after tax loss was RM5.15 billion from a revenue of RM746.09 million. As at end-December 2018, the transportation outfit, wholly owned by Minister of Finance Inc, had accumulated losses in excess of RM38.8 billion.
There are also issues with Prasarana's subsidiary Prasarana Integrated Management & Engineering Services, operating the 18.1km haj train Al Mashaaer Al Mugaddassah Metro-Southern Line in Makkah, Saudi Arabia.
However, according to former politician Rafizi Ramli's estimates, Prasarana suffered losses in excess of RM140 million from operating and consulting on the rail project from 2015 to mid-2018.
Mohamed Hazlan's departure is attributed to mounting public complaints against LRT services, such as late notifications of breakdowns, among others.