This article first appeared in City & Country, The Edge Malaysia Weekly, on April 27, 2020 - May 03, 2020.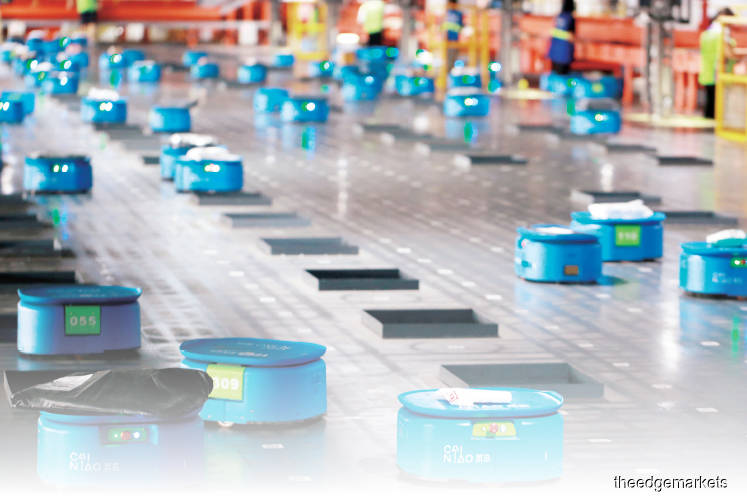 Left: Robots moving parcels at a warehouse in China … JLL's Lau says the current situation in Malaysia may accelerate the use of automation and robotics in operations here
Photo by Reuters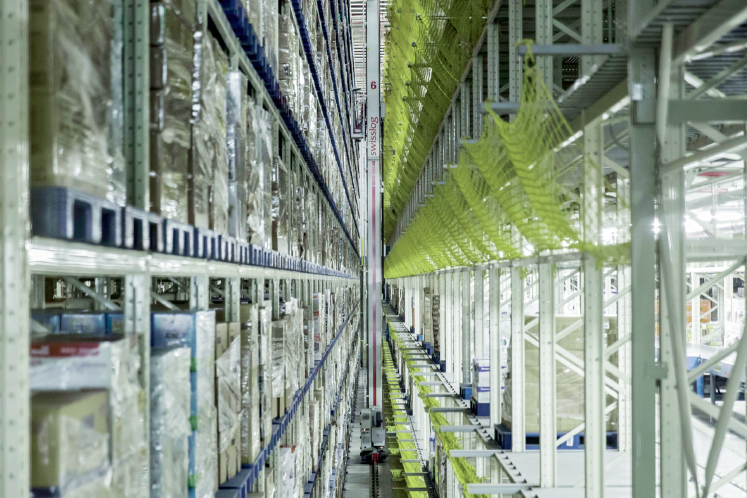 An automated stacker crane, used for loading and unloading packages, at a vertical storage unit in China … Area Management's LaBrooy says the technology used by logistics and e-commerce in Malaysia today is still firmly rooted in the 1990s
Photo by Bloomberg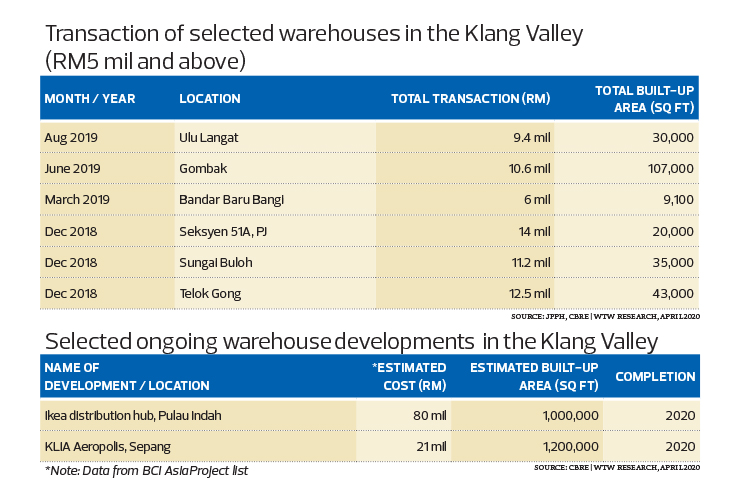 As the world continues to deal with the Covid-19 pandemic, e-commerce and logistics warehousing will most likely see growth in the months ahead. People are changing their spending habits, ordering items online and reducing non-essential interaction. Like it or not, a new normal is necessary to ensure that we contain or prevent the spread of the coronavirus.

At present, Malaysia is uniquely positioned to see growth in the e-commerce and logistics warehousing sectors. CBRE | WTW group managing director Foo Gee Jen says, "By Asean standards, Malaysia has the second highest e-commerce penetration rate in the region. The e-commerce base will certainly expand over time, in tandem with the increasing adoption of IT in everyday life and growing technological knowledge among Malaysians."
Foo says the main logistics drivers in the country are sectors such as manufacturing, pharmaceuticals, food and beverage products, e-commerce and third-party logistics (3PLs).
"These drivers are expected to remain as the integral support for domestic logistics activities, with some of them, such as e-commerce and 3PLs, looking very promising. Parallel to that, the industrial property market has seen the rapid emergence of warehouses in recent years," says Foo.
"Despite that, the Logistics Performance Index 2018 released by the World Bank suggests that there are still gaps in Malaysia's logistics industry, with customs clearance, tracking and tracing, and timeliness among the aspects that need to be looked into."

JLL Malaysia country head YY Lau attributes the current growth in e-commerce to the rising use of smartphones. "Malaysia's e-commerce market has grown rapidly in recent years, fuelled by rising smartphone penetration and the willingness of shoppers to buy from overseas. According to the Department of Statistics Malaysia, e-commerce's share of gross domestic product (GDP) increased from 4.1% in 2010 to 8.0% in 2018.
"Key online shopping categories include travel, consumer electronics as well as furniture and household goods. Despite the rapid growth in recent years, we believe there is still plenty of room for the market to continue expanding. According to a report by JP Morgan, about half of the population in Malaysia has yet to shop online."
Lau points out that under the 11th Malaysia Plan, the government aims to increase the contribution of e-commerce to the nation's GDP to 20.8% this year.

According to Zerin Properties managing director and CEO Previndran Singhe, the purchase of essential items on local e-commerce platforms has been noticeable recently. "E-commerce platforms such as Shopee and Lazada, online stores of supermarket/hypermarket chains as well as food delivery services such as Foodpanda and GrabFood have reported significant surges in shopping and request traffic. Online stores of supermarket/hypermarket chains and grocery delivery services saw the largest jump in sequential traffic, with a growth of 450% to 600%."
While all this is well and good, the deal-breaker would be an inefficient supply chain, says Area Management Sdn Bhd executive chairman Datuk Stewart LaBrooy. "The e-commerce platforms in Malaysia have been inundated with orders since the Movement Control Order (MCO) started but that, in turn, has put huge pressure on critical supply chains that e-commerce depends on. Fortunately, the government was quick to include e-commerce as an essential service and allowed the companies to continue operating.
"However, many of their products and merchants' sales were dependent on deliveries from China, which had come to a standstill when Covid-19 was at its height over there. In addition, deliveries from our ports were frozen when the MCO was initially enforced … it is only now that supply chains seem to be getting back to normal."
Supply chain matters
A key component of e-commerce is a good supply chain. CBRE | WTW's Foo highlights the importance of having both the hardware and software to make it work.
"On the technological front, attention needs to be paid to providing assurance and confidence to consumers with regard to the security of online payment systems, authenticity of sellers and products, accuracy of orders, handling of disputes and so on," he says. "Meanwhile, for logistics and warehouse players, it is worthwhile to recognise the market trend and undertake improvements for future strategic benefits, subject to their business orientation.
"For instance, the last-mile delivery service providers may want to consider locating their facility closer to the city centre to enhance timeliness, or a warehouse operator could consider adopting a more efficient system of storage and distribution to reduce expenditure on space use."
JLL's Lau concurs that the supply chain requires much thought, especially in the longer term. "The MCO has caused short-term disruptions in the global logistics chain. The overall market norm is also evolving. We foresee an increase in online shoppers. Online shopping, especially for groceries, could become the preferred option in many households. In the longer term, many businesses are likely to rethink their supply chain to ensure continuity of operations and to mitigate risks of future shocks.
"Upcoming warehouse or logistics hubs will benefit substantially if they focus on being flexible enough to respond sustainably to a supply chain environment that is transforming rapidly. As the turnover of products can be even higher in a very short period of time, developers or logistics players offering flexible sizing and lease terms, with options of skilled, efficient labour to handle and ship their products, will be preferred."
Lau adds that sorting facilities and last-mile delivery will be crucial going forward and automation will be needed in the longer term.
"In the medium to longer term, the current situation may accelerate the use of automation and robotics in operations. This includes, but is not limited to, the use of automated storage systems, self-picking shelves and automated conveying equipment. Decentralisation of logistics players into smaller satellite distribution hubs with highly automated buildings that are taller but smaller in terms of building footprint will help support local distribution channels."
Moreover, Lau believes that the increase in demand for perishable goods and pharmaceutical items will lead to a new business opportunity in cold-chain logistics. She says there are limited environment-controlled warehouses in the market — which cost three times more to build and operate than a normal warehouse — and these facilities are expected to see demand coming from the online pharmaceutical and grocery sectors.
Even with these opportunities, contingency plans are needed beyond the MCO. Whatever the case may be, having the right plan to meet market demand is crucial.
"It is an opportune time for developers, tech innovators and e-commerce businesses to identify any shortcomings in terms of the warehouse design, distribution (logistics) and present technology that are in place, which can be addressed through collaboration post-MCO," says Zerin Properties' Previndran.
Area Management's LaBrooy concurs. "[E-commerce and logistics warehousing players] should take this time to seriously plan to automate their business, regardless of whether it is for B2B or B2C clients. For some time now, there has been a reluctance to invest in automation but the events of the past month will have convinced them that to gain competitive advantage, same-day and two-hour deliveries should be the new standard of customer service.
"The technology used by logistics and e-commerce today is still firmly rooted in the 1990s. There are no fulfilment centres in the country for quick deliveries, and margins are thin because of the multiple handling of a single package before it gets to the customer. They have forgotten the customers in their drive to satisfy the suppliers.
"Larger integrated warehouses outside of population centres with smaller last-mile warehousing closer to customers (the hub and spoke concept) will be the model of the future, which will lead to lower costs over time, with greater customer satisfaction and efficiency," he says.
Outlook for the industry
"Malaysia's industrial sector is still promising, with warehousing expected to continue to be a popular pick. At present, there is an estimated 10.6 million sq ft of logistics and warehouse space occupied by 3PLs in prime industrial schemes, predominantly in hot spots such as Shah Alam and Port Klang," says Foo.
"At least another two million sq ft of new logistics and warehouse facilities are expected to come onstream in these schemes by 2022. Malaysia's economic fundamentals and industrial prospects in the long run remain strong and relevant, especially with regard to regional logistics and distribution activity. Thus, the domestic industrial sector still stands a good chance of attracting foreign investments into these segments," he adds.
Lau says, "The supply of logistics warehouses in Greater Kuala Lumpur, as monitored by JLL Malaysia, increased at a compound annual growth rate of 22% between 2012 and 2019.
"As at today, there is a total of 14.9 million sq ft of investment-grade warehouses in Greater Kuala Lumpur. We have observed that global brands such as Ikea, Daiso, Nestlé and Continental Tyres have recently invested in distribution hubs in Malaysia in an effort to expand their footprint in the region. International logistics players such as Nippon Express, CJ Century Logistics and DHL are also actively expanding within Greater Kuala Lumpur. Moving forward, we expect to see 6.7 million sq ft of warehouse/logistics facilities being completed in the next three years."
"Apart from the usual favourite areas for logistics warehouses such as Bukit Raja, Port Klang and Shah Alam, the surge in e-commerce has resulted in new areas that are closer to and/or within cities being developed as inner-city storage and distribution hubs to meet consumer demand," says Previndran.
"On the domestic front, we envisage that more businesses will get on e-commerce platforms while supermarkets/hypermarkets will broaden their e-commerce services to cater for the growing consumer market, thereby uplifting demand for built-to-suit logistics warehousing. Developers will be more proactive in coming up with more premium and high-tech logistics warehouse facilities to attract both local and international clients that are seeking to set up regional distribution hubs," he adds.

LaBrooy says, "I see further demand for warehouses for e-commerce emerging after this pandemic as many Malaysians are discovering the convenience of shopping online for the first time out of necessity and traditional retail will suffer as a result.
"The e-commerce and logistics warehousing sectors will remain the darling of the investment community for years to come. E-commerce is here to stay and we can see the sector gaining a much larger market share once the pandemic subsides."
There is no doubt that e-commerce and logistics warehousing will see an uptake in demand. However, to manage this as well as future demand, it would require careful thought and preparation.