This article first appeared in The Edge Financial Daily, on April 12, 2019.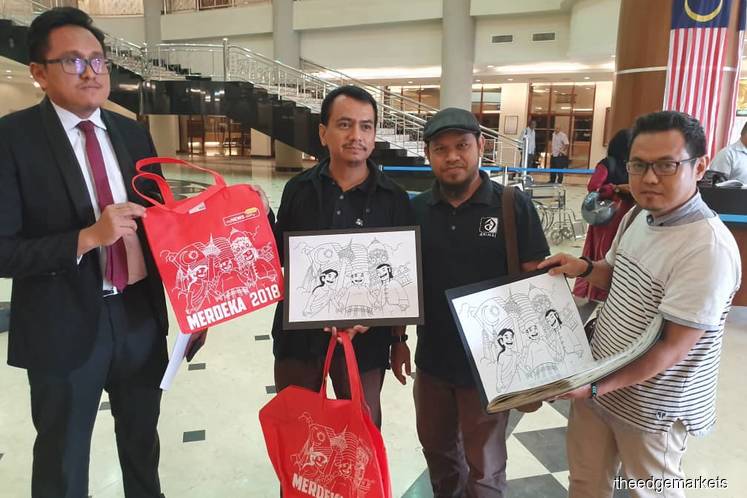 KUALA LUMPUR: Two artists are suing Mynews Holdings Bhd for copyright infringement, claiming the convenience store chain had used their artwork without consent on bags it sold.
Shamsaimun Ezil and Amir Hamzah Hashim named Mynews and its wholly-owned subsidiary Eemerge Incorporated Sdn Bhd as the defendants in the suit filed on April 3. In their statement of claim, the duo said they run a studio called Homework Studio, and in April 2007, resident artist Azhar Saad produced drawings and artworks using the theme of national unity and national identity.
He produced two drawings in three days for which he received payment from Homework and when others asked permission to use the artwork they were paid some fees in return, said Shamsaimun and Amir Hamzah.
They claimed there was an infringement of their copyright copy last October when Mynews and Eemerge marketed two bags called Icon Recycle Bag with Zip and Icon Recycle Document Bag with Zip with the Mynews logo.
They said the bags contained Azhar's artwork, if viewed from the side, for which they claimed they hold copyright. As a result, they made a statutory declaration to assert ownership of the artwork that was published on their blog on Nov 23, 2007.
The duo claimed the defendants had violated their copyright by copying, selling and advertising the artwork without their written consent or knowledge.
They sent a letter of demand dated Oct 19, 2018 to the defendants, asking them to stop selling the bags with their artwork and claiming  damages for losses.
In a letter dated Nov 15, the defendants' lawyers said Mynews had stopped selling the bags but denied that it was responsible for the alleged copyright infringement. Shamsaimun and Amir Hamzah claimed that the defendants had profited from their artwork and hence they sought a declaration that the defendants had violated their copyright under Section 36 of the Copyright Act.
They are seeking an injunction barring the defendants from producing and selling the artwork and bags, a discovery application detailing the production, distribution and sale of the bags, and an inquiry as to the losses suffered by Homework.
Shamsaimun and Amir Hamzah are also claiming compensatory and exemplary damages and costs of the action.
Their lawyer, Ahmad Hafiz Zubir, told reporters the statement of claim was served on Mynews' solicitors on Wednesday, and the High Court has fixed April 22 for case management.