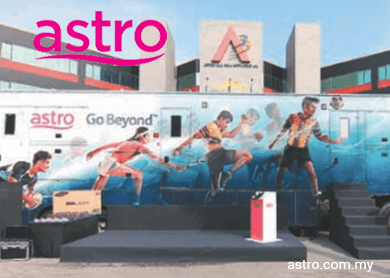 Astro Malaysia Holdings Bhd
(June 17, RM2.97)
Maintain hold with a lower target price of RM3.24: Astro's net profit for the first quarter ended April of financial year 2016 (1QFY16) of RM168 million (up 31% year-on-year [y-o-y]) was in line with our and consensus estimates, accounting for 26% of both of our full-year forecasts. The better-than-expected earnings performance in 1Q was driven by lower net finance costs, to RM58 million in 1QFY16 from RM64 million in 1QFY15, and higher earnings before interest and tax (Ebit) of RM266 million in 1QFY16 from RM212 million in 1QFY15. Ebit margin broadened to 20% from 17% in 1QFY15.
Astro declared a first interim dividend of 2.75 sen per share in 1Q, translating into a dividend payout ratio of 85%, slightly lower than 1QFY15's payout ratio of 91% (1QFY15: 2.25 sen per share).
Revenue for 1QFY16 rose to RM1.3 billion (up 6% y-o-y, down 1% quarter-on-quarter), mainly driven by a RM33 million increase in subscriptions and RM14 million rise in advertising. Television networks' subscriptions have lifted Astro's television revenue to RM1.2 billion (up 3% y-o-y) in 1Q, underpinned by the jump in subscriptions, attributed to growth in both average revenue per user (Arpu) by RM1.90 (to RM99 from RM97.10), and number of pay-TV residential subscribers by 34,100 new customers (to 3.5 million from 3.47 million). The group's revenue for the radio networks' segment grew by 41% y-o-y to RM204 million in 1QFY16 (1QFY15: RM145 million) thanks to strong listenership ratings and the improving tactical sales campaign underpinned by the introduction of the youthful format to make it more attractive. As a result, Astro's profit before tax (PBT) for the television segment soared by 16% y-o-y to RM204 million from RM145 million in 1QFY15, and the radio segment's PBT increased by 30% y-o-y to RM29 million from RM22 million in 1QFY15. Note that radio advertising expenditure market share in 1QFY16 has increased to 63% against the corresponding quarter's 59% last year.
Astro has chosen Kantar Media to organise and monitor audience measurement by collecting data from its subscribers for the most popular channels and services that they tune to and report on viewership of the advertising spots. Kantar Media is the world's leader in television audience measurement (TAM). Hence, its innovative service, DynamicTAM (DTAM), will measure viewership not only for the direct standard and high definition (HD) channels, but also sectioned viewership from services, such as time-shifted viewing, video-on-demand and interactive television, which is still unmeasured to date. DTAM will provide information that will allow advertisers to make better media advertising decisions and target specific consumers based on their viewing habits. Furthermore, DTAM will report on the viewership of advertising spots across Astro and free-to-air TV channels.
We have done some housekeeping and have come out with new FY16 and FY17 earnings forecasts of RM634 million and RM661 million respectively. Our FY16 and FY17 earnings forecasts are expected to grow by 1% and 4%, underpinned by better-than-expected subscriber take-up rate of HD services, encouraging performance of its new home shopping service, Go Shop, and higher expansion of the customer base which would increase Arpu in the long term. — M&A Securities, June 17
This article first appeared in The Edge Financial Daily, on June 18, 2015.