This article first appeared in The Edge Malaysia Weekly, on May 11, 2020 - May 17, 2020.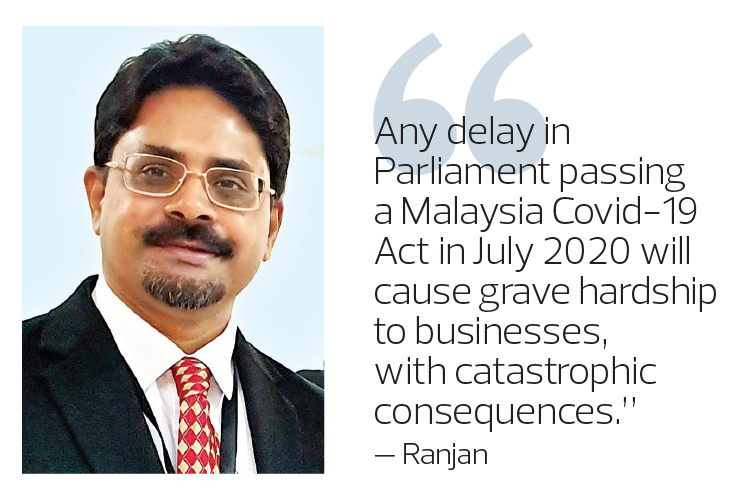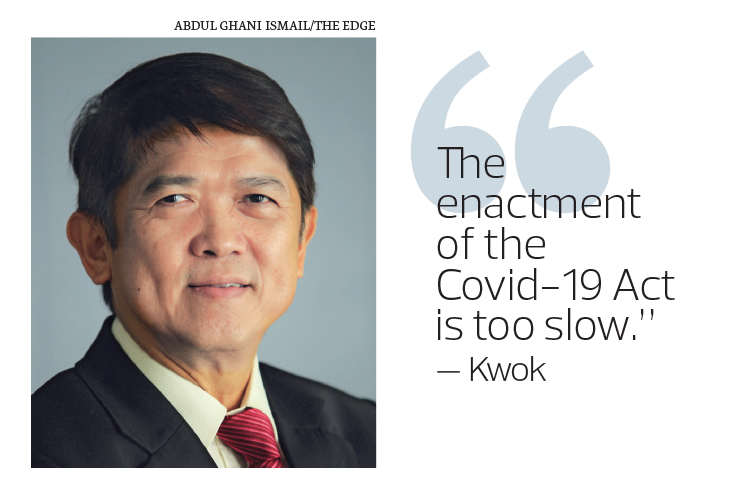 THE Covid-19 global pandemic and ensuing Movement Control Order (MCO) in Malaysia have resulted in many businesses shutting down because of financial distress. Many more are expected to close as business is unlikely to return to normal any time soon.
Recently, a coalition of Malaysian businesses representing retailers, hotel operators, hairdressers and small and medium enterprises called for the urgent enactment of a Covid-19 Act by the government. Such an act, which will have retrospective effect, would provide companies with a moratorium on loan repayment and enable them to focus on reviving their businesses instead of spending their resources on unnecessary litigation.
However, the Minister in the Prime Minister's Department in charge of legal affairs, Datuk Takiyuddin Hassan, was reported as saying that the bill related to Covid-19 will be tabled only in the July sitting of the Dewan Rakyat, four months after the MCO commenced on March 18.
Can businesses wait that long?
"I am disappointed. It (the enactment of the Covid-19 Act) is too slow. We hope they can bring it forward as there is an urgency," Nelson's Franchise (M) Sdn Bhd founder Datuk Seri Nelson Kwok says, reacting to news of the July tabling of the act. He adds that with people afraid to venture out until a vaccine is found, the outlook for the retail sector is negative for the next six to 12 months.
Lawyer Ranjan N Chandran, a commercial and construction partner at Hakem Arabi & Associates, agrees that while a potential Covid-19 Act may be in the works, having to wait until July may be too long for some companies. "Any delay in Parliament passing a Malaysia Covid-19 Act in July 2020 will cause grave hardship to businesses, with catastrophic consequences," he cautions.
He says existing protection is provided by the Companies Commission of Malaysia (SSM), which extended the time for responding to a statutory notice of demand from 21 days to six months and increased the winding-up threshold from RM10,000 to RM50,000. These were endorsed by the Malaysian Companies (Exemption) No 2 Order 2020, which came into force on April 23, 2020 and is effective until Dec 31, 2020. Likewise, a government gazette dated April 23 that is effective until Dec 31 on the debt threshold was endorsed.
However, the announcement by SSM is prospective from April 23. Only Parliament has the power to declare laws that have retrospective effect. "Businesses need protection from legal proceedings from the month of March when the World Health Organization declared Covid-19 a global pandemic and the MCO lockdown was imposed. ­Otherwise, there will be no protection of the law," Ranjan says.
What this means is that, if a statutory winding-up notice was served on a debtor before April 23, he will not have the six months' protection. Hence upon the expiry of the 21 days, the creditor can proceed to file a winding-up petition. The same rule applies to any statutory winding-up notice served after Dec 31, 2020.
So, what other recourse do these businesses have?
Generally, businesses facing financial problems can turn to a scheme of arrangement and corporate voluntary arrangement. Alternatively, they can resort to judicial management (JM), which is a fairly new option and governed by the Companies Act 2016, which came into force on March 1, 2018.
"Judicial management is a corporate rescue mechanism that will provide solace to businesses. They can seek the aid of the court to save their ailing company from the threat of winding-up, should there be any legal proceedings commenced for any breach of contract," Ranjan explains.
Simply put, JM buys companies time to put their businesses in order and can be regarded as a rescue option from being declared insolvent.
Alan Gomez, a lawyer from the law firm Tommy Thomas says in order to apply for JM, a debtor company cannot be a licensed institution or an operator of a designated payment system regulated under the laws enforced by Bank Negara Malaysia, or a company that is subject to the Capital Markets and Services Act 2007. This means that public listed companies and companies that have issued bonds/sukuk that are outstanding cannot resort to JM.
Gomez adds that this statutory scheme places the management of a financially distressed company in the hands of a qualified independent person with the necessary skill and experience, known as a judicial manager. The judicial manager, who has to be an insolvency practitioner, then finds ways to restructure the debts of the company as well as manage its business for a period of time. Gomez explains that when a judicial manager is appointed, the directors will lose control of the company.
Ranjan, meanwhile, points out that JM should not be confused with receivership as the latter is not a rescue mechanism like JM. Receivership arises when a company is dealing with a secured creditor such as a bank. As security, the loan is secured by a debenture. When the company defaults on the debenture, a receiver is appointed by the court to take care of and safeguard the bank's secured interest. "JM is a form of damage control," he states.
How does JM work? Firstly, a formal application for a Judicial Management Order (JMO) must be filed in court. The court will then place the ailing company in the hands of a judicial manager. A JMO is granted if the court is satisfied that the company is or is likely to become unable to pay its debts, and the JMO is likely to ensure the survival of the company as a going concern, achieve the approval of a compromise or arrangement between the company and its shareholders and/or creditors, or a more advantageous realisation of the company's assets would be effected than on a winding-up.
The JMO provides a six-month moratorium to the business owner and bars any legal action by any creditor, with a possibility to extend it by a further six months at the discretion of the court.
The judicial manager will then prepare a restructuring plan for the ailing company to be presented for approval by 75% in value of the total creditors whose claims have been accepted by the judicial manager. If the plan is approved, the judicial manager will oversee its implementation, and the business can then carry on. Once the judicial manager has completed his task of restructuring and the creditors have been paid, his role is discharged. Following this, the directors can assume their role in the company.
Retail and hospitality sectors may see 15% to 20% casualty rate
The retail and hospitality sectors are among those that have been badly hit as travel has come to an almost complete halt due to Covid-19.
Retail Group Malaysia managing director Tan Hai Hsin estimates that retail store casualties will hit 51,000 by next January.
"After the Movement Control Order is lifted, it will take time for retail businesses to recover as we expect consumer spending to take some time to return to the same buying momentum as last year. We can expect about 15% of the total retail supply, or at least 51,000 stores, to close down or be wound up in Malaysia within the next six to eight months," Hai Hsin tells The Edge, adding that only the fittest will survive.
The hospitality sector has not been spared. President of the Malaysian Association of Tour and Travel Agents (Matta) Datuk Tan Kok Liang is expecting many of its members to fold.
"In a recent survey by Matta, 2% say they will close shop. These agencies will basically hive down and resume business once travel demand is back to normal. The threat of [being served with] winding-up petitions by creditors is high as the industry will take time to recover. We are looking at the winding up of an estimated 20% of the companies, initiated mainly by financial institutions and landlords," Kok Liang says.
Matta has a total of 3,600 members.
Similarly, a recent survey by the Malaysian Association of Hotels found that 15% of the hotels surveyed were considering permanently closing down.