This article first appeared in The Edge Malaysia Weekly, on December 31, 2018 - January 06, 2019.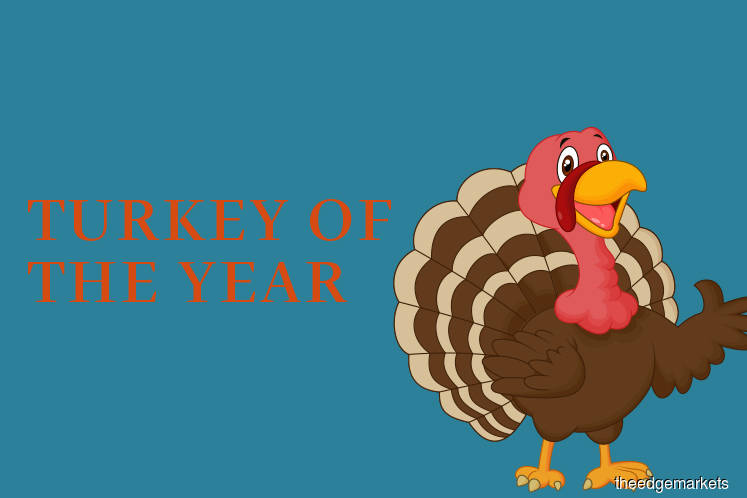 IN December, the Ministry of Finance provided a special allocation of RM77 million and channelled it to the Ministry of Economic Affairs to help the Federal Land Development Authority (FELDA) with its cash flow problems.
"The issue has been a concern of Prime Minister Tun Dr Mahathir Mohamad, who instructed for the allocation to be given," Minister of Finance Lim Guan Eng had said then.
And it should be a concern as 19 FELDA-linked constituencies, or about a third of the total 54 FELDA-dominated constituencies, voted for Pakatan Harapan in the 14th general election, breaking the grip of Umno and Barisan Nasional on the settlers.
In response to the RM77 million assistance, FELDA said in a press statement, "At present, FELDA is managing 292,252ha of plantation land involving 76,414 settlers. About 38,000 settlers are currently receiving living assistance and upfront payment of income … This year, RM500 million is needed to finance the payment currently funded from FELDA's internal sources."
What went wrong at FELDA and its 33.67% unit FGV Holdings Bhd (formerly known as Felda Global Ventures Holdings Bhd) that the government had to step in?
At its peak, FGV hit an intra-day high of RM4.842. That was on July 6, 2012, just about a week after its listing on June 28, translating into a market capitalisation of RM19.846 billion then. Now, its market capitalisation has shrunk to RM2.6 billion, which means shareholders have lost more than RM17 billion in value.
Just about 61/2-years ago, FELDA raked in RM6 billion from the offer for sale of shares at FGV's initial public offering, while FGV made RM4.89 billion.
But today, FGV and FELDA seem to be in dire straits.
For its nine months ended September 2018, FGV suffered a net loss of RM871.15 million from RM10.23 billion in revenue, compared to a net profit of RM80.49 million on RM12.67 billion in sales a year ago.
As at end-September, FGV had deposits, cash and bank balances of RM1.48 billion, and total borrowings of RM4.2 billion.
When FGV was listed six years ago, it had a cash pile of RM5.09 billion, but since FY2015, it has fallen into a net debt situation.
The bulk of FGV's RM4.89 billion from its floatation exercise went acquisitions.  
In July 2013, FGV announced the acquisition of Sabah-based Pontian United Plantations Bhd for RM1.2 billion. That did not generate much fanfare among the analyst fraternity covering FGV. Pontian owns 16,000ha of oil palm plantation, among other assets.
BIMB Securities' view was that FGV was paying too much and was "sceptical" about the acquisition due to the high valuation.
"The purchase consideration valued the plantation land at about RM74,800 per ha, which is pricey in our view," BIMB had said. Several other issues were also highlighted.
Interestingly, FGV had also informed the Bursa Malaysia that it could not ascertain key information pertaining to the plantation land held by Pontian group, including identification of real estate, age and profile of plantation, mill capacity and unplanted land area. Nevertheless, the acquisition was concluded in October the same year.
About a year later in June 2015, FGV acquired four plantation companies and a parcel of oil palm land in Sabah, measuring 836.1ha, from Golden Land Bhd for RM655 million in cash. While the acquisition was not viewed negatively, it did not excite.
Perhaps the most talked-about acquisition was that of Asian Plantations Ltd for about RM1 billion — RM628 million in cash and the assumption of RM388 million in liabilities. FGV concluded the acquisition at-end October 2014.
Flash forward to the present, and there is an ongoing investigation on the high price tag for Asian Plantations, high acreage of non-plantable land, development of about 700ha that was not part of Asian Plantations and whether a due diligence report from Deloitte, which was opposed to the acquisition, was shared with the board.
It is understood that while FGV paid about RM65,000 per ha for Asian Plantations, other companies had sought to pay only RM20,000 per ha.
FGV had acquired Asian Plantations — incorporated in Singapore but listed on UK's Alternative Investment Market — after a voluntary conditional cash offer of £ 2.20 per share — a premium of about 294.7% over its net asset value per share as at Dec 31, 2013. Nevertheless. Asian Plantations has 24,622ha of oil palm plantation through five wholly-owned estates — Incosetia Estate, Grand Performance Estate, Fortune Estate, Kronos Estate and BJ Corp Estate — all located around Miri and Bintulu in Sarawak.
However, about 7,300ha were unplantable and close to 2,600ha encumbered with Native Customary Rights claims. This means that as much as 9,900ha, or about 40% of Asian Plantations' 24,000ha, could not be planted.
At end-November 2018, FGV sued 14 former directors and senior management for losses suffered from their failure to discharge their respective fiduciary duty, duty of fidelity and/or duty to exercise reasonable care, skill and diligence."
A few days later, FGV filed a suit against former chairman Tan Sri Mohd Isa Samad and former CEO Datuk Mohd Emir Mavani Abdullah over the acquisition of two luxury condominiums in Persiaran KLCC and is seeking RM7.68 million and other reliefs from both.
Apart from Asian Plantations, FGV's investments in Cambridge Nanosytems Ltd was also contentious. FGV has a 70% stake in the company, which incurred losses of RM27.5 million from 2014 to 2017. The plan for it was the production of high-grade carbon nanotubes and graphene from the by-products of crude palm oil.
FGV's FY2016 annual report states that on Dec 8, 2016, its board approved the proposed divestment of its 70% equity interest in FGV Cambridge Nanosystems, and as at Dec 31, 2016, the company had been classified as an asset held for sale.
FGV's 2017 annual stated that the proposed divestment of the 70% equity interest in FGV Cambridge Nanosystems was expected to be completed in 2018.
While there have been a number of questionable acquisitions, FGV, to its credit, walked away from a US$505 million proposal to buy 37% PT Eagle High Plantations Tbk, which fell into FELDA's lap. The seller, Tan Sri Peter Sondakh, is a known associate of former premier Datuk Seri Najib Tun Razak.
Nevertheless, there is a put and call option in the sale and purchase terms, which FELDA can exercise if Eagle High does not get Roundtable on Sustainable Palm Oil (RSPO) certification by 2019. It will require the Rajawali group, Sondakh's vehicle, to buy back the 37% stake with 6% interest a year.
Sondakh has a 37.64% stake in Eagle High and is still the largest shareholder, although FELDA has two board seats.
While its latest annual report has not been made public, the second series of the 2017 Auditor-General's Report said FELDA and the group had institutional borrowings of RM7.8 billion and RM12.14 billion respectively.
In fact, the report issued an unmodified opinion with an emphasis of matter on FELDA regarding its massive net losses of RM5.73 billion and RM4.85 billion at the company and group levels respectively.
It is not clear what FELDA did with the RM6 billion it raised from the IPO of FGV. However, a draft of the white paper on FELDA's problems notes that it only utilised 24% of the RM6 billion from FGV's flotation exercise for future expansion.
But FGV's prospectus in 2012 indicated that 36% of its trees were between 21 and 25 years, and 16.9% over 25 years. To put it another way, 52.9% of FGV's plantations were regarded as old six years ago, so how did FELDA not expect the current predicament, in which aggressive replanting has adversely impacted earnings?
The white paper is also understood to have a list of nine companies under FELDA, set up since 2013, where business had faltered and amounts owing to it amounted to RM2.67 billion.
Some of the failed plans include a sturgeon rearing project in which FELDA invested RM47.61 million and made no returns, the setting up of Global Settlers Sdn Bhd, and the setting up of FELDA concept shops known as Savaro via a joint venture with Schneeballen Korea Co Ltd, aimed to bake and distribute schneeballen pastries. Savaro commenced operations in July 2013 but went into liquidation in April 2016. While the losses at the Savaro restaurants amounted to only RM2.24 million, there were discrepancies such as rental not being paid into the building owner's bank account but into that of the outlet manager.
It is ironic that among the plans being mooted in the white paper was a privatisation of FGV, which would sweep all its problems under the carpet, whereas as a listed company, FGV would be required to announce all material issues.
Nevertheless, FELDA and FGV make it to the Turkeys of the Year list for the lax management of the plantation group over the last few years.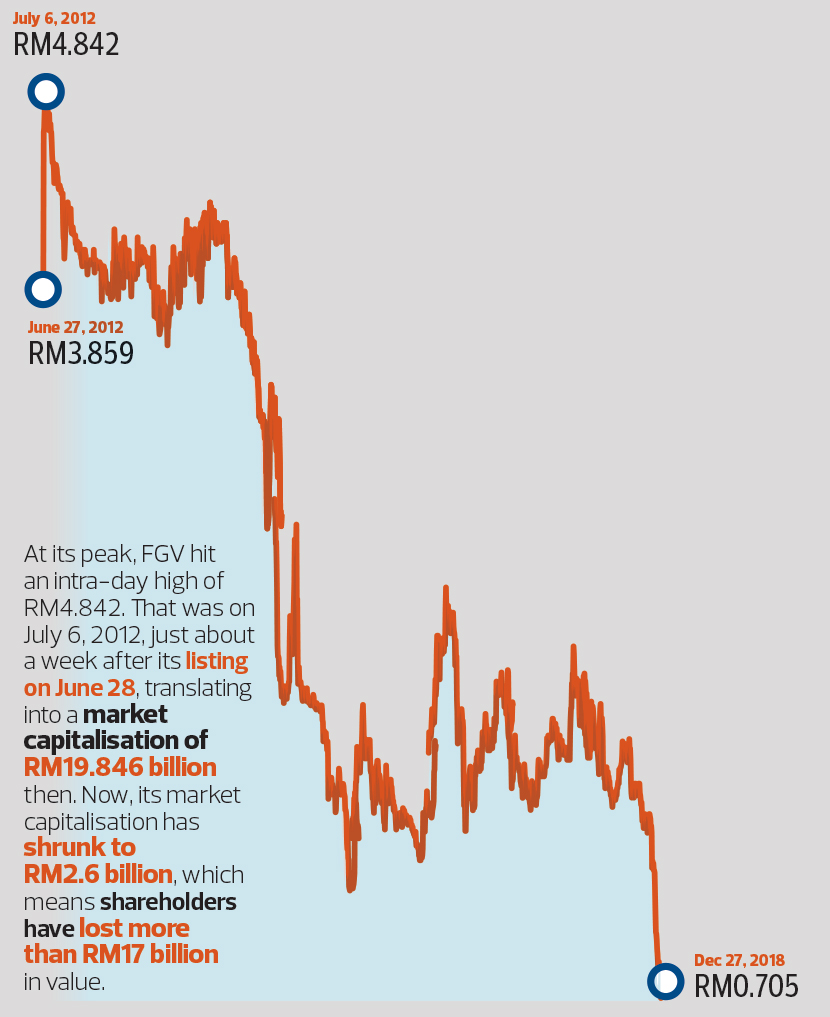 Save by subscribing to us for your print and/or digital copy.
P/S: The Edge is also available on Apple's AppStore and Androids' Google Play.