This article first appeared in The Edge Malaysia Weekly, on December 31, 2018 - January 06, 2019.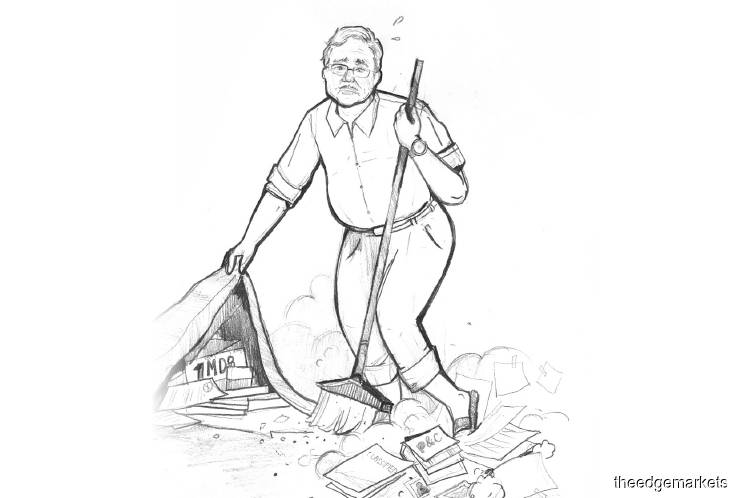 IF not for the change in government post-May 9, it is likely that the shenanigans at 1Malaysia Development Bhd would have remained below the radar of the local mainstream media, and possibly many more such scandals would have gone unnoticed.
Prior to May 9, there were not many press conferences called by the then prime minister Datuk Seri Najib Razak or the top brass of the country for fear of "sensitive questions" being asked. And as the problem became bigger and more holes were dug to plug a huge RM40 billion hole known as 1MDB, non-government-owned media were even barred from some press conferences.
When asked by an editor and a reporter from The Edge to justify the billion-ringgit cost of a certain construction contract, officials from a Chinese company given the job said frankly, "You should know your government (better than us)." The implication was that, among others, the cost may have been marked up by a few billion ringgit.
It was understood that the additional billions from the project would go towards settling 1MDB's debts.
More recently, there were charges of alleged misappropriation of RM6 billion under Section 409 of the Penal Code — which deals with criminal breaches of trust — that was purportedly used to settle 1MDB's debts. What is worse is that some of the RM6 billion — about RM1.3 billion — was from Bantuan Rakyat 1Malaysia or BR1M, the federal government's fund to help the poor. This was diverted to repay International Petroleum Investment Co under a settlement agreement inked between the two parties in April 2017 as part of a scheme in which the Middle Eastern outfit co-guaranteed two of 1MDB's bonds valued at US$3.5 billion.
And it is not just BR1M funds that have been tapped for 1MDB.
Back in 2015, Lembaga Tabung Haji (TH) paid 1MDB RM188.5 million for two plots of land that belonged to the latter in Tun Razak Exchange. The pilgrim fund forked out much more than what 1MDB had paid when it acquired the land from the government.
While TH's officials talked about selling the plots for a profit, it is not known if such a sale took place. It later came to light that former deputy prime minister Tan Sri Muhyiddin Yassin, who was axed in 2015 but is now the Minister of Home Affairs under the Pakatan Harapan government, had opposed the deal. The pilgrim fund's risk management committee also termed the purchase high risk.
Then, there are the attempts at covering up the troubles at the investment fund. In a nutshell, the picture of 1MDB being misunderstood and all being well and good as painted by former prime minister Datuk Seri Najib Razak, and those in Barisan Nasional when it was in power, is in stark contrast to the actual situation.
The mantra all along — from late 2012 to early 2013 — when questions about 1MDB first surfaced was that there was nothing wrong at the strategic investment fund and that it was certain politicians and media that had created a negative perception of the company and its actions.
There were also media reports on the alleged key figure in the 1MDB scandal — Low Taek Jho — to explain his lavish lifestyle and his wealth that was supposedly inherited from his grandfather.
Also appearing often in the financial pages was Arul Kanda, 1MDB's former president and CEO, who cleverly dodged bullets while explaining the sovereign fund's financial position. In fact, during the GE14 campaign period, Arul toured the country to give talks in attempts to clear 1MDB's name.
After the general election, he was called up by the Ministry of Finance to explain 1MDB's financial condition. However, minister Lim Guan Eng, in a statement issued after the meeting, expressed dissatisfaction with Arul, who said he was on gardening leave until his contract ended in June and was thus in the dark about 1MDB's finances. Arul also claimed that all financial matters were handled strictly by 1MDB's chief financial officer, and thus he had no knowledge of the value of certain investments said to be worth about RM9.8 billion, or whether they even existed.
On Dec 11, Arul was charged with Najib for tampering with an audit report on 1MDB.
Ironically though, none of the other CEOs of 1MDB have been charged with any wrongdoing.
Nevertheless, in the early days, questions as to why 1MDB was set up in the first place were brushed aside, as were questions as to why such a high-profile government-owned body undertook billions of ringgit of investments and issued large amounts of debt in such an opaque manner.
The fact remains that 1MDB had the distinction of being possibly the only government-linked company to have changed three CEOs, three external auditors and two chairmen in just five years. And in those five years, there were many attempts to mask the truth and hide that fact that all was not well at 1MDB. Meanwhile, reports uncovering the scandal were seen as politically driven. Among others, many questions were raised about the US$940 million in investments units held by Singapore-based BSI Bank and the now infamous "donation" by a Saudi Arabian royalty amounting to RM2.6 billion, which made its way into Najib's bank account.
What was damning was that in at least six countries — the US, Switzerland, Singapore, Luxembourg, Hong Kong and Malaysia — there were ongoing investigations into wrongdoings at 1MDB.
GE14 saw the defeat of the Barisan Nasional government, which, many say, was brought about by the unanswered questions at 1MDB.
One of the new batch of 1MDB directors, Datuk Kamal Mohd Ali, called the largely unexplained investment units a scam, according to a statement issued by the finance ministry after a meeting with Kamal and another director, Datuk Norazman Ayob. They said 1MDB was insolvent and clearly unable to repay its debts.
After GE14, it was revealed that a recommendation by the Malaysian Anti-Corruption Commission that 1MDB be investigated further was rejected by the then attorney-general, Tan Sri Mohamed Apandi Ali.
It was reported that Apandi said no to a probe despite being presented with evidence that Najib had received RM42 million from 1MDB's unit, SRC International Sdn Bhd.
Eyebrows were also raised when Swiss attorney-general Michael Lauber told newsmen in July that Apandi had refused to cooperate with regard to suspicious fund flows originating from 1MDB in August 2015 after several transactions linked to a Middle Eastern wealth fund were flagged by the Swiss authorities.
In his defence, Apandi said he was unable to make a stand as the Malaysian police were still investigating 1MDB at the time. "To accede to the Swiss request could prejudice the criminal matter in Malaysia," he was reported as saying.
What made things worse was that it was known in certain circles that former attorney-general Tan Sri Abdul Gani Patail was preparing to charge Najib with regard to 1MDB before he was replaced in 2015. It was also known that Gani headed a special task force that was investigating the RM2.6 billion in Najib's bank account.
The then inspector-general of police, Tan Sri Khalid Abu Bakar, MACC chief commissioner Tan Sri Abu Bakar Kassim Mohamed and Bank Negara Malaysia governor Tan Sri Zeti Akhtar Aziz were also part of the task force that was probing 1MDB's finances and investments, together with other government agency heads, but failed to make any headway.
The inconsistencies were mind-boggling.
At end-June 2017, Khalid told newsmen that the AG's Chambers had directed further investigations into 1MDB, although merely a week earlier he had said the AG's Chambers had not responded to the investigation papers that the police had submitted. In April, he had said that the investigations were concluded "some time ago".
For these blunders, missteps and outright cover-ups, the 1MDB saga deserves to be the Turkey of the Year.
Save by subscribing to us for your print and/or digital copy.
P/S: The Edge is also available on Apple's AppStore and Androids' Google Play.