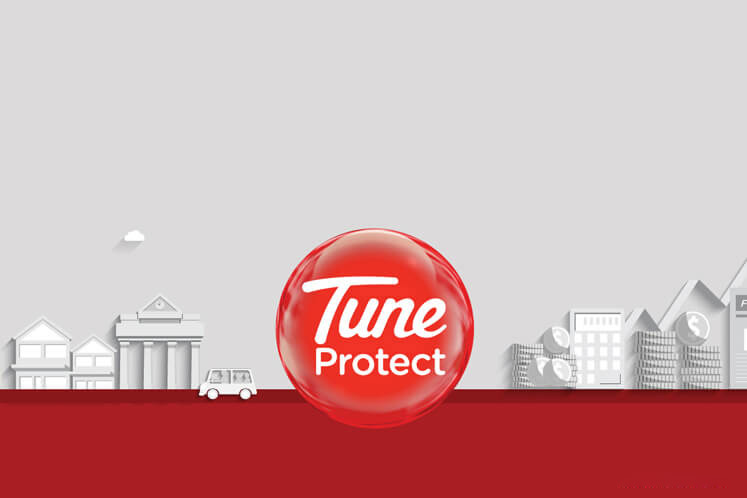 KUALA LUMPUR (Feb 22): Tune Protect Bhd posted a 29.3% year-on-year jump in net profit in the fourth quarter of the year ended Dec 31, 2018 (4QFY18), on the back of lower net claims incurred, higher fair value gain on investments, and lower other operating expenses.
Net profit rose to RM10.8 million from RM8.35 million in 2017, and earnings per share rose to 1.44 sen from 1.11 sen, its quarterly results announcement to Bursa Malaysia showed.
Quarterly revenue grew 1.4% to RM140.42 million from RM138.52 million in 2017, as it recorded higher gross earned premiums in its general reinsurance business, and higher investment income due to stronger dividend from collective investment schemes from higher placements in unit trust funds.
For the full year, its net profit rose 6.5% to RM49.31 million from RM46.3 million a year ago, as revenue climbed 4.3% to RM566.12 million from RM542.6 million, largely due to better investment income.
The climb in annual profit was also due to lower net claims, stronger joint venture results, though the effects of these were partially offset by higher management expenses, and net commission expenses from higher commission paid due to growth in the Philippines and Middle East markets in the general reinsurance business.
"The group recorded an increase of PAT (profit after tax) of 21.1% in 4QFY18 and 5.8% y-o-y for FY18. However, if excluding the impact incurred for the one-off voluntary separation scheme (VSS) completed by Tune Protect in December 2018, PAT for 4QFY18 and FY18 recorded a higher increase of 51.8% and 11.5% y-o-y respectively," the group said in a separate statement.
Segmentally, it said its digital global travel's earnings segment recovered, with gross written premium (GWP) recording a 25.9% increase in 4QFY18 and 10.9% for the full year, due to increase in product bundling sales, Middle East business, and contribution from the other airlines segment.
The segment, which remains a significant contributor to the group, registered a 20.2% growth in PAT from lower unrealised forex loss in 4QFY18, but recorded a decrease of 0.9% for the full year.
As for its Malaysia general insurance business, GWP fell 19.2% and 2.2% for the full year, due to portfolio restructuring strategies — including the rationalisation of the motor portfolio as well as the shift of business focus to non-motor, retail and SMI businesses to ensuring future, long-term, sustainable profit.
"Due to the one-off VSS expenditure, a decrease in PAT by 67.5% YOY and 7.1% was recorded for 4QFY18 and FYFY18 respectively. However, excluding the impact of the VSS, PAT for 4QFY18 recorded a lower decrease by 16.7% YOY and FY18 increases by 5.4% y-o-y respectively," it said.
To support its vision of being a leading digital insurer, Tune Protect Group chief executive officer Khoo Ai Lin said the group will focus on four key transformation pillars represented by the acronym GAIN. "This stands for Global business, AirAsia, Insurtech capabilities and National business to help us drive and deliver successful change not just within the organisation but for our customers as well as stakeholders," she said.
Tune Protect shares closed a sen or 1.46% lower at 67.5 sen — with 583,400 shares changing hands — giving it a market capitalisation of RM514.96 million.