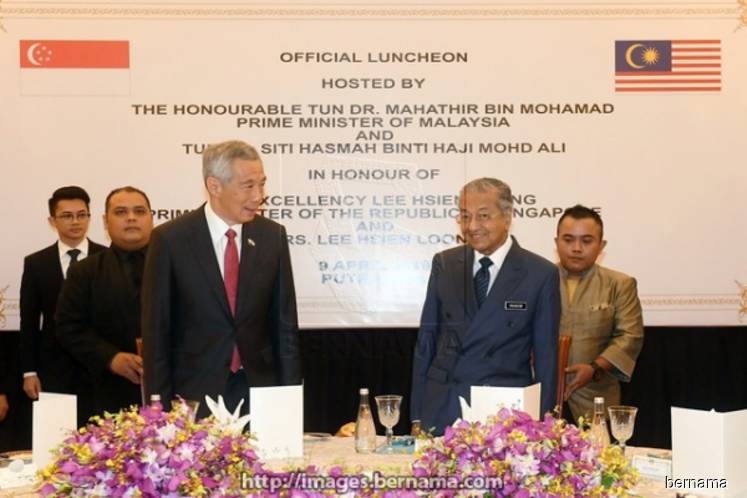 PUTRAJAYA (April 9): Prime Minister Tun Dr Mahathir Mohamad has reiterated the Federal Government's commitment to repeal the Anti-Fake News Act 2018, despite neighbouring country Singapore's move to legislate a similar law in the island republic.
While Mahathir acknowledged the potential abuse of social media, he asserted that a promise was made to do away with the anti-fake news law to the people that voted Pakatan Harapan into power.
"For us that means that we have to learn how to handle such fake news. But when we have a law that prevents people from airing their views, we are afraid that the Government itself may abuse the law as [what had] happened [with] the last Government," he told reporters in a joint press conference with Singapore Prime Minister Lee Hsien Loong after the conclusion the 9th Malaysia-Singapore Leaders' Retreat here today.
"We do not want any Government, this one and succeeding ones, to make use of the law for the Government itself to create fake news in order to sustain themselves. But of course it will be difficult to handle but we believe that we can accept the challenges and we can handle them," Mahathir added.
In August last year, the Dewan Rakyat passed the Anti-Fake News (Repeal) Bill 2018 but it was rejected by the Dewan Negara in the following month.
In contrast, Singapore had, on April 1, tabled the proposed Protection from Online Falsehoods and Manipulation Act (POFMA) in its Parliament.
Its Law Ministry said the proposed Act was intended to protect society from harm inflicted by intentional untruths disseminated online, as well as against malicious actors who spread these fabrications on purpose and agents providing tools and services for these purposes by punishing those convicted with criminal penalties.
The Bill was, however, criticised by Reporters Without Borders, saying the Bill as "Orwellian" and "a major obstacle to the freedom to inform in Singapore".
In response to a question asked by a reporter today, Lee said the issue of deliberate false statements, more commonly known as fake news, is a serious problem faced by many countries.
He pointed to countries like France, Germany, and Australia that have enacted similar laws which he described as "very draconian".
"I am not surprised that Reporters Without Borders criticised it, they criticise many things about Singapore's media management. But what we have done has worked for Singapore. And it is our objective to continue to do things which will work for Singapore. And I think POFMA will be a significant step forward in this regard," he said.