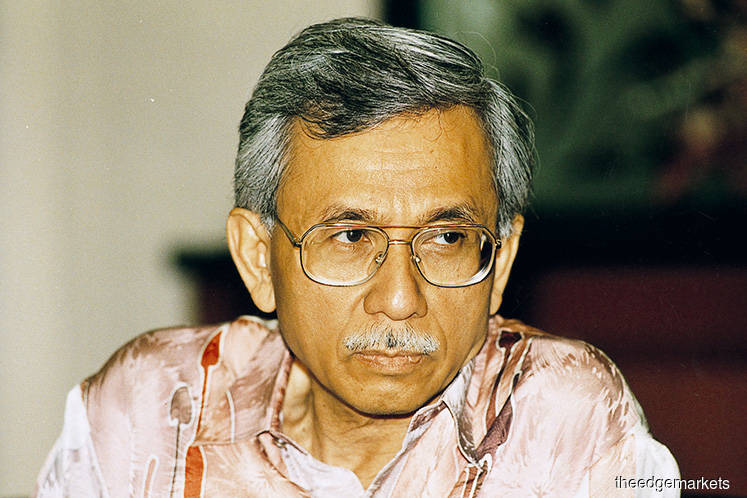 MUAR (May 5): Former Finance Minister Tun Daim Zainuddin said that he felt relieved to have been sacked from Umno, saying that he has no business to be in an "illegal society".
At a ceramah held in Parit Yusof, Muar today, Daim, who was Finance Minister between 1984 and 1991 and 1998 and 2001 said that this is a common thing for Umno to sack someone who speaks against the party line.
"This is normal. I am now speaking up because I have been advising them about 1MDB and Anti-Fake News Law, but they do not want to listen to me. Now that I have been sacked, alhamdulillah. Umno is an illegal society, why should I be with an illegal society?" he said.
Umno has not held its party election for five years, which the Opposition parties and some of its members said was against the party's constitution. The Registrar of Societies has allowed Umno to postpone its Supreme Council election until April 19 next year.
Daim is one of the three former Ministers from Umno who have been speaking up against Datuk Seri Najib Razak's leadership. Former Minister of International Trade and Industry Tan Sri Rafidah Aziz and former Minister of Culture and Heritage Datuk Seri Rais Yatim have also been speaking up against the top leadership of Umno, especially on issues involving the 1Malaysia Development Bhd scandal.
Daim is on a whirlwind tour around the country to campaign for Pakatan Harapan. After the ceramah in Muar, he headed to Batu Pahat for another ceramah and is scheduled to be one of the speakers at a ceramah in Ayer Hitam tonight.
When asked whether he will be joining the opposition coalition following his sacking from Umno, Daim, who is 80 years old, said that there is no need for an old man like him to be in a political party, but will continue to campaign for Pakatan Harapan for the upcoming 14th General Election.