This article first appeared in The Edge Financial Daily, on March 17, 2020.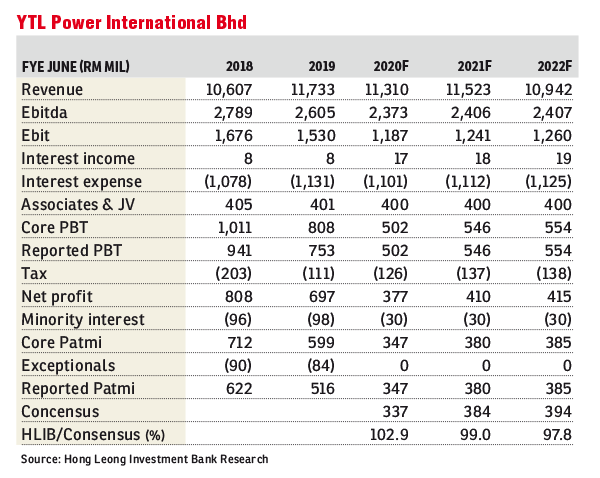 YTL Power International Bhd
(March 16, 55 sen)
Maintain hold with a lower target price (TP) of 65 sen: YTL Power International Bhd has announced the acquisition of Tuaspring Power Generation Assets from Malayan Banking Bhd (Maybank) through a receivership for a total consideration of S$331.45 million (RM1 billion), which will be satisfied by S$230 million (RM696.9 million) in cash to be financed through borrowings and S$101.45 million (RM307.4 million) in book value with a 7.54% equity interest comprising new ordinary shares and loan notes of the enlarged share base of YTL Utilities Ltd, the immediate holding company of YTL PowerSeraya. 
The assets comprise a land lease for the plant site for the remaining term of 20 years and a 396 megawatt (mw) combined cycle gas turbine (CCGT) power station and stocks and associated assets. The acquisition is expected to be completed in the second quarter of 2020 (2Q20). 
YTL Power has also granted Maybank a put option, exercisable within three years, to require the former to purchase the 7.54% equity interest in YTL Utilities at S$40 million (RM121.2 million), compared with the current book value of S$101.45 million (RM307.4 million). 
The acquisition is in line with YTL Power's long-term strategy in expanding its utility business portfolio globally. The group is expected to leverage its existing Singapore Seraya for synergy and business consolidation, resulting in  larger market share and cost savings. However, the expected downturn in the  Singaporean economy in 2020 may continue to affect the profitability of the city state's power generation sector. 
The acquisition price of S$331.45 million without any liability encumbrance for the 396mw CCGT in Singapore is relatively cheap compared to YTL Power's acquisition cost of S$3.8 billion (RM11.4 billion) based on the current exchange rate or total asset value of RM11.4 billion based on financial year 2019's (FY19) 3,100mw licensed capacity, including a 1,540mw CCGT and a 1,500mw oil-fired thermal. Nevertheless, the acquisition will increase the group's net gearing to 1.72 times from the current 1.66 times as at 2QFY20. 
Our "hold" recommendation is maintained with a lower TP of 65 sen, from 75 sen, based on a higher discount of 30%, from 20%, to an unchanged sum-of-parts of 94 sen, following an increased risk to earnings due to Covid-19 slowing down the global economy, especially in the UK and Singapore. — Hong Leong Investment Bank Research, March 13