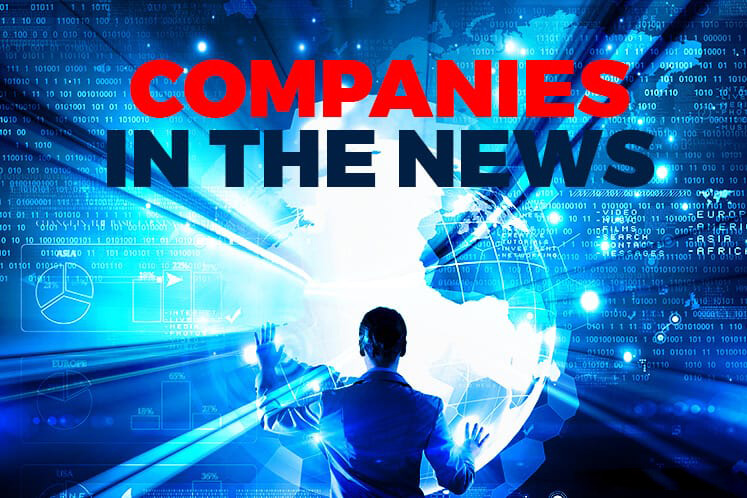 KUALA LUMPUR (April 10): Based on corporate announcements and newsflow today, stocks that could be in focus on Wednesday (April 11) may include: TSR Capital Bhd, Vertice Bhd, Prestariang Bhd, YFG Bhd, Boustead Holdings Bhd, Sanichi Technology Bhd, Grand-Flo Bhd, Hap Seng Plantations Holdings Bhd, Minetech Resources Bhd, Destini Bhd, Sasbadi Holdings Bhd and MMC Corporation Bhd.
TSR Capital Bhd will pay Kwasa Land Sdn Bhd, the master developer of the Kwasa Damansara township in Selangor, a sum of RM58.94 million for the development rights and revenue sharing of a proposed residential development known as Plot R3-3 at the township.
The development, with a gross development value of RM295 million, will feature 260 residential units that include villas and condominiums, and is expected to be completed in 2024.
To undertake the development, TSR's wholly-owned TSR Development Sdn Bhd has entered into a development rights agreement with Kwasa Development (3) Sdn Bhd, which is a wholly-owned unit of the Employees Provident Fund.
In consideration of the development rights, TSR will pay KD3 RM39.76 million and a sum which is equivalent to 6.5% of the gross sales value.
Vertice Bhd's wholly-owned Vertice Construction Sdn Bhd has bagged a subcontract worth RM339.86 million to construct and complete the mainline and other associated works of the Sungai Besi-Ulu Kelang (SUKE) elevated expressway.
The contract was offered by San Mutual Majujaya (SMM) Sdn Bhd, the subcontractor of the project.
Construction period for the SUKE project is expected to last 19 months from the date of possession of the site, which is April 16, 2018.
This is the group's largest construction project to date.
Prestariang Bhd today said it has fulfilled all the conditions precedent of a concession agreement entered into with the Government of Malaysia to implement the Immigration Department's Sistem Kawalan Imigresen Nasional (SKIN) or National Immigration Control System.
The concession agreement was signed on July 18 last year, by Prestariang SKIN Sdn Bhd (PSKIN) — a wholly-owned unit of Prestariang's 70%-owned subsidiary, Prestariang Services Sdn Bhd (Pservices) — with the Home Affairs Ministry.
Prestariang was first announced as the main implementer of SKIN in November 2015 via a public private partnership using the build, operate, maintain and transfer (BOMT) method.
SKIN is a new border control system to replace the current Malaysian Immigration System or MyIMMs.
YFG Bhd has bagged an RM55 million contract to build 418 units of one-storey houses for the Angkatan Tentera Malaysia housing scheme in Tampin, Negeri Sembilan.
Its wholly-owned subsidiary YFG Engineering Sdn Bhd has accepted a letter of award from Evergreen Platform Sdn Bhd for the contract works, which involves the building, infrastructure and landscaping works of the project.
The project is expected to commence on May 8 and be completed within 24 months, and contribute positively to the group's earnings for the financial year ending Sept 30, 2018.
Boustead Holdings Bhd's subsidiary Boustead Naval Shipyard Sdn Bhd has received an RM44.77 million contract for the maintenance and upgrading of combat management system for a Royal Malaysian Navy vessel.
The contract was offered by the Ministry of Defence and is expected to contribute positively to the group's earnings for the financial year ending Dec 31, 2018.
Sanichi Technology Bhd is acquiring a 70% stake in a Johor-based realty company, Persada Ternama Sdn Bhd, for RM8 million for potential profit contribution.
Persada Ternama Sdn Bhd is involved in the business of land developers, builders, and contractors for construction.
It has in hand a joint housing and commercial development project with Lembaga Kemajuan Johor Tenggara (Kejora) – an agency under the Ministry of Rural and Regional Development Malaysia – on land parcels measuring 234 acres in Kota Tinggi.
Grand-Flo Bhd is buying the remaining 49.99% stake in a property development firm Innoceria Sdn Bhd (ISB) for RM21.9 million cash, from its executive director Chuah Chew Hai.  
Grand-Flo first acquired a 50% stake in ISB in August 2014 for RM15 million. ISB is currently involved in a mixed development, i.e. the Vortex Business Park project, in Penang.
Following the acquisition, Grand-Flo plans to diversify into the construction business to expand its earnings base and complement the group's property development business.
Grand-Flo expects the proposals to be completed by the second half of this year.
Hap Seng Plantations Holdings Bhd has announced a revision to its dividend policy to approximately 60% of its net profit, from "up to" 60% of its net profit previously.
The dividend payment depends on its level of cash, gearing, return on equity, retained earnings, expected results of operations, projected levels of capital expenditure, as well as investment plans and working capital requirements.
Minetech Resources Bhd has fixed the issue price for the placement of 30 million new shares at 10 sen per share, which will be the first tranche of the proposed 106.39 million placement exercise.
The issue price represents a premium of approximately 6.27% over the five-day volume weighted average market price of Minetech shares as at April 9.
Minetech had proposed to undertake the private placement last December to fund its property development expenditure and working capital.
Destini Bhd is teaming up with Felcra Bhd to provide maintenance, repair and overhaul (MRO) services for industrial facilities and equipment in agriculture and related industries across Malaysia and the Asean region.
A joint venture company between Destini Engineering Technologies Sdn Bhd and Felcra's wholly-owned subsidiary Felcra Processing & Engineering Sdn Bhd will be incorporated within three months.
The JVCo will provide MRO services to Felcra's oil palm factories, commercial and residential properties.
It also aims to provide MRO services to other owners or operators in Malaysia and the Asean region, as well as offer other related engineering services.
Sasbadi Holdings Bhd has secured two textbook publishing and printing contracts for Form 3 of the national secondary schools from the Ministry of Education (MoE), for a combined total of RM5.79 million.
Firstly, its directly-owned subsidiary Sasbadi Sdn Bhd (SSB) has accepted a letter of acceptance (LoA) to publish and print a Science textbook for RM4.78 million.
Secondly, its indirectly-owned subsidiary The Malaya Press Sdn Bhd (TMP) has accepted an LoA from MoE to publish and print a Chinese language textbook for RM1.01 million.
The two contracts are for a period of two years, up until Dec 31, 2020, are only expected to contribute positively to the earnings and net assets of the group for the financial year ending Aug 31, 2019 onwards.
MMC Corporation Bhd said today that the Sabah State Economic Planning Unit (EPU) has turned down its proposal to acquire a 20% stake in Sabah Ports Sdn Bhd.
The state EPU had confirmed the non-acceptance of the proposal through MMC Port Holdings Sdn Bhd.
Sabah Ports is a wholly-owned subsidiary of Suria Capital Holdings Berhad.