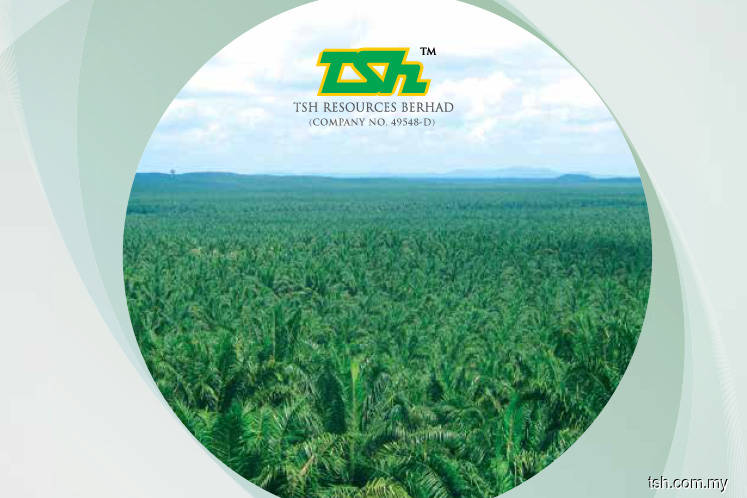 KUALA LUMPUR (Aug 23): Sabah-based plantation player TSH Resources Bhd's core profit before tax (PBT) came in at RM31.2 million in the second quarter ended June 30, 2018 (2QFY18), as it recorded a revenue of RM232.9 million.
The group reported a core PBT of RM48.2 million for the six months ended June 30 (1HFY18), on a revenue of RM459.06 million. Its core PBT came in at RM34.66 million and RM69.99 million in 2QFY17 and 1HFY17, respectively.
In a statement, TSH explained that its core PBT was derived after adjusting non-cash and unrealised exchange translation gain or loss.
The group posted a 25% year-on-year growth in fresh fruit bunch (FFB) production during 2QFY18 to 220,483 tonne, which helped mitigate the impact of the drop in average crude palm oil (CPO) price from RM2,656 to RM2,283 per tonne. FFB production jumped to 401,723 tonne in 1HFY18, versus 324,903 tonne in 1HFY17.
"TSH's robust FFB growth can be traced to previous FY17, when the company recorded 19% higher year-on-year FFB production. Total production exceeded 710,000 tonne," the group said.
TSH expects FFB production to reach 900,000 tonnes for the full FY18, based on 1HFY18's growth trend. It said about 60% of its oil palm plantations currently are young trees and these plantations are growing in maturity profile and expanding in harvesting areas that will continue to drive FFB growth.
"(We are) set to achieve a significant milestone in FY19 by producing more than one million tonnes of FFB with longer term production outlook remains positive," the group said.
"Improving FFB production will enhance FFB yield per hectare. Coupled with existing cost-controls, they will serve to lower unit cost of production going forward," it added.
The group plans to remain focused on long-term productivity and improvement of efficiency improvement to sustain its competitiveness in the industry.
Its board is also optimistic on the long-term prospect of the palm oil industry due to the higher per capital income, various health qualities of palm oil and population growth that would drive demand.
"[The] palm products segment, which accounts for more than 85% of the revenue and profit for the group, will remain the core contributor to profit," said TSH.
On a net profit basis, the group recorded RM4.11 million in 2QFY18 versus RM25.29 million a year ago — when it recorded a revenue of RM258.23 million — due to the drop in average CPO prices and after recording a foreign exchange loss of RM13.1 million.
In 1HFY18, net profit came in at RM21.93 million versus RM54.54 million a year ago, when it recorded a revenue of RM546.73 million.
The group's shares closed unchanged at RM1.24 today, for a market capitalisation of RM1.71 billion.