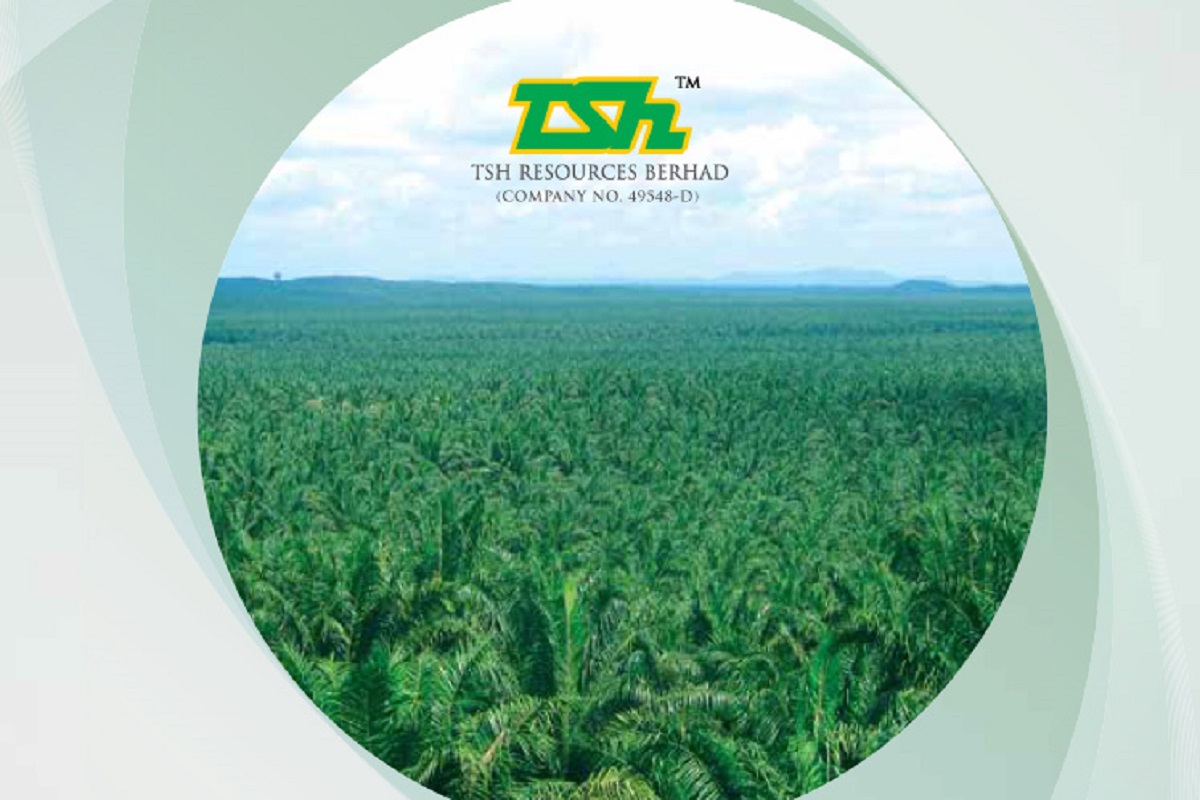 KUALA LUMPUR (Nov 23): TSH Resources Bhd's net profit for the third quarter ended Sept 30, 2021 (3QFY21) jumped 87.3% to RM45.08 million from RM24.07 million a year ago, boosted by higher crude palm oil (CPO) prices.
Its quarterly revenue rose 42.46% to RM309.07 million from RM216.96 million, its filing to Bursa Malaysia showed. The group did not declare any dividend for the latest quarter.
For the nine months ended Sept 30, 2021 (9MFY21), the group's net profit more than doubled to RM105.58 million from RM46.14 million a year earlier, while revenue grew 25.65% to RM860.57 million from RM684.91 million.
The group said the higher revenue for 3QFY21 and 9MFY21 was due to the significant increase in revenue contribution from its palm products segment, despite being impacted by the increase in Indonesia export levy and duty, thanks to higher average CPO and palm kernel prices.
It said average CPO prices for 3QFY21 and 9MFY21 were RM3,586 per metric tonne (MT) and RM3,357 per MT respectively, compared with RM2,355 per MT and RM2,352 per MT for the corresponding periods last year.
As for fresh fruit bunch (FFB) production, the group also achieved satisfactory production increases to 239,223 MT and 722,561 MT in 3QFY21 and 9MFY21 respectively, compared with 224,357 MT and 651,167 MT for the corresponding periods last year.
Hence, despite additional Indonesia export levy and duty on CPO of RM59.7 million and RM184.6 million for 3QFY21 and 9MFY21, the palm products segment's profit for 3QFY21 and 9MFY21 were significantly higher at RM71.7 million and RM208.6 million respectively, compared with RM31.6 million and RM106.8 million for the corresponding periods last year.
The group said CPO prices for 9MFY21 have been enjoying a strong run, underpinned by tight stock levels and prices are expected to remain buoyant in the foreseeable future.
"Premised on the above factors, the group is optimistic of achieving satisfactory performance for 2021," it said, adding its management will continue its focus on raising productivity and efficiency to lower unit cost of production.
The board also remains optimistic on the long-term prospect of the palm oil industry.
It noted that restrained hectarage growth in oil palm planting over the last few years due to Roundtable on Sustainable Palm Oil (RSPO) regulations and the Indonesian government's moratorium on deforestation will have an impact on the global palm oil supply. At the same time, global population and per capita income growth as well as the many health qualities of palm oil are expected to drive greater demand for palm products. "This augurs well for the group as palm products segment which accounts for approximately 93% of the revenue for the group will remain the core contributor to the group profit," it added.
TSH Resources shares closed unchanged at RM1.17 on Tuesday, valuing the group at RM1.58 billion. Year-to-date, the counter has risen two sen or 1.74%.