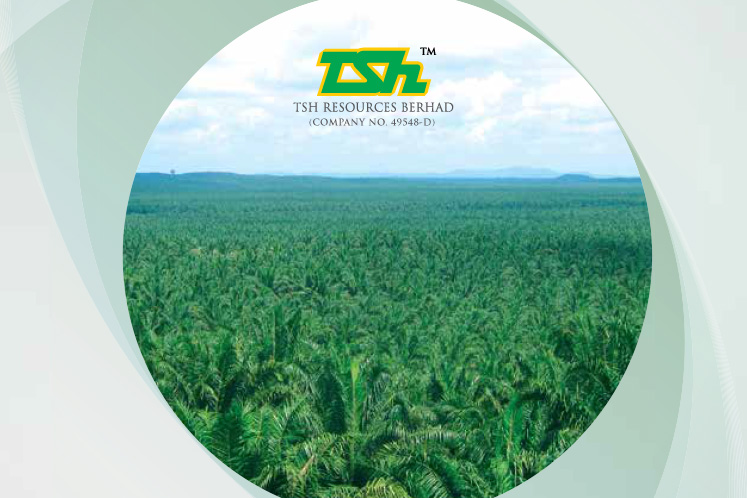 KUALA LUMPUR (Aug 26): TSH Resources Bhd is disposing of its 90% stakes in two Indonesian subsidiaries to Kuala Lumpur Kepong Bhd (KLK), realising cash proceeds of RM517.62 million.
TSH said in a statement the money will be used mainly to repay its bank borrowings which amount to RM513.12 million.
Post-disposal, the group's net gearing will be reduced to 0.48 times from 0.83 times as at Dec 31, 2019.
"The improved gearing will also provide greater capacity to raise additional funding to accelerate the development of its remaining unplanted plantation lands. Upon maturity, the remaining plantation lands will contribute positively towards the TSH Resources group's financial performance," it added.
Meanwhile, TSH will also recognise an RM39 million profit on the disposal.
The disposal involved 10,816 hectares of planted oil palm area in East Kalimantan with a combined 231,255 tonnes of fresh fruit bunches production in 2019.  
TSH Resources' wholly-owned subsidiaries TSH Global Plantation Pte Ltd and TSH Oversea Pte Ltd today entered into conditional sale and purchase agreements with Taiko Plantations Pte Ltd, an indirect wholly-owned subsidiary of KLK, for the disposal of their 90% stakes in PT Farinda Bersaudara and PT Teguh Swakarsa Sejahtera.
In a separate filing, KLK said Taiko Plantations will be buying the 90% stakes in the two palm oil companies for a collective US$110.1 million, which will be funded by a combination of the group's existing cash reserves and bank borrowings.
Taiko Plantations will pay US$76.7 million for the stake in PT Farinda Bersaudara and US$33.4 million for the stake in PT Teguh Swakarsa Sejahtera.
The planted/plantable area of PT Farinda Bersaudara Land and PT Teguh Swakarsa Sejahtera Land totals 17,610 ha, which together with the planted area of KLK's existing PT Putra Bongan Jaya estates at 10,000 ha, would make up a sizeable 27,600 ha, all located at the same place in Kutai Barat, and will allow for greater economies of scale and operational synergies, said KLK.
TSH Resources' share price ended one sen or 1.01% lower at 98.5 sen today, valuing the group at RM1.36 billion.
KLK closed 16 sen or 0.7% lower at RM22.64, bringing it a market capitalisation of RM24.42 billion.
Year to date, TSH Resources has fallen 36% from RM1.54, while KLK has dropped 9% from RM24.80.
Edited by S Kanagaraju