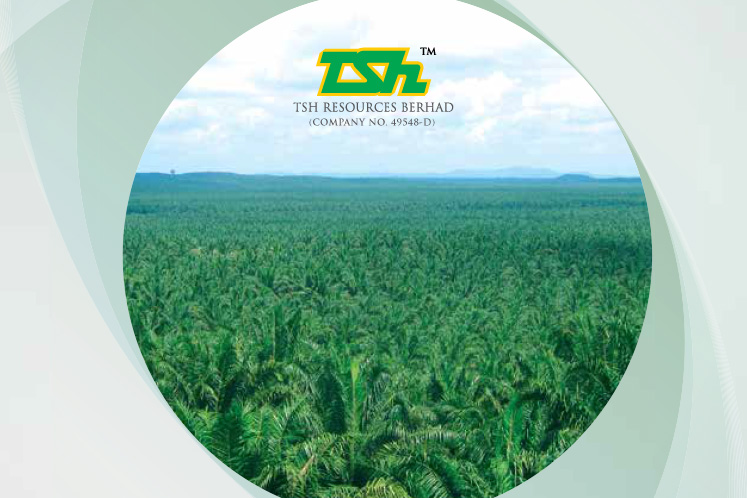 KUALA LUMPUR (May 27): TSH Resources Bhd reported a 24% decline in its net profit to RM13.54 million for the first quarter ended March 31, 2019 (1QFY19) from RM17.83 million a year earlier, due to lower average crude palm oil (CPO) and palm kernel (PK) selling prices.
Revenue for the quarter fell 8% to RM207.59 million from RM226.14 million in 1QFY18.
The group said its palm product segment reported lower operating profit due to lower average CPO price, although this was offset by higher fresh fruit bunch (FFB) production.
"Average CPO and PK prices for 1QFY19 declined to RM1,911 and RM1,214 per tonne respectively from RM2,316 and RM2,043 per tonne for 1QFY18. On the other hand, FFB production for 1QFY19 increased to 204,555 tonnes from 181,219 tonnes in 1QFY18," it said.
The others segment reported lower revenue year-on-year amid lower sales volume of cocoa and wood products but operating profit increased due to higher profit contribution from the bio-integration and cocoa segments.
Going forward, the company expects better FFB crop production ahead as more of its planted areas are coming into maturity, translating to a better age profile.
"The Board remains optimistic on the long term prospect of the palm oil industry due to the higher per capita income, many health qualities of palm oil and population growth, which will drive greater demand.
"The palm products segment which accounts for more than 85% of the revenue and profit for the group will remain the core contributor to group profit. Management will continue its focus on productivity and efficiency improvement to reduce the unit cost of production," said TSH.
TSH shares fell 3 sen or 3.23% to close at 90 sen, giving it a market capitalisation of RM1.24 billion.