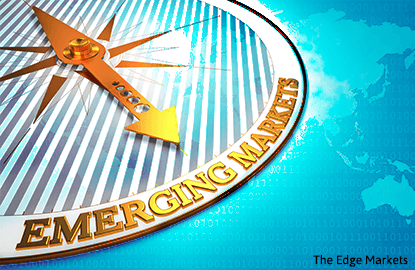 LONDON (Feb 10): Forecast-beating Chinese trade data and impending U.S. tax cuts from President Donald Trump lifted emerging stocks to a new five-month high on Friday while currencies were set to finish the week on a strong note.
MSCI's emerging market index rose 0.3%, with stocks having added 1% this week in their third straight week of gains, after numbers from China showed a strong pick-up in demand at home and abroad, marking a healthy start to 2017 for the world's largest trading nation.
A White House statement on Thursday, which said that Trump planned soon to announce the most ambitious tax reform plan since the Reagan era, raised investors' hopes for a cut in corporate tax rates, sending stock markets around the globe higher.
The gains filtered widely through emerging markets. Bourses in China , South Korea and Malaysia were up around half a percent, while Taiwan, South Africa, Poland and Czech Republic all jumped nearly 1%.
"The Chinese data does indeed suggest that global growth is on a good footing," said Jakob Christensen at Danske Bank.
"The combination of good Chinese growth numbers and the signals by Trump that he may embark on a tax easing which would stimulate growth in the U.S., is giving a tailwind to emerging market currencies."
Rising oil prices boosted Russia's rouble 0.5% against the dollar for a second week of gains.
South Africa's rand also rose 0.5%, shrugging off President Jacob Zuma's annual address on Thursday. The event raised issues of wealth distribution, but descended into chaos and brawling. The rand, however, was on track for a small weekly loss.
The Turkish lira too firmed slightly and was headed for a second straight week of gains, benefiting from a weighted average central bank funding rate of around 10.38%.
The Mexican peso, on track for its third week of gains, strengthened 0.2% after the central bank raised its benchmark interest rate to a nearly eight-year high to curb rising inflation and currency weakness caused by Trump's trade threats.
Central and eastern European currencies came under some pressure against the euro. Czech data showed inflation accelerating in January while minutes from the last central bank meeting showed a majority of board members saw a likely end to the capping of the crown in mid-2017.
"Inflation has risen sharply since September," Capital Economics' Liam Carson told clients, adding that the latest increase had reinforced the view the cap would go in the coming months.
"We see the monetary policy committee meeting on 4th May, as the most likely date for the policy shift."