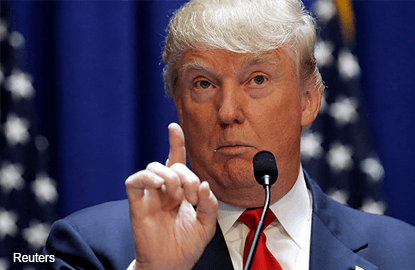 SINGAPORE (Nov 8): US presidential hopeful Donald Trump says countries in Asia such as China, India and Singapore are stealing jobs from Americans, and vows to stop "job-killing" trade deals such as the Trans-Pacific Partnership (TPP).
Speaking at a campaign rally in Florida on Sunday, Republican candidate Trump reportedly called it "the greatest jobs theft in the history of the world".
"America has lost 70,000 factories since China entered the World Trade Organisation, another Bill- and Hillary-backed disaster," said Trump. "There's never been a country that's lost jobs like we do, so stupidly, so easy to solve."
"Goodrich Lighting Systems laid off 255 workers and moved their jobs to India. Baxter Health Care laid off 199 workers and moved their jobs to Singapore," he added. "It's getting worse and worse and worse."
To this end, Trump vowed to stop the Trans-Pacific Partnership, which Democratic rival Hillary Clinton has called the "gold standard" of trade deals. The TPP, he claims, would kill off American jobs.
Another trade deal, the North American Free Trade Agreement (NAFTA), is also in Trump's crosshairs.
"A Trump administration will renegotiate NAFTA. If we don't get the deal we want, we will terminate NAFTA and get a much better deal for our workers," he said.
In his mind, the billionaire businessman has a plan to turn it around if he enters the White House.
"As part of our plan to bring back jobs, we're going to lower taxes on American business from 35% to 15%. We're the highest taxed nation in the world, one of the main reasons companies are leaving," Trump said.
In addition, he said he would impose a heavy tax to ensure American companies avoid retrenching workers.
"If a company wants to fire their workers, leave Florida, move to another country, and then shift their product back into the United States, we will make them pay a tax of 35%," he said. "They're never going to leave this country. They're never leaving."