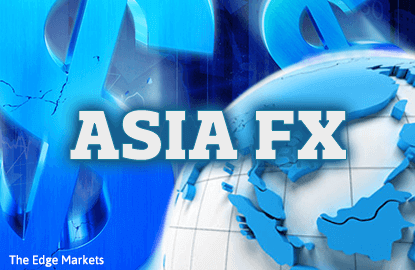 SINGAPORE (Nov 30): Emerging Asian currencies were set to post monthly losses in November, after Republican Donald Trump's surprise U.S. election win inspired a rousing rally in the dollar.
Wednesday's Asian session saw modest gains for regional currencies, with the Chinese yuan hitting 6.8822 per dollar, its strongest since Nov 17.
The relative stability in the yuan follows news on Tuesday that Beijing is stepping up measures to stem capital outflows, after the currency skidded to more than eight-year lows.
State-owned banks were also seen providing dollar liquidity on Wednesday for a third straight session, in what traders said appeared to be efforts to stabilise the currency.
 
Emerging Asian currencies found some relief this week, as the dollar paused for breath after its surge since Trump's election win on Nov 8. The greenback edged up on Wednesday as U.S. debt yield resume their ascent.
Expectations the Trump administration will boost fiscal spending, growth and inflation pushed up U.S. Treasury yields as traders bet the Federal Reserve will need to raise borrowing costs at a faster pace than previously anticipated. 
Asian assets have also come under pressure on concerns Trump's protectionist bias on trade will deal a blow to the region's export-reliant economies.
"A stronger USD and rising U.S. yield environment tends to cause volatility in capital flows and pose a headwind to Asian currencies," said analysts at ANZ said in a note.
ANZ's analysts said they are most bearish on the South Korean won and the Singapore dollar, saying "the real effective exchange rates of both currencies are elevated given the state of their economic cycles."
    
Ringgit leads
Malaysia's ringgit has lost 6.1% against the U.S. dollar so far this month, on bond outflows.
The currency's slide would be the largest monthly depreciation since August last year, when domestic markets tumbled as a financial scandal at state fund 1Malaysia Development Berhad (1MDB) engulfed Prime Minister Najib Razak.
The ringgit stood at 4.4640 per dollar, its lowest since September 2015, as weak crude prices added to concerns over Malaysia's oil and gas revenue. Oil prices remained weak ahead of an OPEC meeting later on Wednesday, with members of the producer cartel trying to thrash out an output cut to curb oversupply. 
Bank Negara Malaysia earlier this month imposed curbs on offshore ringgit trading, spurring fears of imminent capital controls, despite denials by the central bank. 
Elsewhere in Asia, the yuan has skidded 1.6%, which would be the largest monthly loss since August last year when China surprised markets with a one-off devaluation. 
 
The won has lost 2.0% as foreign investors cut holdings in one of the most liquid emerging Asian assets.
    
An influence-peddling scandal that has embroiled South Korean President Park Geun-hye in a deepening political crisis has also hurt investor sentiment.
"Too many uncertainties for the KRW," said Nordea Markets' chief analyst Amy Yuan Zhuang in Singapore, referring to the won.
"But if Park resigns, political risk is dampened in Korea, then KRW could see larger relief."
Indonesia's rupiah has slumped 3.8% so far this month, which would be the largest monthly loss since September 2015. Foreign investors dumped local equities and bonds.
The Indian rupee has slid 2.7% this month as the currency hit a record low on capital outflows, while the Singapore dollar has fallen 2.4% on growing risks of a recession.
The Philippine peso has lost 2.7% on equity outflows.
CURRENCIES VS U.S. DOLLAR
Change on the day at 0435 GMT:
| | | | |
| --- | --- | --- | --- |
| Currency | Latest bid | Previous day | Pct Move |
| Japan yen | 112.89 | 112.40 | -0.43 |
| Sing dlr | 1.4254 | 1.4248 | -0.04 |
| Taiwan dlr | 31.888 | 31.818 | -0.22 |
| Korean won | 1168.26 | 1168.50 | +0.02 |
| Baht | 35.63 | 35.68 | +0.15 |
| Peso | 49.730 | 49.710 | -0.04 |
| Rupiah | 13560 | 13570 | +0.07 |
| Rupee | 68.62 | 68.65 | +0.05 |
| Ringgit | 4.4640 | 4.4640 | +0.00 |
| Yuan | 6.8857 | 6.8980 | +0.18 |
Change so far in 2016
| | | | |
| --- | --- | --- | --- |
| Currency | Latest bid | End prev year | Pct Move |
| Japan yen | 112.89 | 120.30 | +6.56 |
| Sing dlr | 1.4254 | 1.4177 | -0.54 |
| Taiwan dlr | 31.888 | 33.066 | +3.69 |
| Korean won | 1168.26 | 1172.50 | +0.36 |
| Baht | 35.63 | 36.00 | +1.04 |
| Peso | 49.73 | 47.06 | -5.37 |
| Rupiah | 13560 | 13785 | +1.66 |
| Rupee | 68.62 | 66.15 | -3.59 |
| Ringgit | 4.4640 | 4.2935 | -3.82 |
| Yuan | 6.8857 | 6.4936 | -5.69 |