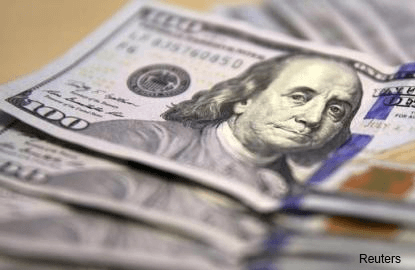 LONDON (Jan 31): The US dollar was on course for its worst start to a year since 2008 on Tuesday as concerns over the broader shape of policy under President Trump outweighed the expectations of higher US inflation which dominated the end of last year.
The US dollar dipped another 0.2% against the yen after falling 1% on Monday as Trump's ordering of a ban on travelers from seven largely-Muslim states spurred protests worldwide and across the United States.
The euro, hit by a combination of marginally weaker-than-expected German inflation numbers and nerves over French politics in the previous session, also jumped against the greenback after strong French and Spanish numbers.
"You have a French CPI upside surprise and a massive Spanish surprise. So you do have a more positive European inflation story. Bund yields are up and that is pulling the euro higher," said Richard Cochinos, head of European G10 FX Strategy at Citi.
"We do have the month end which is creating a US dollar flow. Our quant team has put out a note saying that should be a US dollar negative flow."
The US dollar fell 0.1% on the day to 113.90 yen per US dollar in morning trade in Europe, recovering from lows hit in Asian trading. It was down 0.1% at US$1.0708 per euro, having traded as weak as US$1.0725.
That all put it on course for a fall of 1.9% on the month against a basket of currencies.
Investors bought the US dollar strongly after Trump's victory last November on the assumption that he would spur repatriation of capital to the United States, spend aggressively on infrastructure and encourage a rise in inflation.
But that enthusiasm has waned in the absence of much detail on fiscal policy in his first 10 days in charge, with currency markets also unnerved by signs both the president and his nominee for Treasury Secretary would prefer a weaker US dollar.
"Trump's travel ban — and his associated decision to fire the acting Attorney General — dominates sentiment and remains good for Treasuries, the yen and gold, but bad for bonds and the US dollar," said Kit Juckes, a strategist with Societe Generale in London.
"My bias is still that we'll get back to the Trump economic program, and the implications for Fed policy, before too long. More prosaically, markets will focus on the US jobs data due Friday."
The Fed starts a two-day meeting on Tuesday and any improvement in the board's view of the economy in its statement on Wednesday would be liable to trigger bets on another rise in interest rates within months.