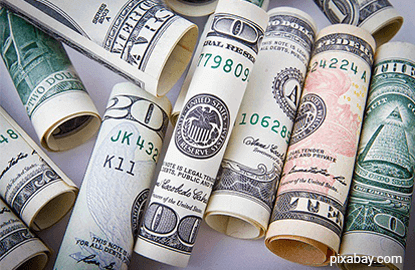 LONDON (Jan 17): The US dollar fell heavily across the board on Tuesday, with sterling leading the charge against it as soothing words on Brexit from British prime minister Theresa May triggered the pound's biggest jump in eight years.
A recent sell-off in the US dollar deepened as US traders returned from a long weekend to widespread weakness after President-elect Donald Trump said the greenback's strength against the Chinese yuan "is killing us".
The world's top currency sank past US$1.07 per euro for the first time since Dec 8 and below 113 yen before the resurgent British pound raced up 2.5% to as high as US$1.2347.
"We see the US dollar overvalued against all the main currencies," said asset manager Allianz's chief economist, Stefan Hofrichter.
He said the US dollar could find traction again and reach parity against the euro if there was a string of US interest rate rises this year, but that with pro-US-dollar positioning currently extreme, "maybe we have seen the peak already".
The US dollar surged at the end of last year on expectations that stimulus promised by Trump on the campaign trail would boost US economic growth and feed demand for the US dollar.
But having labelled China a currency manipulator, Trump has continued to strike a firm tone towards Beijing and his protectionist rhetoric is beginning to play a larger role in investors' thinking.
In an interview with the Wall Street Journal he said: "I would talk to them (China) first," but "our companies can't compete with them now because our currency is strong and it's killing us".
The US dollar went as low as 112.74 yen in early US deals, with traders also citing Trump's tweets criticising a Republican plan on border tax adjustments which had been expected to support the US dollar.
"Underlying it all is an apparent change of heart from Trump on the border tax and what it might or might not do for the US dollar," said National Australia Bank's head of forex strategy Nick Parsons.
In a full house of falls for the US dollar, it was sterling that stood out most. Already up more than 1% on unexpectedly high December inflation data, it spiked higher after May pledged to hold a parliamentary vote on whatever deal to leave the European Union Britain eventually reaches.
In the minutes that followed her comment, part of a keenly-awaited speech on her objectives for Brexit talks, the pound surged 2.5% to a 11-day high of US$1.2347, leaving it on course for its best day in eight years.
It also gained more than 1.5% to 86.69 pence per euro, with dealers reporting a widespread squeeze on short positions — or bets against sterling — taken in derivatives markets in the past few days.
One media report at the weekend had quoted a Downing Street source as predicting May's speech, which confirmed Britain will leave the EU's single market, would trigger a correction in the pound that most had assumed would be downward not upward.
"Theresa May's greatest trick appears to have been to deliver what amounts to a fairly hard Brexit message without the markets going into a flat spin," said ETX Capital analyst Neil Wilson.
"Some judicious leaks in the last couple of days had primed investors for the UK to be leaving the single market. Many expected a tough sounding speech that would send the pound lower."