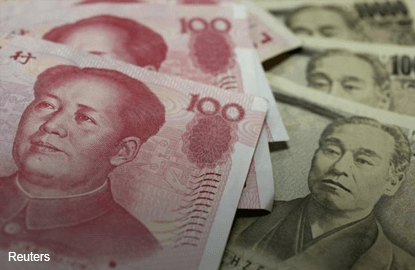 (Feb 1): Japan's doesn't manipulate its currency and its monetary policy is done for purely domestic reasons, the nation's top currency official said in response to comments by US President Donald Trump.
"Japan's monetary policy is for the domestic purpose of beating deflation, and isn't done with FX in mind, so I think that those remarks are a little bit wide off the mark," Masatsugu Asakawa, the Finance Ministry's foreign exchange policy chief, said on Wednesday.
Chief Cabinet Secretary Yoshihide Suga pushed back more forcefully, calling Trump's comments "totally inaccurate."
Trump on Tuesday said: "You look at what China's doing, you look at what Japan has done over the years. They — they play the money market, they play the devaluation market and we sit there like a bunch of dummies," according to a transcript in the Congressional Quarterly.
The barbs indicate likely friction points when Trump and Japanese Prime Minister Shinzo Abe meet next week in the US. This isn't the first time that Trump has raised the issue of Japan's currency and relations with the US. On the campaign trail in 2015, he accused Japan of currency manipulation. At a press conference on a Jan 15 this year, he said the US has a "trade imbalance" with Japan.
Asakawa added that Japan hasn't recently intervened in the currency market, "so without more explanation, I am not sure what is being referred to."
Japan's Finance Minister Taro Aso said in Parliament on Tuesday that Trump had introduced "a new factor of uncertainty," which could contribute to a weak yen and strong dollar for "some time."
Aso will explain Japan's foreign exchange and monetary policies to Trump in the US next week, according to a Reuters report.