This article first appeared in The Edge Malaysia Weekly, on February 17, 2020 - February 23, 2020.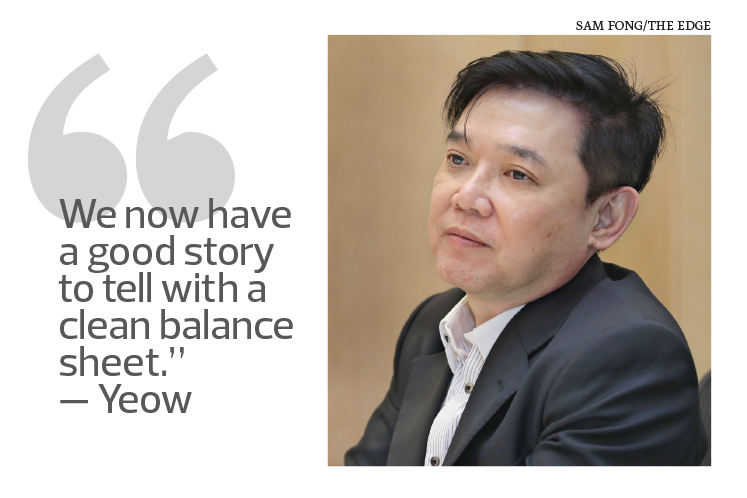 TROPICANA Corp Bhd's subdued share price performance in the past five years may be partially due to the soft property market but the developer believes it is not fully appreciated by the market.
The stock has gained a mere 3.5% in the past five years and it closed at 88 sen last Thursday, giving the company a market capitalisation of RM1.28 billion. During the period, it rose to a high of 98.4 sen and tumbled to a low of 69.1 sen.
Tropicana's current price-to-book ratio of 0.35 times is below the industry average of 0.46 times, indicating a potentially undervalued stock. Its managing director of group finance, Lim Lai Seng, attributes this to a lack of understanding of the company.
"Also, we have not gone out to the market [in recent times] but we will be doing more roadshows this year to promote Tropicana," he tells The Edge.
Group CEO Alex Yeow Wai Siaw concurs, noting that the developer has been focusing on improving its fundamentals rather than its share price. Still, he says, management is cognisant of concerns about the group's related-party transactions, which have pulled the stock down in recent years because investors generally dislike RPTs.
In September 2018, Tropicana founder and group executive vice-chairman Tan Sri Danny Tan Chee Sing injected two parcels in Johor totalling 329.1 acres into the company for RM49.05 million.
The group undertook its biggest corporate exercise four months later, which saw Tan inject all his remaining privately owned land bank into Tropicana for RM1.85 billion. The 1,116.88-acre land bank is located in the Klang Valley and Johor and has a potential gross development value (GDV) of RM24.82 billion.
While critics have questioned the RPT amid a soft market, management has pointed out that the purchase price was at a 17.9% discount to the indicative market value and was partly financed by a RM343.7 million share purchase consideration involving the issuance of 286.5 million new redeemable convertible preference shares (RCPS) in Tropicana at RM1.20 apiece. The remaining RM1.51 billion was satisfied via a debt settlement, involving RM247.1 million cash, the issuance of 823.7 million RCPS at RM1.20 each (totalling RM988.44 million) as well as the assumption of Tan's bank borrowings amounting to RM271.8 million.
Tropicana's net gearing stood at 0.33 times as at Sept 30, 2019, compared with 0.25 times in the previous year. Total cash stood at RM848 million while borrowings amounted to RM1.96 billion.
Lim, however, says the group's net gearing could rise to 0.41 times as it inherited some loans along with the acquisitions. "We are in the midst of tidying that up and restructuring our debt to match our cash flow profile for the next five years. Following some paring of debt, we expect our net gearing to come down to about 0.3 times in two years."
In September last year, Tropicana issued the first tranche of its RM2 billion sukuk programme to raise RM248 million, which was used to refinance existing borrowings and for working capital. It has seven years to raise the remaining RM1.752 billion from sukuk sales under the programme.
"We now have a good story to tell with a clean balance sheet. We also have in place a strategy that will see us through the current market situation. We could charge forward if the market improves or we could defend ourselves if the market worsens," Yeow says, adding that last year's RM1.85 billion asset injection represents Tropicana's final major RPT.
Last year, the group missed its RM2.5 billion target for new property launches, managing only RM2 billion, which Yeow blames on policy changes. "The policy changes delayed some of our launches by one to two months. They had to be brought forward to the first two months of this year," he says, referring to the Federal Court ruling in November last year that the controller of housing cannot extend the completion period of projects for developers, which for high-rise developments is traditionally 36 months. "Some of our launches at Tropicana Gardens in Kota Damansara feature apartment buildings that are more than 50 storeys high and thus require a longer construction period. Thus, we filed an appeal to seek an EOT (extension of time) before we could officially launch them."
The group has revised downwards its 2020 target for new property launches to RM2 billion from RM3 billion set in November last year, comprising new phases in its four ongoing "bread-and-butter" projects in the Klang Valley, namely Tropicana Aman in Kota Kemuning, Tropicana Gardens, Tropicana Metropark in Subang Jaya and Tropicana Heights in Kajang.
It will also launch two new projects in Genting and Pantai Cenang, Langkawi — with a combined GDV of up to RM15 billion when fully completed — in the first half of the year. Targeting tourists from Japan, China, South Korea, Southeast Asia, India and the Middle East, the two proposed projects will help Tropicana circumvent problems currently facing local developers, that is, the soft market and stringent lending guidelines, says Yeow.
Currently, out of the bookings the group receives for its properties, about 30% to 40% fail to get approval for their housing loan applications, he adds. "By targeting foreign investors, we will not have this problem because they will be buying the properties in cash."
For starters, the group will kick off with a total of 1,400 condos in Genting. Located on 112 acres, the condos will have a built-up of 500 sq ft and be priced between US$150,000 and US$170,000 each.
Yeow says the group is looking to tap the foreign tourists arriving at Genting Highlands to buy its units as vacation homes. According to Genting Bhd's 2018 annual report, Resorts World Genting recorded 25.9 million visitors that year and the number is expected to increase to 30 million per year once its outdoor theme park is completed.
Tropicana is so bullish on Genting's property market that it is looking to acquire more land there. In January, the group announced that it was acquiring 176 acres in Gohtong Jaya, Genting, for RM332.6 million.
In Langkawi, Tropicana will be launching a five-acre condominium project comprising 700 units in Pantai Cenang. The project has a potential GDV of up to RM1.5 billion.
Both the projects will feature four and five-star hotels, although the immediate launches will be of residential units. "The hotel component will come slightly later," says Yeow.
Also in the pipeline of new launches this year is a dedicated recycling park in Johor, which has a potential GDV of RM1.4 billion.
Meanwhile, Yeow expects the soft market conditions to continue for the next two to three years unless the central bank relaxes its lending guidelines and brings back the Developer Interest Bearing Scheme, which would help clear the property overhang in the country.
Tropicana's net profit fell 14.1% year on year to RM101.88 million in the first nine months of 2019 (9MFY2019) due to lower sales and progress billings across its projects in the Klang Valley and Johor. Revenue dropped 27.5% year on year to RM755.35 million.
Yeow says the group is optimistic about its fourth-quarter and full-year FY2019 results, which are slated for release on Feb 27.