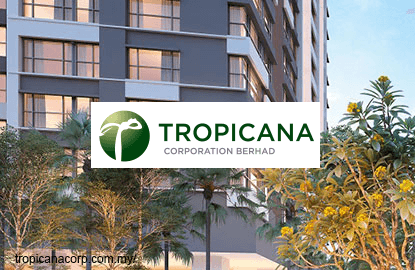 KUALA LUMPUR (Sept 1): Tropicana Corp Bhd is disposing an office tower along with car parks located on a tract in Damansara Intan, Petaling Jaya, to a private entity for RM24.9 million.
Tropicana is expected to net a disposal gain totalling RM18.2 million, of which it intends to utilise as working capital and/or repayment of bank borrowings.
According to its filing with Bursa Malaysia, Tropicana said its unit, Dicorp Land Sdn Bhd, has entered into a sale and purchase agreement with SCP Assets Sdn Bhd for the proposed disposal.
The disposal include sale of all that parcel of office premises in Damansara Intan, measuring in area approximately 107 square metres, together with accessory parcels, comprising approximately 1,519 car parking bays, along with other infrastructure and facilities.
SCP Assets is a private limited company incorporated on Aug 16, 2013, with principal activity of property investment.
The original investment cost, Tropicana said, was RM235,414, when it was made in January 2000.
"The disposal price was arrived [at], based on negotiations between the parties on a 'willing buyer willing-seller' basis, after taking into consideration of the yield derived from the property and the prevailing market value of the property and car park equipment," it added.
Tropicana said the disposal is in line with its de-gearing exercise to strengthen its financial footing.
"It also enables us to realise gains via sale, to raise funds as working capital and/or repayment of bank borrowings," it pointed out.
Barring any unforeseen circumstances, it targets the deal to seal by fourth quarter of 2016.
Shares in Tropicana closed unchanged at RM1.03 today, for a market value of RM1.47 billion.