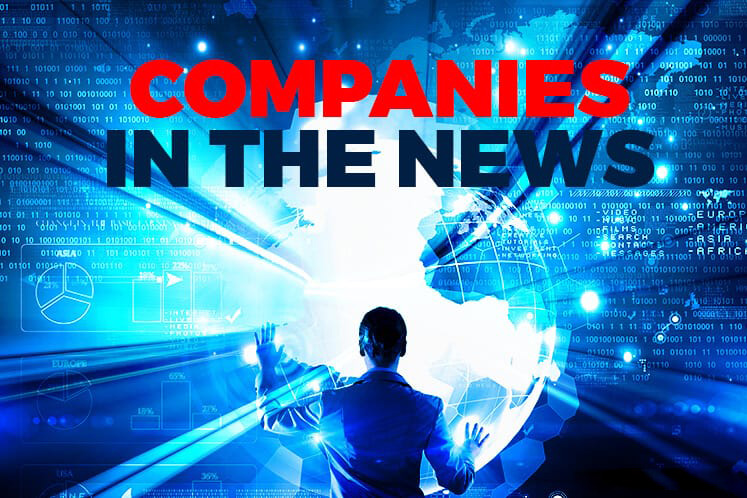 KUALA LUMPUR (Sept 14): Based on corporate announcements and news flow today, companies that may be in focus on Tuesday (Sept 18) may include the following: Tropicana Corp Bhd, Latitude Tree Holdings Bhd, Versatile Creative Bhd, Vertice Bhd, Euro Holdings Bhd, Genting Malaysia Bhd, Gamuda Bhd and Pintaras Jaya Bhd.
Tycoon Tan Sri Danny Tan Chee Sing, founder and major shareholder of Tropicana Corp Bhd, is injecting into the group two plots of land in Johor Bahru which will be turned into a mixed development.
The group has entered into a conditional share sale agreement with Tan and his children to acquire a 50.1% stake in Peluang Duta Sdn Bhd, whose 70%-owned subsidiary T Sanctuary Development Sdn Bhd owns two plots of leasehold land totalling 329.1 acres in Johor, for RM49.05 million.
The proposed development is expected to generate an estimated gross development value (GDV) of RM4.3 billion, which is expected to enhance the group's future revenue and earnings, the group said.
Latitude Tree Holdings Bhd is leasing a parcel of land measuring  44,193 square metres in Binh Duong province, Vietnam, as preparation for expansion.
Its wholly-owned subsidiary L-Tree Resources Sdn Bhd has entered into an agreement with Investment and Industrial Development Joint Stock Corporation for leasing the land.
Latitude Tree said the land is strategically located next to its existing factory which will allow the group to increase its production or warehouse facilities expediently and efficiently. Together, the transaction will enable the group to improve its operations and may also enhance its investment income in the long run with capital appreciation potential.
Shares of Versatile Creative Bhd are set to resume trading next Tuesday after the group submitted its annual report to Bursa Malaysia today.
The annual report for the financial year ended March 31, 2018 had been due by July 31, but was delayed pending a forensic audit into financial irregularities in the group involving payments totalling RM2.3 million.
This resulted in the group's shares being suspended on Aug 8.
Vertice Bhd has lost a RM339.86 million sub-contract to construct the mainline and other associated works of the proposed Sungai Besi-Ulu Kelang Elevated Highway (SUKE) project as the main contractor for the project was terminated.
San Mutual Majujaya Sdn Bhd, the subcontractor of the project which had awarded the contract to Vertice's wholly-owned construction unit Vertice Construction Sdn Bhd, had seen its appointment withdrawn by Chengaljati Sdn Bhd, itself a contractor for Turnpike Synergy Sdn Bhd, Vertice said.
The costs and expenses incurred so far for the project are less than RM1.5 million and Vertice Construction has agreed with San Mutual that it should be entitled to submit the relevant claims for all outstanding amounts.
Euro Holdings Bhd has been served with a demand for RM5.31 million, pursuant to a court order dated July 18.
It said its unit Euroland & Development Sdn Bhd was served the demand by Tack Yap Construction (M) Sdn Bhd on Sept 12.
Genting Malaysia Bhd, which had subscribed to promissory notes issued by the Mashpee Wampanoag Tribe in the US in 2016 for an integrated gaming resort development in the US, said it is still deliberating the appropriate course of action for its investment in the promissory notes, as well as its recoverability.
"This includes a legislation being introduced in the US Congress which, if passed, will entail the US US Department of Interior to reaffirm the land in trust for the benefit of the tribe,"  the group said.
The group's total investment (including accrued interest) in the promissory notes amounted to US$426.3 million (RM1.77 billion) as at June 30.
Gamuda Bhd's wholly-owned unit Gamuda (Singapore) Pte Ltd and  Evia Real Estate (8) Pte Ltd have joined hands to become the highest bidder for a new executive condominium site at Anchorvale Crescent in Sengkang, Singapore at S$318.89 million or S$576.2 per sq ft per plot ratio, The Business Times reported today.
The new site is under Singapore's 2018 Government Land Sales Programme. It is a 99-year leasehold site on 1.71ha of land and is strategically located next to Cheng Lim LRT and close to shopping, dining, entertainment and leisure, schools and healthcare
Meanwhile Gamuda Bhd's unit Gamuda Land will be launching its latest township development with a GDV of RM20 billion in two months, said its project director Aw Sei Cheh during a media preview of the development.
Dubbed Gamuda Cove, the 1,530-acre leasehold township is located in southern Klang Valley along the Elite Highway and opposite Cyberjaya.
Pintaras Jaya Bhd is expecting half of its revenue for financial year ending June 30, 2019 (FY19) to be coming from Singapore, after venturing into the island nation by acquiring a piling company there from the family of the group's managing director Dr Chiu Hong Keong for RM16.71 million.
At a press briefing after the group's extraordinary general meeting (EGM) today, Chiu said the Singapore operation is likely to report up to RM200 million revenue in FY19, while the Malaysian business, which recorded revenue of RM95.91 million in FY18, is expected to be challenging due to the slowdown in construction sector here.
"Last year (FY18), we were looking at RM250 million of job wins, but we did not achieve that, we only got about RM150 million, so this year (FY19), we target about RM150 million for Malaysia. In Malaysia, we have an order book of about RM110 million currently, Singapore is about RM150 million," he said.