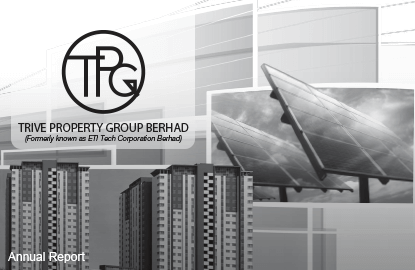 KUALA LUMPUR (Nov 2): Loss-making Trive Property Group Bhd has cancelled an extraordinary general meeting, scheduled for Nov 16, in relation to the purchase of a RM19.6 million Terengganu land.
According to its bourse filing today, Trive Property, formerly known as Eti Tech Corp Bhd, said the meeting was called off pending "clarification on a development that may have a material outcome on the proposed acquisition".
"Further updates on this matter will be announced in due course," it said.
Trive Property had announced on Sept 6 that it was acquiring the entire equity stake of Pakadiri Sdn Bhd, which owns a 20.92ha land in Kemaman, Terengganu, for RM19.6 million cash.
Pakadiri, principally a housing developer, has secured a joint venture project with Lembaga Tabung Amanah Warisan Negeri Terengganu under Terengganu's state privatisation programme to develop the land into part of a township called Bandar Baru Kertih Jaya (Kertih Project), a 66.96ha project in Kemaman, Terengganu.
According to the filing then, Trive Property said it had been appointed as the contractor for the first phase of the 66.96ha Bandar Baru Kertih Jaya township, by Pakadiri last year.
However, construction works were put on hold as Trive Property's private placement raised less than a third of the RM7 million it sought to fund the job.
The proposed acquisition represents an opportunity for it to own the entire interest to enhance the gross development value (GDV) of the group's development projects, said Trive Property as to why it was buying the land.
Trive Property had also said it was still finalising the development plans for the Kertih Project, and assessing whether it would make any amendments to the master layout plan for the project that was approved on Sept 8, 1997. With that, it couldn't ascertain the GDV, cost, and timeline for the project as at writing.
Its shares ended the day at nine sen today, down 0.5 sen or 5.26%, valuing the company at RM108.73 million.