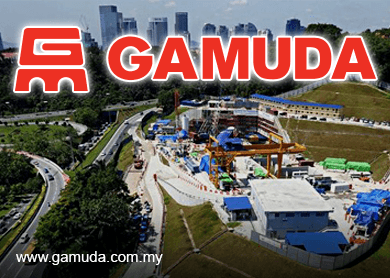 Gamuda Bhd
(July 6, RM4.73)
Maintain buy with a higher fair value of RM5.80: We maintain our "buy" call on Gamuda with our fair value tweaked slightly higher at RM5.80 per share (previously RM5.75 per share) at a 10% discount to our revised net asset value (NAV) of RM5.80 per share.
Despite lowering our forecast earnings, our fair value is nudged upwards to mainly account for new land bank acquired over the two years and a higher estimate for the Klang Valley's Mass Rapid Transit Line 2 (MRT2) project.
Gamuda remains our top large-cap construction pick, moving into the third quarter of 2015 (3Q15) ahead of three event catalysts. To begin with, Gamuda is reportedly one of two parties remaining in the race to the post as the project delivery partner (PDP) for the Penang Transport Master Plan (PTMP).
Having being chosen as the PDP for MRT1 and the upcoming MRT2, along with a proven pedigree in undertaking several high-profile transport-related projects both at home and abroad, such as the Storm Tunnel, Kaohsiung, Ipoh-Padang Besar Double Tracking and the New Doha International Airport, the first contracts under the PTMP are only scheduled to be dished out in 2017, after detailed planning works are carried out. Crucially, it provides Gamuda with immediate exposure to the Penang property market. As the bulk of the returns for the PDP will mostly involve prime, state-owned land as payment in kind.
Secondly, the PDP contract for MRT2 — already awarded to the MMC-Gamuda joint venture (JV) — should be signed in two months' time.
This should set the stage for the roll-out of major work packages by mid-2016, including the RM12 billion tunnelling works for which the JV is again a hot favourite.
Our current forecast does not take into account both the PTMP and MRT2. Other prospective bids include the Gemas-Johor Baru double tracking and Pan Borneo Highway.
Then, there is the renewed hope of a breakthrough in the water impasse in Selangor — both the federal and state governments are set to iron out any unresolved issues by Hari Raya Aidilfitri. If this materialises, negotiations on Syarikat Pengeluar Air Sungai Selangor Sdn Bhd's disposal could then resume with a view of wrapping it up by year end.
In our estimates, Gamuda's water assets account for about RM1.5 billion (RM0.59 per share) or 9% of its NAV.
Just by including the PDP contract for MRT2, we estimate a 3% increment (RM0.17 per share) to Gamuda's NAV.
If Gamuda successfully clinches a 50% stake each in the tunnelling contract and PDP works for the PMTP, its NAV will rise further to RM7.72 per share (RM1.26 per share, up 19%).
From 32% in January, Gamuda's foreign shareholding has fallen below its seven-year low to 27% as at end-May (about 27% in early May).
Hence, any share price weakness is a good time to accumulate the stock, ahead of a profusion of positive news flow just around the corner. — AmResearch, July 6
This article first appeared in The Edge Financial Daily, on July 7, 2015.