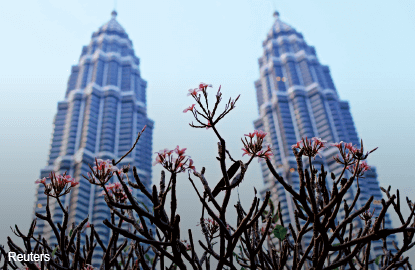 This article first appeared in The Edge Malaysia Weekly, on February 22-28, 2016
Smaller oil producers were given a glimmer of hope last Tuesday when Saudi Arabia, Russia, Venezuela and Qatar announced plans to freeze oil output at its current record high level. But this piece of news is probably not good enough for Petroliam Nasional Bhd (Petronas), which is preparing for a big announcement early next month. Apart from releasing the group's fourth-quarter financial results, which are expected to show more red ink, Petronas is expected to announce plans to rationalise its operating cost.
Not surprisingly, speculation about job and pay cuts for its 51,000-strong workforce is rife.
"Petronas,  like its oil and gas counterparts worldwide,  is putting in place various measures to mitigate the impact of the prolonged low crude oil prices.  Since the price drop began in mid-2014,  Petronas has been taking deliberate,  sequential steps to address both immediate and long-term sustainability concerns," says Petronas in a written reply to The Edge.
"These measures include organisation alignment, cost rationalisation and manpower optimisation. As part of Petronas' manpower optimisation measures, it has started a review of contract positions currently not critical to its core business."
The tone is quite different from a year ago when mangement dismissed outright talk of lay-offs. Globally, Petronas was one of very few oil majors that did not lay off staff last year. That decision might not have been driven purely by commercial considerations but it may no longer be tenable in the current US$30 to US$40 per barrel scenario.
Even Brazil's troubled national oil company, Petrobras, retrenched some 5,000 employees late last year, despite resistance from its unionised workforce.
In total, it is estimated that the oil and gas (O&G) industry cut more than 258,000 jobs worldwide last year. Some of the biggest cuts were seen at oilfield service giants such as Schlumberger and Halliburton, which laid off 20,000 and 18,000 employees respectively last year.
Note that the average price of West Texas Intermediate (WTI) light sweet crude was US$48.76 a barrel last year. This year, WTI prices fell 36.4% to an average of US$31 per barrel.
Not surprisingly, Petronas' earnings have taken a severe beating due to low oil prices. Revenue in the third quarter of last year fell 25.27% year on year to RM60.06 billion while earnings before interest, taxes, depreciation and amortisation dropped 50%. Hence, the group posted a net loss of RM565 million, against an average WTI price of US$46.50 during the period.
Low oil prices, high staff count
This is not the first time Petronas has had to grapple with an oil price crash. Back in 2008, during the global financial crisis, oil prices also plunged from a peak of US$145 per barrel to US$33.87.
However, there are two major differences. First, the oil price crash at end-2008 saw a sharp V-shaped recovery. Second, Petronas' staff cost in 2008 was almost half of what it is today.
Unlike 2008, oil prices are expected to stay depressed for the foreseeable future due to continued overproduction and weakening demand from countries like China. The freeze in oil production announced last week is also unlikely to cause a rebound in crude prices.
In addition, there are still many wild cards in play, like Iran, which has openly indicated its intention to bring oil production to pre-sanctions levels. (Sanctions against Iran were lifted last month.)
Furthermore, any increase in oil prices will encourage shale producers in the US to step up production again, potentially limiting any gains, even if Saudi Arabia were to reduce output.
In 2008, Petronas' staff cost amounted to only RM4.95 billion. As at FY2014, it was up 94% to RM9.59 billion. The number of employees also grew from 36,027 to 50,949 in the same period.
Interestingly, Petronas' hiring was in tandem with its revenue growth over the six-year period. In fact, its revenue per employee rose from RM6.2 million to RM6.46 million in the same period.
It is interesting to compare Petronas with Exxon Mobil Corp Ltd, the only oil major that did not have to lay off employees due to high efficiency. Exxon Mobil generated US$4.2 million (RM17.6 million) in revenue per employee for the 12 months ended Sept 30, 2015. Note, this takes into account the fall in crude oil prices.
As at Dec 31, 2014 (the same financial year end as Petronas' FY2014), Exxon Mobil generated US$5.8 million in revenue per employee or RM20.3 million per employee (based on the  ringgit's then exchange rate of 3.5 to the dollar), almost triple of Petronas.
Meanwhile, Petronas' average cost per employee grew 37% to RM188,000 per annum between FY2008 and FY2014. It is also interesting to note that during this period, directors' remuneration rose more than five times, from RM7 million in FY2008 to RM38 million in FY2014.
Up is down and down is up
Petronas says details of the cost-cutting "will be disclosed at an appropriate time", probably at a town hall meeting next month.
While contractors may be the first to go, some industry sources anticipate widespread pay cuts to minimise lay-offs of permanent staff. For example, Petronas can cut wages by 20% for certain divisions and shorten the work week to four days.
Across-the-board cuts, however, will not be practical because not all Petronas' divisions are created equal.
The group's downstream businesses, which include refining, are expected to remain profitable in the low crude oil price environment. Therefore, employees in these divisions will be least affected.
On the other hand, the group's upstream businesses, particularly exploration and the recovery of marginal oilfields, are expected to see steep cuts. Production operations of existing wells should remain unaffected as Petronas needs to continue pumping oil to generate cash flow.
Petronas may also take a leaf from the book of other O&G companies — trim the middle management but retain and train younger and lower-paid engineers.
It is worth noting that Petronas is expected to continue investing in its major projects — the Refinery and Petrochemical Integrated Development project in Pengerang, Johor, and the Petronas-led Pacific Northwest liquefied natural gas project in Canada.
Petronas has already invested heavily in the two projects, which will secure the group's earnings growth in the future. Furthermore, most of the contracts for the projects have already been awarded and equipment and materials purchased. Thus, the opportunity cost of halting the projects is very high. At the most, Petronas is expected to slow down their pace of development.
The group's commitment to continue investing during challenging times will increase the pressure for it to trim its operating cost and become more efficient. Keep in mind that Petronas still has to pay a RM16 billion dividend to the government in 2016, a hefty sum for the company, even though it is 40% lower than last year's dividend of RM26 billion.
That said, Petronas' management will have to strike a balance between investing for the future and taking care of its employees, before next month's town hall meeting.