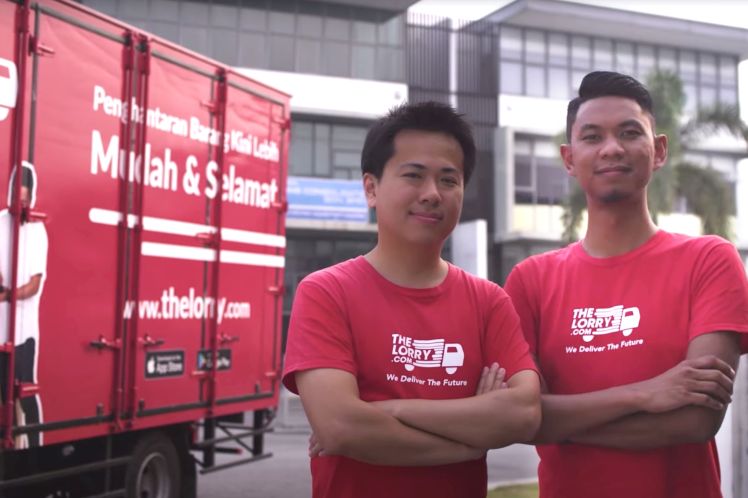 When the Movement Control Order (MCO) was first announced, logistics platform, TheLorry, found the house-moving segment of its business hit badly and slowed down to almost nothing.
Its founders, Nadhir Ashafiq and Goh Chee Hau, quickly went into a huddle to figure out how to make up for the loss of revenue for this important segment of its business.
Nadhir, the company's executive director, tells Enterprise that there were two things going for the company. Firstly, being in the logistics sector, it was considered "essential services" and still allowed to operate.
Secondly, being a technology company, it was led by young entrepreneurs who are innovative and able to think out of the box to come up with solutions. "We came up with a solution that would still be able to bring us good returns during this MCO period: groceries."
They shortlisted two delivery models: the normal e-commerce model, which would entail putting up stock-keeping units (SKUs) with the pictures of items that people wanted to purchase, partnering with the supermarkets and hypermarkets to do so and the "personal shopper model" where customers would come up with a shopping list of sorts and the company's drivers would sally forth to buy the items and deliver them.
"After much thought and consideration, we opted for the personal shopper model because we would be able to launch it more quickly. In fact, it only took us five days from conceptualisation to launching the service," he says.
Nadhir adds that the take-up has been very encouraging. "We managed to cover 30% to 40% of the revenue loss from our house-moving segment. But I feel there's a lot more we can do to further improve that to 100%."
Right now the company is focusing on improving the shopper experience. "We want to make it more interactive with images."
The company is also looking to recruit more cars and motorcycles to its platform.
"Our name is TheLorry but during the MCO period, we actually recruited more cars and motorcycles to our platform to fulfill grocery bookings. If we can get more of them to sign up with us, we will be able to offer more attractive rates for our personal shopping service.
"If we improve the user experience and reduce the price, we will attract enough business to make up for the loss in revenue from our house-moving business," he points out.
TheLorry is a logistics platform that connects both corporate and individual customers to the owners of lorries, vans and pick-up trucks in Malaysia, Indonesia, Thailand and Singapore.
When the MCO was announced, the business-to-business (B2B) segment of its business remained relatively unaffected.
"Our contracts with FMCG (fast moving consumer goods) companies, e-commerce companies, remained fine. We were still considered an essential service and able to operate and this segment remained either flat or even, improved slightly.
"What was severely impacted was our house-moving segment, that is, people booking lorries with optional manpower, wrapping and dismantling services, to move from one place to another or to move bulky furniture from one place to another."
These lorries cannot be used for grocery shopping, however. So how are they being utilised during this time? "Our e-commerce segment is still doing okay. The lorries that used to take up house-moving jobs prior to the pandemic are being onboarded to help out in our B2B verticals."
The great opportunity coming up is of course, food deliveries during the month of Ramadan.
"I think that Ramadan will be a very interesting opportunity for logistics players.
"Every day, there will be a huge upsurge of orders between 5pm and 7pm. No one platform or logistics company will be able to cater to the demand. If the MCO is extended further, we will definitely have to look at how we can ensure that people get access to their favourite buka puasa meals delivered to them," he says.
For many restaurants and hoteliers, the buka puasa market is their top money earner of the year.
TheLorry has already been roped in by a deal platform to deliver hotel buka puasa buffets to its customers. He said TheLorry has also been called on by StoreHub which is servicing the restaurant sector. "Right now we need to get more cars and motorcycles on our platform to tap into this market."
How has TheLorry managed to remain optimistic and open to ideas and creativity at a time of general economic malaise?
"As a start-up we are more lean and agile. We can make decisions fast and we are single-minded.
 
"Basically I think entrepreneurs are a breed of people who will never give up. Whatever you throw at us, we will figure out a way around it and continue to persevere."