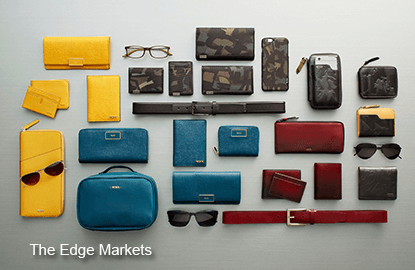 TUMI travels to Peru with its recently launched autumn/winter 2015 collection, paying homage to its roots and where the brand's story began. The collection includes a varying range of products — be it for an overnight business trip, a weekend stay or a long holiday — with everyday bags, satchels, sling bags, backpacks and four-wheel carry-ons, as well as accessories like toiletry kits, pouches, wallets and card cases. Take your pick from a complete set of matching luggage and bags, or choose your favourite individual pieces that complement your travelling style and needs.
This collection, which also bears some hints of the brand's founder Charlie Clifford's Peace Corps mission in South America, looks back at Tumi's journey thus far, with colours and motifs that draw inspiration from the geographical landscape of Peru. For instance, the patterns on the International Expandable 4-Wheel Carry-On and Medium Trip Expandable 4-Wheel Packing Case are inspired by the caves in Cutervo National Park, the oldest national park in Peru.
Another popular theme is the camouflage design that features amply throughout the collection, as seen on the Alpha Bravo collection with the Kirtland International Expandable Carry-On, Henderson Expandable Duffel, Grissom Travel Satchel, Monterey Sling and the all-time-favourite Alpha Bravo Cannon Backpack. 
The collection is also punctuated with bursts of vibrant colours representing the rich cultures of South America. Business essentials, like the Drexel Envelope Brief, is crafted in a bright shade of yellow, while hues of teal and peony floral accents feature in the selection for women.
Indeed, the palette of the women's collection is bright, cheery and energetic, comprising tones like magenta, aubergine and teal. Inspired by the rich Andean textiles of Peru, it is a fusion of sophistication and functionality, always bearing in mind the needs of a globetrotting woman without compromising on style. One example is the Alpha 2 International Expandable Carry-On in a shade of aubergine, which is coupled with sophisticated gold hardware.
Tumi has something for the tech-savvy jet-setters too. The stylish Leeds Backpack has a separate iPad compartment and additional pockets for electronics and accessories. Another ideal travel companion is the all-purpose Vallarta Utility Bag, which has a spacious interior consisting of a jewellery pocket, media pocket for your devices as well as a removable laundry bag. The exterior also features multiple pockets, including a separate one for shoes and a dedicated section for a water bottle. Meanwhile, the chic Sinclair Viera Business Tote, with a removable laptop sleeve, jewellery pocket and Tumi ID Lock, is designed for businesswomen on the go. 
Following Tumi's International Global Citizen Campaign in May that celebrated the merging of cultures and boundaries through travel, the brand continues to recognise the ever-changing needs of travellers and strives to move in tandem with their needs. The 2015 autumn/winter collection caters to customers with diversified travel requirements, ranging from business to leisure, and at times combining the two. It does this while staying true to the brand's philosophy of revolutionalising travel, with a Peruvian touch this time around.
---
Tumi's autumn/winter 2015 collection is available in stores beginning from mid-July.
This article first appeared in The Edge Financial Daily, on July 21, 2015.