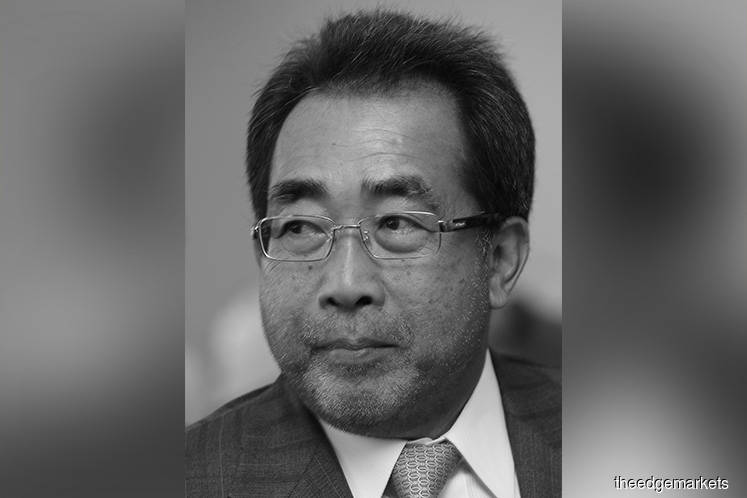 KUALA LUMPUR (April 22): Aminah Abdullah, the 85-year-old mother of the late Rompin MP Tan Sri Jamaluddin Jarjis, will have her day in court from Aug 13 to 17, and Sept 10 to 12, over her legal claim against her two grandchildren for not disclosing that they are trustees to their father's RM1.3 billion estate in the form of company shares.
This follows wheelchair-bound Aminah's filing of her claim in January after discovering that the two grandchildren owned shares in three companies namely Rantai Wawasan Sdn Bhd, Alpine Motion Sdn Bhd and Ivory Insights Sdn Bhd said to be worth the staggering sum.
The date was fixed by High Court judge Justice Datuk Mohd Firuz Jaffril when the case came up for case management today.
Justice Firuz also fixed May 3 for the hearing of the two grandchildren, Nur Anis Jamaluddin and Ikwan Hafiz Jamaluddin, to obtain leave to amend their statement of defence regarding the claim.
Nur Anis and Ikwan Hafiz's lawyers, Chew Chang Min and Frank Wong, told the court that they intend to amend their client's defence.
The matter was disclosed by Aminah's lawyer Pawancheek Merican to theedgemarkets.com when contacted today.
Aminah filed the action to seek declarations that she is Jamaluddin's lawful mother, and hence a beneficiary of his estate and has an interest in the estate in terms of the shares and the joint administrators of the estate to the following assets:
three million Rantai Wawasan shares worth RM1.044 billion
six million Alpine Motion shares worth RM233 million and
two Ivory Insights share worth RM80 million.
In addition, the octogenarian is claiming one sixth of the value of the shares from the estate as entitled according to Islamic's faraid system.
In her statement of claim in the civil proceedings, the mother said Rantai Wawasan is a management consultancy company which was formed in 1982, where in the 1990's, it was part of a three-member consortium to privatise Lembaga Kemajuan Pahang Tenggara.
The second company, Alpine Motion is listed as an investment holding company formed in 2013, while Ivory Insights is another investment holdings company.
Aminah in her statement of claim alleged that her son has been engaged in business when he set up engineering consultancy firm J and A Associates and sometime in 1986, her son had taken ownership of EPE Power Sdn Bhd, which manufactures electrical and power equipment switch gears.
The mother further claimed that her two grandchildren had obtained letters of administration from Jamaluddin's estate two years ago. That makes them joint administrators of their father's estate that included the shares stated above.
The 85-year-old further claimed that as her son was a minister, he could not get involved in business, and following that disclosures that he owns business interests would subject him to face public criticisms.
Besides this action in the civil court, Aminah filed a separate faraid claim last year at the Syariah High Court to get one sixth of her portion of her son's estates worth RM2.1 billion.
Besides the shares mentioned above, Jamaluddin is said to own properties in Mecca, the United States, the Klang Valley and Pahang.
As the surviving mother, Aminah claimed she is entitled to one sixth of that estate.
Faraid is an Islamic law of inheritance that deals with the distribution of the estate of the deceased person to the surviving family members.
Jamaluddin, who was formerly the Finance Minister II, Minister of Science, Technology and Innovation and a former ambassador to the United States, was a close associate of former premier Datuk Seri Najib Razak.
He died in a helicopter crash along with Najib's principal private secretary in April 2015.