This article first appeared in Personal Wealth, The Edge Malaysia Weekly, on September 18, 2017 - September 24, 2017.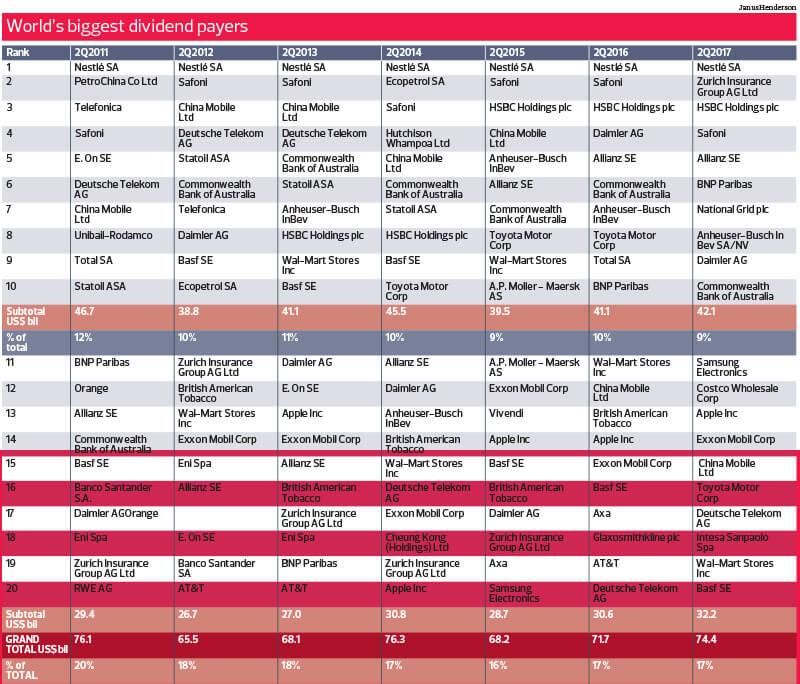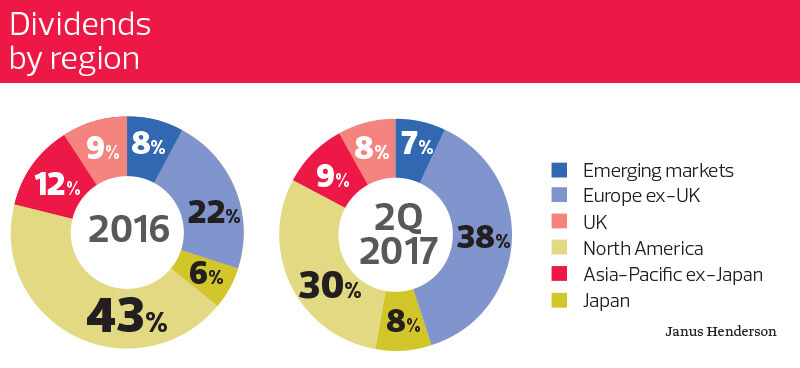 Dividend growth picked up pace in the second quarter of this year, with corporate earnings underpinned by a more synchronised worldw economy, according to global asset management firm Janus Henderson.
Its Global Dividend Index 2017 report, released on Aug 22, shows that payouts rose 5.4% year on year (y-o-y) to reach a quarterly record of US$447.5 billion. The total payout in 2Q2017 beat the previous record set in 2Q2014.
The Janus Henderson Global Dividend Index is at its highest level in three years at 161.9. Europe excluding the UK dominated global dividend payouts, with nearly two-fifths of the total coming from the region. The total distribution reached US$149.5 billion, up 1.1% y-o-y.
All regions saw improved dividend payouts, with the exception of the UK, whose currency was devalued following the Brexit referendum. Because of this, UK payments were translated into US dollars at a less favourable exchange rate.
While the headline growth rate shows a change in the actual value of dividends, the underlying growth rate demonstrates how regular company dividends change over time. Underlying growth is adjusted for four key factors — exchange rate movements, unpredictable one-off special dividends, changes in the list of companies featuring the global top 1,200 and changes in the timing of dividend payouts.
In 2Q2017, underlying growth outstripped headline growth, mainly because the US dollar was stronger year on year than most other currencies. Due to the exchange rate, underlying expansions in dividends were masked, deducting some 2.5% from the headline growth rate.
In terms of companies, the top five dividend payers globally were Nestlé SA, Zurich Insurance Group AG Ltd, HSBC Holdings plc, French pharmaceutical Sanofi and Allianz SE. Samsung Electronics was the highest Asian dividend payer, coming in at No 11.
Asia-Pacific ex-Japan
Asia-Pacific ex-Japan rose 4% to reach a total of dividend payout of US$36.7 billion. However, underlying growth was a modest 2.3%.
Hong Kong's dividend payouts fell 0.9% to US$13.4 billion, down 0.7% in underlying terms. Hong Kong telecoms player China Unicom made the biggest impact, cancelling its payout after 2016 earnings fell 94% on the back of higher expenses.
By contrast, South Korea's dividends rose 7.7% to a record US$10.6 billion, equivalent to an underlying increase of 6.3%. The largest payer was Samsung, accounting for almost a third of the total.
In Singapore, dividend payouts rose to US$2.3 billion, up 7.9% once index changes and a small exchange loss were taken into account.
Australian payouts were seasonally small in 2Q2017, which means that just one or two stocks can significantly affect overall figures. The headline figures were up 9.5% (US$10.4 billion), but this was mainly reflected in the addition of mining group Fortescue Metals to the index.
Underlying growth in Australia was a modest 1% as an increase from mining outfit Rio Tinto was offset by a second consecutive cut by retail giant Woolworths due to disappointing earnings. Neither Commonwealth Bank nor Telstra increased their dividend payouts.
Japan
The second and fourth quarters are seasonally important periods in Japan. Total dividends rose 4.2% to US$31.6 billion — a new record — while underlying growth stood at 11.8% after a sudden weakening of the yen later in the quarter, when most Japanese dividends were paid, were taken into account.
Nintendo and Mitsubishi Corp produced the largest increases in cash terms while Nippon Steel caught up on the interim dividend it missed at the end of last year. However, Japan Airlines cut dividends on the back of falling earnings.
As a whole, more than three-quarters of Japanese companies raised their dividend payouts in yen terms.
North America
Dividend payouts in North America accounted for three out of every ten dollars paid out globally, which was somewhat less than its annual share, due to the dominance of Europe ex-UK payments in 2Q2017. North American dividends rose 10.1% on a headline basis to US$120.7 billion, a faster increase than any other region with the exception of emerging markets.
There were higher one-off special payouts in the US. The addition of several Canadian companies to the index boosted the headline rate. Nevertheless, underlying growth was strong at 6.3% y-o-y.
In the US, dividend payouts were 9.8% higher at US$111.6 billion, a new quarterly record. Costco's US$3.1 billion special dividend accounted for almost one-third of the headline increase. It was the third time since 2012 that the wholesale-membership retailer has paid a large special dividend. It was also the only US company on the index to do so in 2Q2017.
Underlying growth in the US was at 5.9%, with the banking sector contributing the most (US$793 million) to the US$6 billion y-o-y increase. Other major contributers were software companies, pharmaceuticals and utilities.
US banks were among the fastest growers, along with those in the transport sector, where Delta Airlines and Fedex paid out significantly higher dividends this year. No US sector saw a decline in dividends.
Canada comfortably outpaced the US, with headline expansion pegged at 14.8% and underlying growth at 11.9%. Half the growth came from energy company Enbridge. The energy firm not only raised its per-share dividend 15% y-o-y in Canadian dollar terms but also paid out to a much expanded shareholder base, following the completion of its acquisition of US rival Spectra. In total, Canadian dividend payouts reached US$9.1 billion.
Europe ex-UK
The euro has been strengthening against the US dollar, but in 2Q, it was slightly lower than a year ago. After adjusting for that and other factors, the underlying dividend growth was 5.8% — an acceleration on the expansion from a year ago. Some 86% of European companies on the index raised or maintained their dividend payouts.
The largest increases in payouts came from the smaller countries. Austria, Belgium, Finland and Portugal posted the fastest underlying growth. In Austria, for instance, Erste Bank doubled its payout while oil company OMV raised its payout by a fifth. Portugese oil firm Galp Energia also raised its dividend payout by 20%.
In Belgium, dividends reached a new record, up 19.1% on an underlying basis to US$5.9 billion, as banking group KBC made its second consecutive semi-annual payment, after cancelling its dividend at this time last year.
Dividend payouts in Switzerland were at record levels in 2Q at US$24.8 billion, up 8.5% y-o-y and an underlying rise of 8.6%. The bigest increase came from Lafarge Holcim, whose dividend payout was up by a third on a per-share basis.
In Germany, the total dividend payout rose 8% to US$34.1 billion, with an underlying increase of 7.5%. Deutsche Bank and Volkswagen partially restored their dividends while Commerzbank cancelled its payout as it is undergoing a restructuring exercise. It was the exception as almost 90% of German companies increased or maintained their dividend payouts.