This article first appeared in Personal Wealth, The Edge Malaysia Weekly, on December 16, 2019 - December 22, 2019.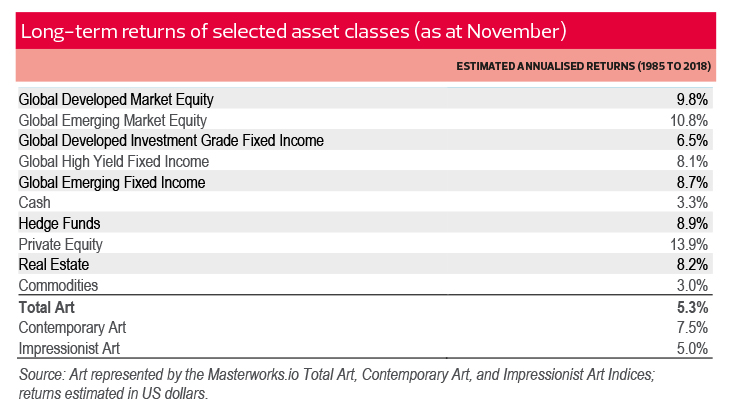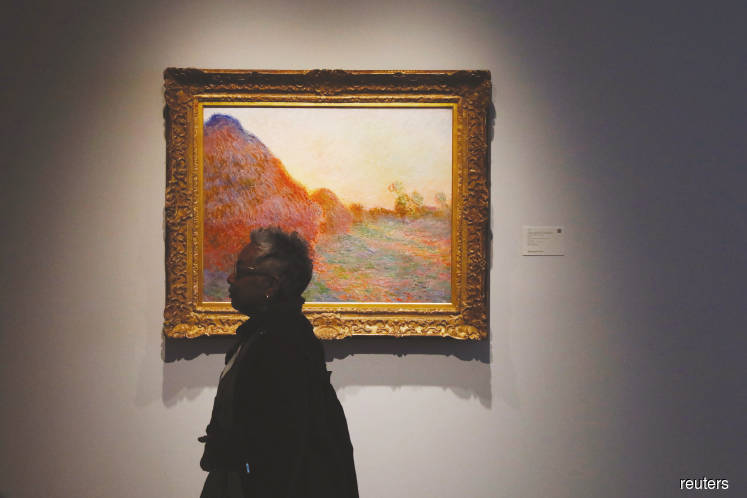 A painting by Claude Monet, part of the Haystacks Les Meules series, on display at Sotheby's before its impressionist and modern art sale in New York earlier this year

The global art market has generated an annualised return of 5.3% over the past three decades, according to the latest Citi GPS: Global Perspectives and Solutions report. Its returns are just below those of developed market investment-grade fixed income (6.5%), but above those of commodities (3%) and cash (3.3%).
The total returns of the art market are also lower than those of other alternative asset classes such as private equity, real estate and hedge funds, which generated gains of 13.9%, 9.2% and 8.9% respectively from 1985 to 2018.
The report, titled The global art market: drivers of evolution, divides the art market into three segments — contemporary, impressionist and post-war art. Contemporary art produced returns of 7.5% while impressionist art saw returns of 5% during the period under review.
From a risk perspective, art investments carry a higher risk than developed market investment-grade fixed income, according to the report. The volatility of the art market's annual returns, as measured by standard deviation, was 14.9% while that of developed market fixed income was 5.2% during the period.
The volatility of global high-yield fixed income was 15.9% — 0.3% higher than that of the art market — while its returns were 2.8% higher than that of the latter.
The concept of art as an investment asset class is a relatively modern one, says Citi. It was only in recent decades that investors categorised it as an alternative asset class comparable with private equity, real estate and hedge funds. For instance, in the mid-1970s, the pension fund of the UK's former state railway operator allocated 3% of its holdings to art and collectibles before selling them with some success after more than two decades.
The report points out that art as an alternative asset class suffered significant drawdowns in bad times. Since 1962, its worst calendar year decline had been 38.1%, similar to that of developed market equities, real estate and commodities. In total, the art market suffered three calendar year declines of more than 30% over the period.
Perhaps the most persuasive case for art investments is to use the asset class to diversify one's portfolio. The report says the correlation between art and traditional asset classes such as equities and fixed income as well as other alternative asset classes is either low or negative. At the other end of the scale, the broader art market's highest correlation with another asset class was 0.34 against cash.
The report notes that such low correlation is a feature similar to that of gold. However, the precious metal had generated a lower annualised return of 4.2% than art (5.3%) since 1985.
"Interestingly, art and gold only have a moderate correlation of 0.12 with one other. In other words, adding both asset classes to a portfolio could have helped [investors] diversify risk better than just adding one of them," says the report.
In the shorter term, the overall art market had risen about 2% annually from November 2015 to end-2018. By comparison, developed market equities and global high-yield fixed income generated 7% for investors while real estate provided a return of 4.3% during the period.
The report points out that art tends to perform better when real interest rates (the rate of returns investors receive after allowing for inflation) are lower. That is because when real interest rates rise, investors tend to allocate their money to interest-bearing assets instead of alternative asset classes, which do not give them any income.
"When real interest rates are going up, art also has a higher opportunity cost: its owners are foregoing the returns that they would have earned had they invested in interest-bearing assets. By contrast, in an environment of low real interest rates, art's opportunity cost diminishes, hence its typically stronger performance in such times," notes the report.
However, the authors of the report expect the nominal returns of art (rate of returns without adjusting for inflation) to trend lower from current levels if central banks ease their monetary policies further. "Like all asset classes, in a lower inflation, higher valuation environment, we expect future nominal returns to be lower."