This article first appeared in Personal Wealth, The Edge Malaysia Weekly, on May 18, 2020 - May 24, 2020.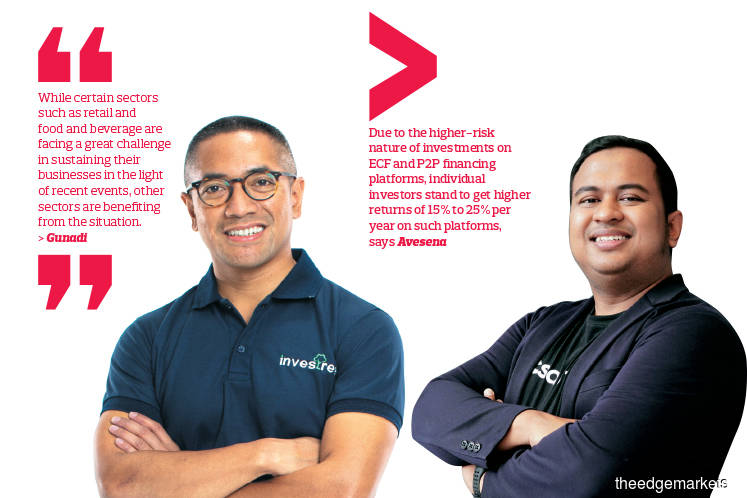 Indonesia's private markets, which were previously the domain of institutional and angel investors, have seen the participation of the broader investor segment in recent years. A growing number of financial technology (fintech) platforms in that country, particularly those operating in the equity crowdfunding (ECF) and peer-to-peer (P2P) financing segments, have come up with various ways for retail investors to participate in the growth of small and medium enterprises (SMEs). 
Indonesia is home to about 60 million SMEs, the highest in Southeast Asia. According to Avesena Reza, CEO of ECF platform Santara, regulatory developments have helped the industry to grow and provide greater access to the country's private markets. These meet the needs of investors looking for yield in unlisted assets and SMEs' demand for financing solutions, he adds.
"While there are some really good SMEs in Indonesia, most of them find it very challenging to raise funds because they do not have assets to put up as collateral, especially those that fall into the category of micro-enterprises. So, it is quite difficult for them to get any form of funding from banks," says Avesena. 
On top of that, there is no guarantee that these small businesses will actually get their loans approved by the banks as they are considered high risk, he adds. 
To support micro, small and medium enterprises (MSMEs), Bank Indonesia announced in 2012 that 20% of banks' loan portfolios should be made available to these enterprises by 2018. Failing to achieve this would result in a penalty of having to allocate a certain amount of their budget to the provision of training for MSMEs. 
Despite this regulation, some banks prefer to pay the penalty, says Avesena. "MSMEs typically do not have a good accounting system and there is no telling whether they will be able to sustain their business. So, banks typically avoid this high-risk segment. This is the gap we are trying to bridge."
The Financial Services Authority of Indonesia (OJK) came up with regulations for fintech in 2016. However, these only covered P2P financing. In 2018, it issued a broader set of regulations for the fintech industry. 
According to these regulations, unregistered fintech companies have to apply to OJK to go through the regulatory sandbox process before they can be registered. Currently, only a few companies are engaged in ECF-related activities, including Santara. Regulations for this segment were only introduced at the end of 2018. 
The number of registered fintech companies has grown significantly in Indonesia in tandem with its regulatory developments, from 32 in January 2018 to 106 in April 2019, according to OJK.
Due to the higher-risk nature of investments on ECF and P2P financing platforms, individual investors stand to get higher returns, says Avesena. They could get returns of 15% to 25% per year on such platforms, he points out. 
"This is much higher than the returns they would get from fixed deposits (FDs). They are also encouraged to invest because investing in small businesses will provide them with a greater sense of ownership compared with holding shares in large multinational corporations. The investors can see that the businesses are working hard to generate revenue and provide them with dividends," says Avesena. 
Launched in the middle of 2018, Santara was fully registered with OJK by September last year. As at May 4, the platform had onboarded 116,642 investors. It hosts campaigns for businesses of various sizes and sectors that are looking to raise between IDR600 million (RM174,431) and IDR2.5 billion. 
An example of a successful campaign was the one by Sop Ayam Pak Min, a well-known restaurant franchise in Klaten and Yogyakarta. The company offered a 35% stake in three of its outlets for IDR1 billion. A total of 171 investors bought those shares, which allowed the company to open another two outlets. 
"Our criteria, when determining companies to be onboarded, are profitability, accountability and sustainability. When Sop Ayam Pak Min approached us, it brought along a lot of handwritten reports as it was still doing its accounting manually. Despite this, we found that the company was worth hosting on our platform as it was profitable and sustainable, having run its business for more than 15 years. All we had to do was teach the company to do its accounting digitally," says Avesena. 
The Covid-19 pandemic has heightened the risk of investing in private markets, says Adrian Asharyanto Gunadi, co-founder and CEO of P2P financing platform Investree. The measures to contain the pandemic have impacted sectors such as retail and food and beverage. As there is less foot traffic in commercial areas, the sales of companies in these sectors have been severely affected.
Nevertheless, there are still plenty of opportunities in other sectors, such as those involved in supply chain management, medical equipment and telecommunications, which are still generating revenue during the pandemic. "While certain sectors such as retail and food and beverage are facing a great challenge in sustaining their businesses in the light of recent events, other sectors are benefiting from the situation," says Gunadi.
Founded in 2015, Investree operates a financial marketplace for SMEs with conventional or shariah businesses. According to the company's website, it had recorded a total loan facility of IDR5.54 trillion as at May 1.
Online platforms such as those for P2P financing are popular in Indonesia. Investree is one of 25 P2P platform operators in the country that have received operational approval from OJK. According to the regulator, online lending had grown 225% year on year to IDR95.4 trillion in February and more than 80% of that was in the P2P space.
The P2P financing segment had contributed IDR60 trillion to Indonesia's GDP as at June last year, primarily through SMEs, according to a study by think tank Institute for Development of Economics and Finance and the Indonesian Fintech Lenders Association.
Investors are becoming more comfortable with platforms such as Investree in their search for yield in Indonesia's private markets, says Gunadi. "We currently have about 8,000 retail lenders on our platform, about 60% of which are repeat lenders. So, we can see that investors are quite comfortable with alternative platforms such as ours. Typically, the average return is about two to three times what they can get from FDs, depending on the risk factor of the notes they have invested in. So, it is considered attractive to them." 
Santara and Investree have yet to onboard foreign investors. Avesena says Santara is planning to allow foreign investors to participate, although it may only happen in the fourth quarter of this year. Gunadi says Investree is currently exploring the possibility of bringing foreign investors on board, although it may be hindered by regulatory constraints.