This article first appeared in Personal Wealth, The Edge Malaysia Weekly, on October 14, 2019 - October 20, 2019.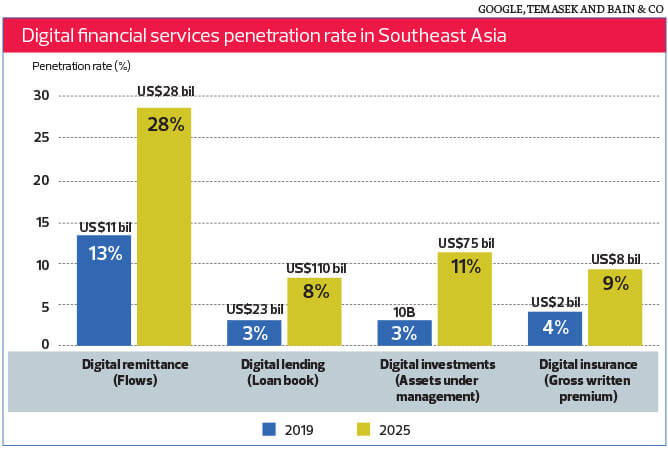 Digital payments are showing double-digit growth in Southeast Asia and are expected to cross the US$1 trillion (RM4.19 trillion) mark by 2025, almost double the US$600 billion this year. Digital is poised to be the payment method of choice for nearly one of every two dollars spent in the region, according to a report jointly published by Google, Temasek and Bain & Co on Oct 3.
Titled e-Conomy SEA 2019, the report says digital payments have reached an inflection point, where adoption and usage levels are surging in line with other internet economy sectors, such as ride-hailing and e-commerce. Digital payments are defined as cashless transactions that include cards, account-to-account transfers and e-wallets.
The five financial services identified in the report as ripe for transformation in the digital era are payments, remittance, lending, investment and insurance. Within the digital payment space, e-wallets are expected to exceed US$114 billion by 2025 — a fivefold growth from just over US$22 billion this year.
"Other financial services are still in a nascent digital stage, but the penetration rate is expected to increase two to threefold over the next five years. For example, digital lending, on track for a US$110 billion loan book by 2025, will be the largest volume contributor, spearheaded by innovations in consumer and small and medium business lending," says the report.
Solving challenges in the region
New technology-enabled financial services business models are well positioned to tackle the challenges faced by many Southeast Asians, particularly insufficient access to many of the basic financial services that people in developed economies take for granted.
Of the nearly 400 million adults in Southeast Asia, only 104 million are fully "banked", enjoying full access to financial services. Another 98 million are "underbanked", with a bank account but insufficient access to credit, investment and insurance. Some 198 million adults remain "unbanked" and do not own a bank account.
The report says one of the major reasons is cost. In a region where physical infrastructure is mostly lacking, it is prohibitively expensive for financial institutions to build physical branches that can serve all customers.
Other challenges include the absence of public registers, identification systems and reliable credit information, all of which are basic prerequisites for financial institutions. Moreover, banking is a tightly regulated sector in many Southeast Asian nations. Competition and innovation have been stifled as a result, the report notes.
"Digital financial services have the potential to solve many of these challenges. Enabled by technology and based on robust data, they can help to increase access, improve convenience, slash costs and deliver more inclusive financial services for all Southeast Asians," says the report.
The banked, underbanked and unbanked present different opportunities when it comes to digital financial services. The report says banked consumers, who already have full access to financial services, sit in the playing field of established financial services players, which include banks, insurers and other financial institutions. These players already have existing customer relationships, deep financial services expertise, balance sheet capacity and consumer trust. The key to winning more consumers over is to provide better user experience, lower service fees, higher returns and better rewards.
On the other hand, acquiring unbanked consumers is expensive for digital financial players, when compared with the value they return in terms of service fees, interest rates and assets under management. Established consumer players, such as telcos and retailers, are best placed to reach them economically through their existing physical distribution networks.
"The underbanked are likely to be the true growth engine for digital financial services players. Consumer technology platforms such as Gojek, Grab, Lazada and Sea Group are well placed to serve the needs of this segment, due to their large and engaged user base. Over the next few years, this segment will make up the main battleground as all players compete to win their trust," says the report.
A common request among digital financial services players is for policies to be consistent and predictable, according to the report. The biggest drag on investment levels is the uncertainty surrounding regulations and the risk that entire business models may suddenly become unviable.
"The governments of Asean countries should aim to align digital financial services regulations across the region. This would facilitate the development of regional business models and help channel resources towards investments in world-class technology and talent," says the report.
Digital Identification Data (Digital IDs) and e-Know Your Customer (e-KYC) processes can significantly increase the opportunities associated with digital financial services, including those for the unbanked population, it adds. Fostering common standards for payments and remittance will be key to promoting interoperability between solutions. In turn, such policies would push Southeast Asia onto a more level playing field with markets such as China, India and the US, where businesses can scale remarkably.
Funding remains healthy despite headwinds
The global economy has slowed significantly this year and the outlook remains cloudy. The International Monetary Fund (IMF) is forecasting a growth of 3.2%, down from 3.6% last year. Rising trade tensions between the US and China have further dampened demand and led to falling trade flows, which have curbed investment spending and added to the risk of a recession.
However, funding flows into Southeast Asia continued to grow at a healthy pace, says the report. The first six months of the year saw internet firms raise US$7.6 billion, about 7% more year on year. In total, almost US$37 billion flowed into the region's internet economy between 2015 and the first half of this year.
"We had estimated in our original report, e-Conomy SEA — Unlocking the $200B digital opportunity in Southeast Asia, that to grow a US$200 billion internet economy, the region would require between US$40 billion and US$50 billion in funding by 2025. Six years ahead of that estimate, the region is already close to meeting that mark," says the report.
The e-commerce and ride-hailing sectors grabbed the lion's share of funding in the region, drawing two of every three dollars raised since 2016. Ride-hailing companies in particular raised more than US$14 billion over the past four years.
Investors remain bullish on Southeast Asia, largely because of structural drivers in place that will continue to support the growth of the internet economy, which include a young population, growing internet connectivity and rising income levels.
New sectors have developed in recent years, such as food delivery, music subscription and video streaming. Vacation rentals as well as financial services have already attracted sizeable investments by internet economy companies and venture capital funds. Meanwhile, deal flow is gaining momentum in nascent sectors such as education and healthcare. The authors of the report expect investors to continue deploying capital in Southeast Asia.
The average deal size of seed funding stood at about US$500,000 in 2016. But this surged to an average of US$800,000 this year, according to the report. Similarly, the average deal size at the Series A stage doubled from US$2 million in 2016 to US$4 million this year.
"For aspiring unicorns to graduate, however, Southeast Asia needs more late-stage financing through investments that range from US$25 million to US$100 million and above, which are typically raised in Series C and D. Aspiring unicorns have to demonstrate an ability to monetise their services and to operate with sustainable unit economics. For those that can hit these targets, a cadre of investors will be lining up to fill their coffers," says the report.
"Venture capital investors are raising ever larger funds to back their most successful investees for longer. Many shops, including Golden Gate Growth, Asia Partners, Vertex Growth and EV Growth, have set up 'growth funds' with more than US$200 million in capital to invest in this space. Private equity players such as Northstar, KKR and Warburg Pincus remain active in the region's internet economy while institutional investors are becoming more willing to enter earlier series," says the report.