This article first appeared in Personal Wealth, The Edge Malaysia Weekly, on June 3, 2019 - June 09, 2019.
Click / Tap image to enlarge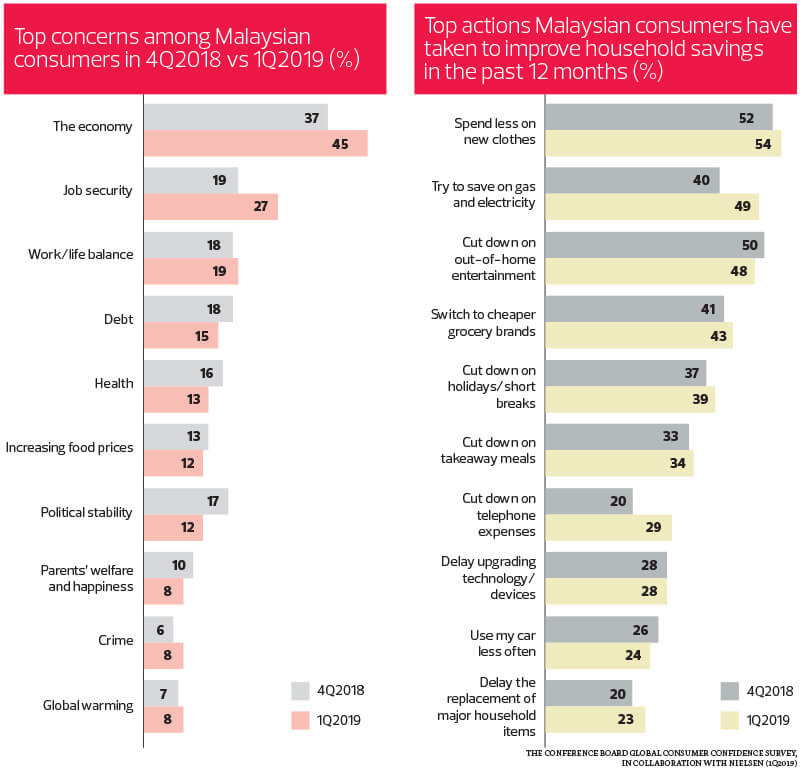 Malaysian consumers are largely positive about their consumption and spending prospects, despite concerns about the economy in the shorter term.
According to the recently released Nielsen Consumer Confidence Index (CCI), 71% of Malaysians believe that the state of their personal finances over the next 12 months will be excellent or good. This number is similar to the 70% recorded in the fourth quarter of last year and an improvement from the 63% in the first quarter of that year.
Malaysia was No 6 on the CCI, with a score of 115 in the first quarter of this year. This was significantly higher than the 104 points recorded in the first quarter of last year, when the country ranked No 15 in the world.
Meanwhile, 70% of respondents have a positive view of their job prospects over the next 12 months, slightly lower than the 71% recorded in the fourth quarter of last year and the 56% in the first quarter of that year. However, slightly less than half (48%) believe that "now is the time to buy the things they want and need". That number stood at 53% in the fourth quarter of last year and was just 42% in the first quarter of that year.
In the first quarter of this year, consumers continued to put aside cash. According to the report, they put aside spare cash (57%), paid off debts (44%), went on vacations (38%), bought new clothes (33%) and invested in stocks or mutual funds (30%) during the period.
Malaysians have always been financially prudent and this tends to be the case regardless of market conditions, says Nielsen Malaysia managing director Luca De Nard. "We have seen this trend, quarter after quarter, where most Malaysians choose to channel their spare cash towards savings. Thus, it is not surprising that even though they are optimistic about their financial prospects, their priority would be to save for the future or a rainy day."
Malaysians more likely to invest
Interestingly, over the last four quarters, Malaysian consumers have been among the most likely in the world to channel their spare cash to the capital markets, says De Nard. "Looking back at our CCI reports between late 2016 and 2017, the number of people investing in the stock market hovered between 28% and 32%. We saw a dip to 22% in the third quarter of last year, but it bounced back to 30% in the first quarter of this year."
Malaysia ranked No 8 in the world when it came to investing spare cash in the stock market. This shows that a relatively large number of Malaysians — like their regional counterparts — have enough disposable income to diversify their portfolios. Just 8% of Malaysian respondents say they do not have spare cash.
In terms of channelling spare cash to the capital markets, Malaysian consumers comfortably outstrip their counterparts in the more developed economies. "If we look at Australia or France, nearly a quarter (23%) of consumers there say they do not have spare cash while less than 10% invest their spare cash in the stock market or mutual funds," says De Nard.
The percentage of Malaysians who channel their spare cash to stocks or mutual funds is lower than those in China (49%), Indonesia (44%), Hong Kong (42%), India (41%), Taiwan (37%), Singapore (34%) and Thailand (33%).  
To find out why Malaysians are not quite as keen on the capital markets as some of their Asian counterparts, De Nard says it is important to understand how Malaysians view their ability to spend, independent of their actual income. "Our Changing Consumer Prosperity report from earlier this year revealed that nearly half of Malaysians say they have enough to 'spend comfortably' while 35% say they have enough 'only for the basics'. Only 17% say they are able to 'spend freely'.
"We also know that Malaysian consumers are prudent spenders. So, the risk associated with the capital markets may result in consumers being more cautious about placing their spare cash there. Thus, if we look at the data within this context, the average Malaysian may consider investments in stocks and mutual funds as something of a luxury."
In terms of investing for retirement, many working Malaysians automatically channel their income to the Employees Provident Fund (EPF), which is broadly considered a safe investment. However, as the Private Retirement Schemes — which are still fairly new in Malaysia — gain traction, Malaysian consumers are increasingly expected to diversify their retirement savings beyond the EPF, says De Nard.
Recession concerns
The report also highlights that two out of three (69%) consumers believe that the country is in the midst of a recession. This sentiment is unchanged from the final quarter of last year. Of this number, less than half (45%) are positive that the economy will recover in the next 12 months. This is just slightly higher than the 44% recorded in the fourth quarter of last year.
As a result, consumers have increasingly adjusted their spending habits. Almost 90% of the Malaysian respondents say they have started to cut down on their household expenses.
On this issue, the report notes that consumers are spending less on new clothes (54% versus 52% in 4Q2018), saving on gas and electricity (49% compared with 40% in the previous quarter), cutting down on out-of-home entertainment (48% compared with 50% in 4Q2018) and switching to cheaper grocery brands (43% compared with 41% previously).
De Nard attributes consumers' recent concerns about the economy to something akin to a post-election hangover. "The euphoria following the historic general election last year caused quite a bump in consumer confidence, as messages of change and hope resonated with many Malaysians. However, this heightened sense of optimism was never going to be sustainable as people — hungry for change — expect, reasonably or unreasonably, to see immediate results," he says.
"Over the past few months, the new administration has continued to highlight the bigger-than-expected budget deficit faced by the nation, which has somewhat overshadowed other positive economic indicators such as low unemployment, low inflation as well as healthy GDP and fast-moving consumer goods growth."
The CCI is driven by three indicators: consumers' perception of local job prospects, personal finances and intention or readiness to spend. While the perception of their personal finances and job prospects is in line with that of the previous quarter, the index demonstrates a significant decrease among Malaysians in their intent and readiness to spend.