This article first appeared in Personal Wealth, The Edge Malaysia Weekly, on October 30, 2017 - November 05, 2017.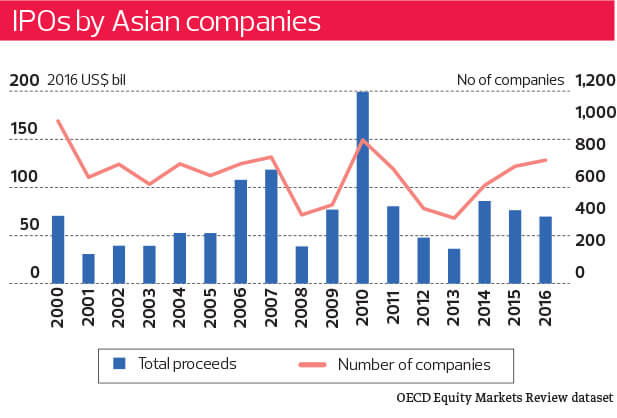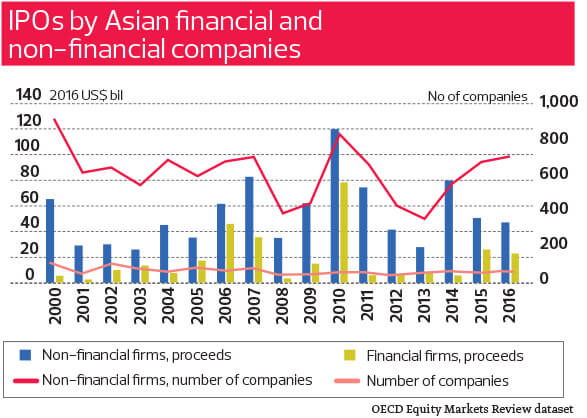 Asian equity markets are enjoying a long, hot streak, having raised a total of US$4 trillion in equity capital since the turn of the millenium. Companies in the region are the world's largest users of stock markets, with initial and secondary public offerings (IPOs and SPOs) accounting for nearly half (47%) of all public equity capital raised globally.
What is an SPO? Companies that are already listed frequently dip into the market for additional capital through SPOs, which are typically undertaken several years after the initial offering to recapitalise or finance a major investment deal.
Much of Asia's equity performance has come out of China. The rest of the region has posted more modest figures over the last couple of years. The numbers also show that Asian companies have overwhelmingly listed in foreign markets, with Hong Kong a particularly attractive IPO destination.
Interestingly, although IPOs tend to receive the lion's share of publicity, the total equity raised since 2000 (US$1.2 trillion) pales in comparison with that raised via SPOs (US$2.6 trillion). As far as ownership is concerned, individual investors owned 11% of all Asian equity capital while governments continued to claim a significant portion of equity ownership in the region.
These findings come courtesy of the Organisation for Economic Cooperation and Development's (OECD) Equity Markets Review: Asia 2017, released on Oct 19. Perhaps unsurprisingly, Chinese companies are the largest issuers, raising 43% of all public equity in the region, followed by companies in Japan (17%), Hong Kong (11%), South Korea (8%) and India (7%).
Before 2007, the average number of IPOs annually in Asia was about 700, without any major fluctuations. Since 2008, however, the number of IPOs has been more volatile, fluctuating between 400 and 900 annually, with an average of 614.
Between 2008 and 2016, Asian companies raised US$79 billion, driven mainly by record-level IPOs in 2010. This was higher than the US$64 billion raised between 2000 and 2007. Between 2014 and 2016, the average amount of equity raised was US$77 billion a year, which exceeded that of any year before 2005.
When broken down by financial and non-financial companies, it was found that nearly three-quarters of all equity capital raised since 2000 went to non-financial concerns. The largest share of capital raised via IPOs were by industrial companies while consumer product outfits accounted for the largest share of funds raised via SPOs.
Excluding real estate investment trusts (REITs) and other trusts and funds, an average of 65 Asian financial firms went public every year between 2000 and 2016. In the first two years following the 2008 global financial crisis, the number dropped to just 44. But it rose to 62 in 2010 and has held steady since.
In broad terms, Asian financial firms raised a total of US$307 billion, nearly half of which was raised in 2006, 2007 and 2010. The other years that saw an increase in issuance volume above US$20 billion were 2015 and 2016.
In the years since the global financial crisis, Asian non-financial companies have raised some US$539 billion via IPOs. Chinese firms dominated, nabbing 63% of all equity capital raised. The numbers would be far more modest with China out of the picture.
Non-financial companies from Asean countries hit significant levels of IPOs, although recent years have not turned out quite so well. Non-financial firms made up nearly half of all Asian IPOs (excluding China) in 2008, 2010 and 2013. Companies from Malaysia, Singapore and Indonesia raised record amounts of equity capital in 2010, totalling US$25 billion. However, the trend has fallen off since 2012, with 2016 seeing the second lowest issuance volume in 17 years.
Second time's the charm
Since 2006, Asian companies have on average raised three times as much equity through SPOs compared with IPOs. Once again, the SPO market was dominated by Chinese firms. Even so, the average amount of equity capital raised annually by non-Chinese Asian firms by way of SPOs since 2000 exceeded US$100 billion — nearly four times more than was raised at IPOs during the same period.
For non-financial companies, between 2012 and 2016, SPOs nearly tripled compared with the first five years of the new millenium. The figures reveal that the surge in total proceeds was not only the result of an increased use of SPOs by Chinese companies. While Asean countries' average issuance volume per year was only US$5 billion from 2001 to 2005, it grew to US$18 billion per year from 2012 to 2016.
Growth company IPOs (below US$50 million) have all but disappeared in the European Union and the US over the last 10 years. Nevertheless, growth companies have seen good gains in Asian equity markets, including Japan, South Korea and Hong Kong. For example, in the last three years, Japanese growth companies have on average raised nearly US$1 billion a year.
Taken as a whole, however, the number of growth company IPOs has declined globally over the last 20 years, particularly in Asean. Only in India and China did the average number of growth company IPOs between 2014 and 2016 exceed 2000-to-2007 averages. Asean and South Korean growth company IPOs were all well below their 2000-to-2007 averages.
Geographically, at least 80% of all equity capital raised by Asian firms between 1997 and 2004 originated in their local markets. In the last 10 years, however, offerings in other markets exceeded 40% and nearly hit 60% in 2005 and 2014 respectively.
Looking at the figures more closely, for every year since 2005, Hong Kong has been the largest recipient of Asian company listings outside their local markets. Further, nearly all of the proceeds raised by Asian companies in Hong Kong were raised by Chinese companies. The only exception occured in 2014 when Chinese e-commerce and technology giant Alibaba Group Holdings Ltd was listed in the US.
Asia's equity owners
From an aggregate regional perspective, corporates are on average the most notable owners of large Asian companies, holding 28% of the capital. This information is based on ownership data of the 100 largest listed companies in each market.
The second largest category of owners is the government (16%). This figure is primarily down to a range of large-scale privatisation programmes over the last 25 years. In China, Hong Kong, Malaysia and India, governments continued to be important players, with average holdings of 20% to 42%.
Institutional investors made up the third largest ownership category, accounting for 13% of the ownership of the largest Asian firms. It is worth noting that most of the institutional ownership in Asian countries comes from foreign institutional investors, which hold 10% of the capital on average.
The report attributes this to various financial flow liberalisation exercises conducted in various Asian economies, which allowed foreign institutional investors to pump in money into the region. Japan exhibited the highest level of institutional investors, followed by India, Taiwan and South Korea.