This article first appeared in The Edge Malaysia Weekly, on July 20, 2020 - July 26, 2020.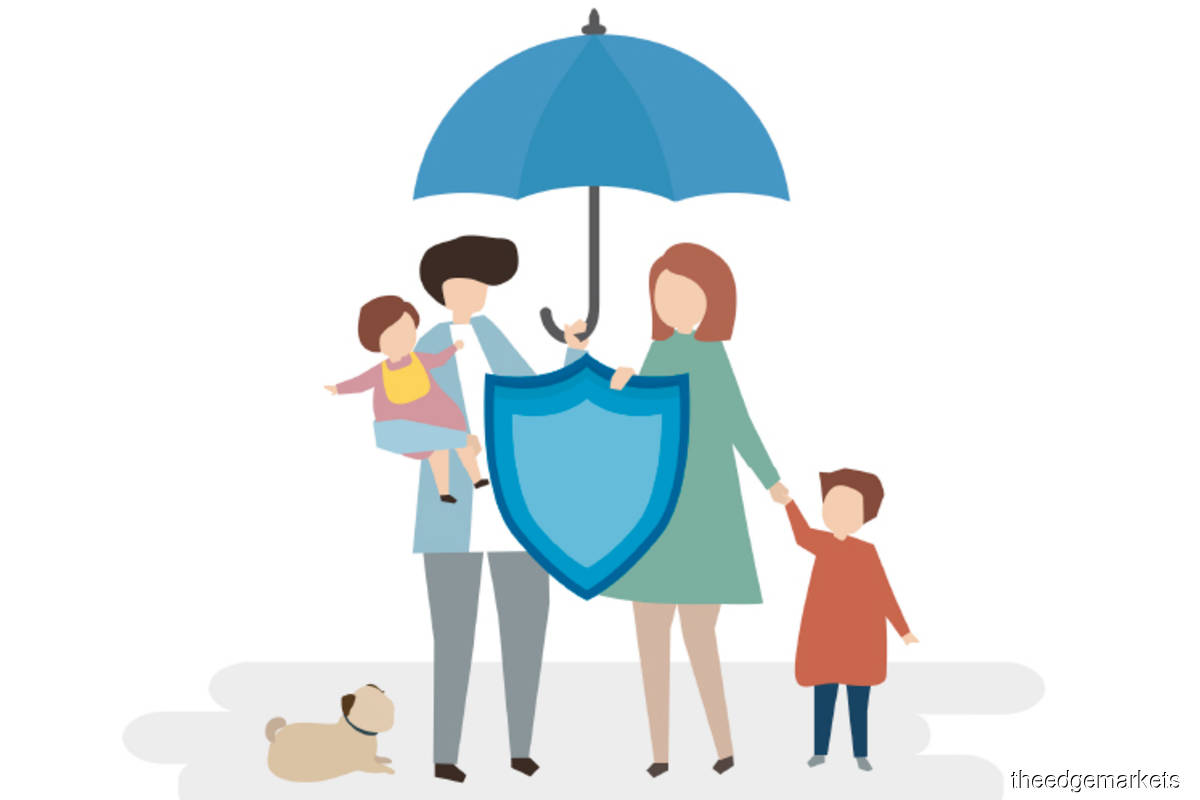 The global demand for insurance is expected to be adversely affected in the near term due to the current slowdown in economic activity due to the Covid-19 pandemic, according to a recent report by financial services provider Allianz.
The Allianz Global Insurance Report 2020: Skyfall, published earlier this month, says global insurance premium income is expected to shrink 3.8% this year — much worse than during the 2008 global financial crisis, which saw a decline of only 1%.
Life insurance and property and casualty (P&C) insurance premiums are expected to see a decline of 4.4% and 2.9% respectively, shaving off about €360 billion (RM1.74 trillion) from the global premium pool. These forecast numbers are in a stark contrast to the 4.4% growth in global insurance premium income last year, the strongest since 2015. Life insurance and P&C insurance premiums saw a growth of 4.4% and 4.3% respectively last year.
The Allianz report says the current slowdown in economic activity and the slump in equity markets will certainly weigh on top-line growth in the insurance industry. "In the P&C business, the link between economic activity and insurance demand is particularly close. Therefore, we expect all lines of businesses to see lower premium income in 2020 as new businesses are set to decrease markedly.
"The life market has become much more volatile in recent times as single premiums play an increasing role. Double-digit swings in both directions (premium income growth and decline) are also not uncommon even for mature markets like France and Italy."
It adds that mature markets with strict lockdowns during the Covid-19 pandemic will be hit the hardest in the P&C insurance segment. North America and Western Europe, two of the largest global markets, are expected to see their P&C premium income decline about 5% and 4.5% respectively, with global lost premiums amounting to about €109 billion.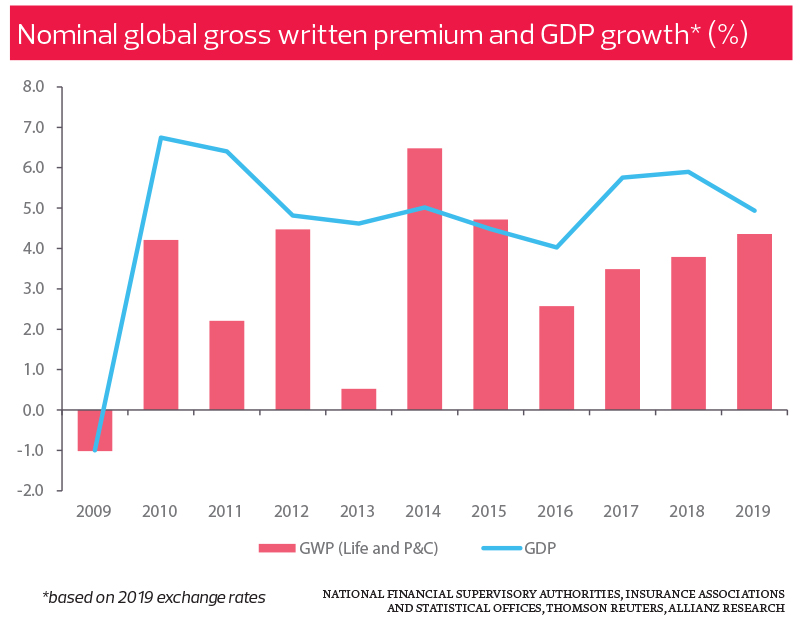 P&C insurance is an umbrella term used to describe coverage for property and personal liability. Such policies include liability insurance, auto insurance, business interruption insurance and malpractice insurance.
According to the Allianz report, many life insurance products today are closely tied to capital market movements. Unit trust-linked products, for example, are expected to be adversely affected by a crisis as a result of large fund outflows. "In times of crisis, households become more risk-averse and may shy away from consuming or investing, building up precautionary savings instead," it says.
"With Covid-19, this behaviour may be even more pronounced as lockdowns made consumption in many areas — from eating out to travelling — impossible. It may only be in future years that the insurance industry may benefit from this cash hoarding trend."
Despite the grim outlook for the global insurance industry, Malaysia is poised to recover lost ground quickly, says the report. The country is expected to be one of the few markets in Asia ex-Japan to avoid contraction this year, with an overall growth of 0.9%.
Life insurance premiums in Malaysia are expected to grow 1.8% while P&C insurance premiums are expected to decline 1.35% this year. However, the slump is anticipated to be followed by a swift recovery in 2021, with a projected growth of about 7%. The country is expected to see year-on-year growth of 5.8% over the next decade, according to a recent press statement by Allianz Malaysia Bhd.
"Malaysia's insurance market is one of the most developed in the region. Premiums per capita stood at €363 in 2019, with a penetration rate of 3.5% — well above China or Thailand. 
"In 2019, Malaysia's insurance market grew 4.9%, more or less in line with previous years. Life insurance premiums, which account for 70% of the premium pool (without health), has increased by a healthy 7.4% while P&C premiums declined slightly by 0.5%."
China to lead Asia's growth
According to the report, the Covid-19 pandemic is seen as a game changer for the insurance industry, but it has also reinforced several trends that existed pre-coronavirus. The trends include a strong emphasis on digitalisation efforts and a pivot towards the Asian market, which is expected to grow at 8.1% per annum until 2030.This is almost twice as fast as that of the global market.
Asia is divided into two markets with varying speeds of growth, says the report. There are the emerging economies such as China, which have double-digit insurance premium growth, and the tiger economies of Hong Kong, Singapore, Taiwan and South Korea, where the insurance markets are more mature and the average compound annual growth rate is expected to range between 3.9% and 5.5%.
Market growth in Asia will be driven mainly by life insurance and savings products, which reflect the rapidly ageing populations in the region. China is set to be one of the region's growth engines despite seeing one of the weakest first quarters in terms of insurance market growth in the last 20 years due to the Covid-19 lockdown.
"The first quarter [in China this year] saw a fall of 0.7%, a far cry from the compound annual growth rate of 17.7% since the turn of the century. However, being the largest insurance market by premium income in Asia, we expect China to increase its market share in emerging Asia (ex-Japan) further, from 48% today to 55% in 2030," says the report.
"The main driver will be pent-up demand. The sheer size of its market distracts from the fact that when it comes to insurance density and penetration, China still ranks midfield in Asia, like Malaysia and Thailand."
According to the report, insurers are being forced to adopt digital measures during the current pandemic that would otherwise have taken years to implement under normal circumstances. Client communications has been the key area of focus, with the lockdowns bolstering the popularity of online platforms and remote interactions. The applications have ranged from advertisements to real-time quotations.
The report says chatbots can be used to improve customer satisfaction by redirecting customers to the relevant departments. Text and image recognition can be used to eliminate human interaction, promote automation and reduce human error when filing claims while speech recognition technology can be used for authentication purposes and data mining.
"The increased use of analytics, automation and risk management will help the industry transform into a more customer-centric business. It will become increasingly important to create strategic alliances and partnerships to move away from being technology late adopters to becoming innovators," it adds.
"Business strategies coming out of the crisis will make the insurance sector look fundamentally different. With the pandemic, we can expect a reshuffling of priorities in technology spending within the industry — not only at the product level or individual components of the value chain but across the entire value chain."
Over the past decade, the persistent low-yield environment has continued to drag the demand for life insurance products in the global market, according to the report. In most cases, it has deterred savers from engaging in long-term maturing assets. As a consequence, life premiums have grown a meagre 2.7% annually in the last 10 years, with demand particularly weak in mature markets such as Western Europe (1.8%) and North America (1.1%).
"Insurers have changed their investment behaviour, with an emphasis on more alternative assets that earn illiquidity premiums and flexible product designs that allow for higher returns. Savers have recognised the ageing population trend and have realised that their retirement goals can be best achieved with long-term investments. Consequently, the life business rebounded in 2019 with a growth rate of 4.4%, almost double the previous year's growth of 2.8%," says the report.