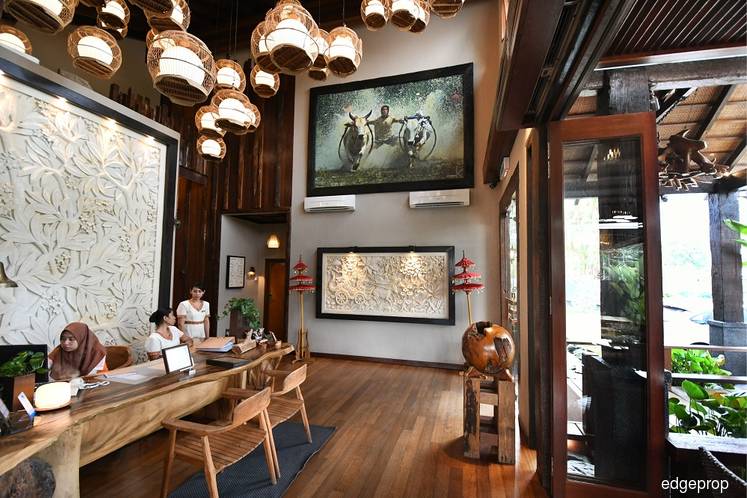 THE aged is to be treasured, not retired, for a store of invaluable memories and narratives are etched on them. This was the tenet on which Ipoh Bali Hotel was created.
Back in 2012, founder of Ipoh Bali Hotel Steven Kuak, was looking for an opportunity to set up his dream boutique hotel of his dream. Naturally, his first choice was around Ipoh old town, where tourists are centralised and more old shoplots are available for sale.
"I soon realised that it was not as easy to buy over an old shoplot and renovate it into a boutique hotel. When you find something you like, it is not for sale. Those for sale are not the ones you want," says Kuak, now the hotel's director.
"Then, around that time, quite a few old bungalows were being demolished for redevelopment. I felt it was such a waste because those bungalows were beautiful! They should be preserved and be given new life, just like in Penang and Melaka."
Walking the talk, Kuak bought an antiquated property in an old bungalow residential area in Lorong Cheah Cheang Lim in Ipoh, Perak. Mirroring the colonial style of the previous era, most of the edifices are painted in white or pale hues, complete with a sizeable lawn.
However, Kuak embraced a completely different approach. In stark contrast against the preceding row of time-worn residences, Ipoh Bali does not just look invigorating, but is radically many shades darker. Soot-coloured masonry and rich-tone wood make up the main structure of this 2-storey building. Instead of an idle green yard surrounded by a white picket fence like its neighbours, an inviting Balinese garden spreads out to welcome visitors.
Staying consistent to his conviction in conservation, Kuak shares that 90% of the wood used in the construction are wood scraps collected from Malaysia and Bali, discarded from jetty piling, railway tracks, lamp posts and old houses around Ipoh. "This is why you can see holes or burn marks everywhere in my hotel," he quips.
Referring to the four main pillars supporting the entrance, he reveals: "I got them from the old piling of Lumut Jetty. Do you see these small blemishes? They are not imperfections — they are all stories of their history."
In fact, Ipoh Bali is a trove of erstwhile tales, from the door originating from a lamp pole to the floor and wall made of volcanic black stone from Bali.
"Personally, I like old things. I like the unique shape and marks of history on the wood. People have been telling me that new is better, longer-lasting, cleaner-looking and easier to maintain. I agree [to a certain extent]. In fact, reconditioning old wood is more time- and cost-consuming, but new things cannot replace old ones because [the former] are void of a unique history," Kuak elucidates.
The transformation from a conventional concrete domicile to a Balinese boutique hotel took Kuak about two years. Besides old wood, Kuak has also transplanted a 60-year-old flowering tree to the inner courtyard of the inn.
"My friend offered this old frangipani tree for me to transplant in the courtyard. I loved it at first sight because this kind of flower is very common in Bali and is very elegant. It is also not too shady, so sunlight can still filter indoors," Kuak recounts.
All the 12 rooms can enjoy this little courtyard through direct access.
The cosy rooms are furnished with wooden-frame beds, bathtub and native artworks sourced from Bali and Malaysia. Rooms on the ground floor come with a mini balcony complete with a swing chair to enjoy the river-like water feature connected to it.
"I like the sound of flowing water. It induces a sense of peace and relaxation," Kuok says, adding this is what they wish their patrons will feel in Ipoh Bali.
Ipoh Bali Hotel:
12A, Lorong Cheah Cheang Lim, Off Jalan Tambun, Ipoh, Perak
Contact: (05) 242 0222 / www.ipohbalihotel.com
This story first appeared in EdgeProp.my live! magazine. Download a FREE copy of live! magazine here.